目录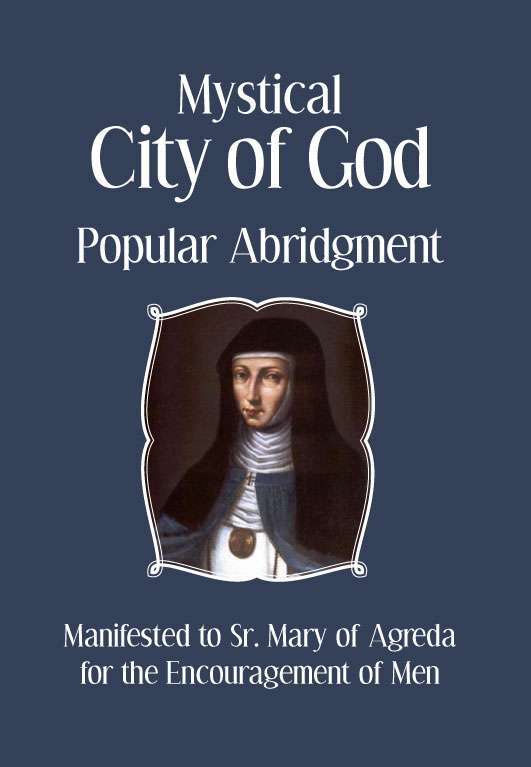 MYSTICAL CITY OF GOD
天主的奥秘之城
THE CONCEPTION
受孕
THE DIVINE HISTORY AND LIFE OF THE VIRGINMOTHER OF GOD
天主童贞之母的神圣历史和生命
MANIFESTED TO MARY OF AGREDA
向艾吉达的玛利亚的显现
FOR THE ENCOURAGEMENT OF MEN
以鼓励众人
Translated from the Original Spanish
翻译自西班牙语原文
BY FISCAR MARISON
费斯卡·马里森
(Rev. Geo. J. Blatter)
杰奥·J·布拉特蒙席
FIRST COMPLETE EDITION
完整版第一版
ADDRESS THE THEOPOLITAN SO. CHICAGO, ILL.
W. B. CONKEY COMPANY HAMMOND, INDIANA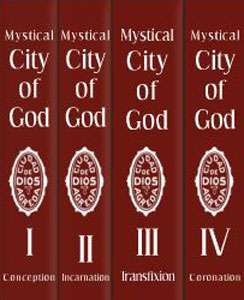 IMPRIMATUR
出版许可
Rome City, Ind., Aug. 24, 1912.
1912年8月24日,印第安纳州罗马市。
The Rev. George J. Blatter,
杰奥·J·布拉特蒙席,
Dear Rev. Father:
亲爱的神父
My Imprimatur is herewith granted to yourEnglish translation of the work entitled"Ciudad de Dios"; Wishing youevery blessing, I remain Devotedly in Domino,
谨此同意你将作品《天主的奥秘之城》译成英文。祝福你,我将始终如一的支持你。
H. J. ALERDING, Bishop of Fort Wayne.
伟恩堡主教H.J.阿勒丁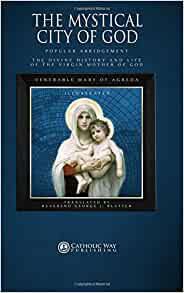 目录
SPECIAL NOTICE AND APPROBATIONS IX.-XXIV.
特别公告及认可
INTRODUCTION ………………… 3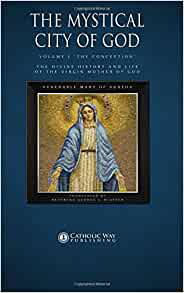 介绍
BOOK ONE
第一卷
CHAPTER I. Concerning Two Special VisionsVouchsafed to My Soul by the Lord and Concerning Other Enlightenments and Mysteries,which Compelled Me to Withdraw from Earthly Things and Raised My Spirit to Dwellabove the Earth .…………………23
第一章关于上主给我灵魂的两个特别的异象,关于其他启示和奥秘,迫使我远离尘世的事物,并使我的灵魂居住在尘世之上…………………23
CHAPTER II. How the Lord, in the State inwhich He Had Placed Me, Manifested to Me the Mysteries of the Life of the Queenof Heaven …………………35
第二章上主怎样把我放在祂所赐给我的位置,向我显明天后生命的奥秘…………………35
CHAPTER III. Of the Knowledge of the Divinity,which was Conferred Upon Me, and of the Decree of the Creation of the World…………………46
第三章天主赐给我的神性知识,以及创造世界的法则
CHAPTER IV. How the Divine Decrees are Classifiedaccording to Instants, and what God in Each Determined to Communicate ad Extra………………… 52
第四章神圣的法令是如何根据瞬息来分类的,以及天主在每一个瞬间都决定要传达什么………………… 52
CHAPTER V. Instructions concerning Holy Scriptures,and in Particular concerning Chapter Eight of the Proverbs, in Confirmation of thePreceding Pages………………… 62
第五章关于圣经的说明,特别是关于《箴言篇》的第八章,证实了前面几页………………… 62
CHAPTER VI. Concerning a Doubt, which I ProposedRegarding the Doctrine Contained in these Chapters, and the Answer to It………………… 75
第六章关于我提出的涉及这些章节中所包含的教义的疑问,以及对它的回答………………… 75
CHAPTER VII. How the Most High gave a Beginningto His Works and Created all Material Things for the Use of Man, while Angels andMen were Created to be His people Under the Leadership of the Incarnate Word …………………83
第七章至高者如何开始祂的工作,创造一切供人使用的物质事物,而天使和人是如何在成了肉身之道的领导下被创造成祂的子民…………………83
CHAPTER VIII. Which Follows up the PreviousDiscourse by the Explanation of the Twelfth Chapter of the Apocalypse., …………………93
第八章它通过对《默示录》第十二章的解释来延续先前的论述…………………93
CHAPTER IX. The Rest of the Twelfth Chapterof the Apocalypse is Explained………………… 104
第九章解释《默示录》的第十二章的其余部分…………………104
CHAPTER X. The Explanation of the TwelfthChapter of the Apocalypse is Concluded …………………116
第十章《默示录》第十二章的解释的结论…………………114
CHAPTER XI. In the Creation of All Thingsthe Lord had before His Mind Christ Our Lord and His Most Holy Mother. He ChoseHis People and Heaped His Benefits on Them 125
第十一章在万物的创造中,上主在祂的心目中有基督我们的主和祂至圣之母。祂拣选了祂的人民,并把祂的恩惠聚集在他们身上…………………125
CHAPTER XII. How, after the Human Race hadbeen Propagated, the Clamors of the Just for the Coming of the Redeemer Increased,and Likewise Sin ; in this Night of the Ancient Law, God Sent Two Morningstars asHarbingers of the Law of Grace …………………141
第十二章在人类繁殖蔓延之后,正直的人呼求救赎主降临的声音越来越高,罪恶也越来越多;在这古老的法律之夜,天主差遣两颗晨星,预告恩典的法律…………………141
CHAPTER XIII. How the Conception of the MostHoly Mary was Announced by the Archangel Gabriel, and How God Prepared Holy Annefor It by a Special Favor 151
第十三章总领天使加俾额尔如何宣布圣母玛利亚的怀孕,天主如何用一个特别的恩宠预备圣安纳…………………151
CHAPTER XIV. How the Almighty Made Knownto the Holy Angels the Opportune Decree for the Conception of the Most Holy Mary;and which of Them He Selected for Her Custody 161
第十四章全能的上主如何将至圣玛利亚受孕的合宜命令告诉圣天使的,又如何拣选他们中的哪一个来守护她…………………161
CHAPTER XV. Of the Immaculate Conceptionof the Mother of God through Divine Power …………………173
第十五章关于天主之母通过神圣大能纯洁受孕…………………173
CHAPTER XVI. Of the Habits of Virtue, withwhich God Gifted the Soul of the Most Holy Mary, and of Her First Exercises of TheseVirtues in the Womb of her Mother Anne ; She Herself Gives me Instructions for ImitatingHer …………………184
第十六章关于德性的习惯,天主赋予了至圣玛利亚的灵魂,以及关于她在母亲安纳的子宫里第一次练习这些德性;她自己给了我效法她的教导…………………184
CHAPTER XVII. Still Treating of the Mysteryof the Conception of Holy Mary and Explaining the Twenty-first Chapter of the Apocalypse………………… 198
第十七继续叙述圣母玛利亚受孕的奥秘和解释启示录的第二十一章…………………198
CHAPTER XVIII. Sequel of the Mystery of theConception of the Most Holy Mary as Described in the Second Part of the Twenty-firstChapter of the Apocalypse………………… 217
第十八章《默示录》第二十一章第二部分所述的至圣玛利亚受孕之谜的续集…………………217
CHAPTER XIX. Contains the last Portion ofApocalypse XXI in as far as it Describes the Conception of the Most Holy Mary …………………232
第十九章包含《默示录》第二十一章的最后部分,因为它描述了至圣玛利亚的受孕…………………232
CHAPTER XX. Treating of what Happened duringthe Nine Months of the Pregnancy of St. Anne ; the Doings of the Most Holy Maryin the Womb of her Mother, and those of Saint Anne during that Time…………………252
第二十章处理圣安纳怀孕九个月期间发生的事情;至圣玛丽在她母亲的子宫里的举动,和圣安纳在那段时间的作为。…………………252
CHAPTER XXI. Of the Felicitous Birth of theMost Holy Mary Our Mistress : of the Favors, which She then Received from the Handof the Most High, and How a Name was Given Her in Heaven and on Earth…………………263
第二十一章关于我们的主母至圣玛利亚的奇妙诞生:她从至高者之手得到的恩宠,她在天上人间的名字是如何被赐予的…………………263
CHAPTER XXII. How Saint Anne Complied withthe Law of Moses in regard to Childbirth ; and How Most Holy Mary Acted in Her Infancy………………… 278
第二十二章圣安纳在生孩子方面如何遵守梅瑟的律法;以及至圣母玛利亚在她幼年时的行为…………………278
CHAPTER XXIII. Of the Emblems of the HolyGuardian Angels in their Intercourse with the Blessed Mary, and of Their Perfections………………… 291
第二十三章神圣守护天使与圣母玛利亚交流时的象征,以及他们的完美…………………291
CHAPTER XXIV. Of the Holy Exercises and Occupationsof the Queen in the First Year and a Half of Her Infancy………………… 301
第二十四章关于元后在婴儿期的头一年半的神圣行迹和日常生活…………………302
CHAPTER XXV. How the Most Holy Child MaryBegan to Speak at the Age of One Year and a Half; and How She was Occupied untilthe Time of Her Departure to the Temple………………… 309
第二十五章神圣的孩子玛利亚是如何从一岁半开始说话的,又是如何忙碌到她离开圣殿的时候?…………………309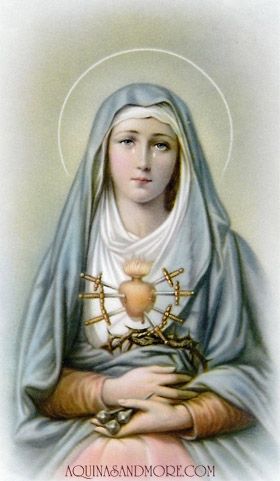 BOOK TWO
第二卷
CHAPTER I. Of the Presentation of the MostHoly Mary in the Temple at the Age of Three Years.…………………325
第一章关于三岁时,至圣玛利亚在圣殿中被献上…………………325
CHAPTER II. Concerning a Singular Favor,which the Almighty Conferred on Most Holy Mary as soon as She was Established inthe Temple………………… 337
第二章论到一件奇异的恩宠,就是全能的上主在至圣玛利亚被坚立的时候,所赐给她的…………………337
Chapter III. Instruction which the Queenof Heaven Gave Me concerning the Vows of My Profession.....................348
第三章天后就我的发愿誓言给了我教导…………………348
Chapter IV. Of the Perfection in which MostHoly Mary Passed Her Days in the Temple, and of the Exercises which She was Orderedto Undertake.............................360
第四章关于至圣马利亚在圣殿中所度过的完美时光,并论到她奉命所行之事…………………360
Chapter V. Of the Perfections of the MostHoly Mary in the Practice of Virtues in General, and of Her Advance in Them …………………371
第五章关于至圣马利亚修习全备的美德,以及她在这些美德上的进深………………… 371
Chapter VI. Of the Virtue of Faith, and HowMost Holy Mary Practiced It …………………377
第六章关于至圣玛利亚如何操练信德…………………337
Chapter VII. Of the Virtue of Hope, and Howthe Virgin Our Lady Practiced It…………………389
第七章关于望德,以及圣母玛利亚如何操练它…………………389
Chapter VIII. Of the Virtue of Charity inthe Most Holy Mary, Our Lady…………………397
第八章至圣玛利亚的爱德…………………397
Chapter IX. Of the Virtue of Prudence asPracticed by the Most Holy Queen of Heaven…………………411
第九章至圣天后所操练的智德…………………441
Chapter X. Of the Virtue of Justice, as Practicedby Most Holy Mary…………………426
第十章至圣玛利亚所操练的义德…………………426
Chapter XI. The Virtue of Fortitude, as Practicedby the Most Holy Mary …………………440
第十一章至圣玛利亚所操练的勇德…………………440
Chapter XII. The Virtue of Temperance asPracticed by the Most Holy Mary …………………449
第十二章至圣玛利亚所操练的节德…………………449
Chapter XIII. Of the Seven Gifts of the HolyGhost and How the Most Holy Mary Made use of Them…………………462
第十三章圣神的七份恩赐,以及圣母玛利亚如何运用它们…………………462
Chapter XIV. Explanation of the DifferentKinds of Divine Visions Enjoyed by the Queen of Heaven and the Effects which TheyWrought in Her…………………476
第十四章解释了天后所享有的不同种类的神视异象以及它们对她的影响…………………476
Chapter XV. Description of Another Kind ofVisions and Communications, which the Most Holy Mary Enjoyed with the Holy Angelsof Her Guard…………………500
第十五章描述另一种神视异象和沟通共融,这是至圣玛利亚与她的守护天使一起享有的…………………500
Chapter XVI. Continuation of the Historyof the Most Holy Child Mary in the Temple; the Lord Prepares Her for Troubles, andJoachim, Her Father, Dies…………………510
第十六章延续圣殿里至圣马利亚的历史;上主使她预备好迎接苦难,她的父亲雅敬死了…………………510
Chapter XVII. The Princess of Heaven Beginsto Suffer Affliction; God Absents Himself From Most Holy Mary: Her Sweet and AmorousSighs…………………523
第十七章天上的公主开始受苦;天主离开了至圣玛利亚,她甜蜜多情的叹息…………………523
Chapter XVIII. Other Afflictions of Our Queen,Some of which were Permitted by the Lord Through the Agency of Creatures and ofthe Ancient Serpent…………………531
第十八章我们天后的其他痛苦,其中一些是天主允许的,通过人和古蛇的代办…………………531
Chapter XIX. The Most High Enlightens thePriest concerning the Spotless Innocence of Most Holy Mary; She Herself is Informedof the Approaching Death of Her Mother, Saint Anne, and is Present at this Event…………………547
第十九章至高者启示祭司关于至圣玛利亚的纯洁无玷;她自己被告知她的母亲,圣安纳临近死亡,并参与了这一事件…………………574
Chapter XX. The Most High Manifests Himselfto His Beloved Mary, Our Princess, by Conferring on Her an Extraordinary Favor…………………558
第二十章至高者通过给祂心爱的玛利亚,我们的公主一个特别的恩惠来显示祂自己…………………558
Chapter XXI. The Most High Commands the MostHoly Mary to Enter the State of Matrimony and Her Response to this Command .…………………567
第二十一章至高者命令至圣玛利亚进入婚姻生活和她对这一命令的回应…………………567
Chapter XXII. The Espousal of Most Holy Marywith the Most Chaste Saint Joseph…………………576
第二十二章至圣玛利亚与至纯圣若瑟结为夫妻576
Chapter XXIII. An Explanation of ChapterThirty-One of the Proverbs of Solomon, to which the Lord Referred Me Regarding theLife of Most Holy Mary in Matrimony…………………587
第二十三章所罗门的《箴言篇》第三十一章的解释,上主向我提及至圣玛利亚的婚姻生活…………………587
Chapter XXIV. The Same Subject Continued:the Rest of the Thirty-first Chapter of the Proverbs is Explained…………………597
第二十四章同样的题目继续:解释《箴言篇》第三十一章的其余部分…………………597
微信扫一扫
关注该公众号
作者:艾吉达的耶稣玛利亚
艾吉达的耶稣玛利亚

人物经历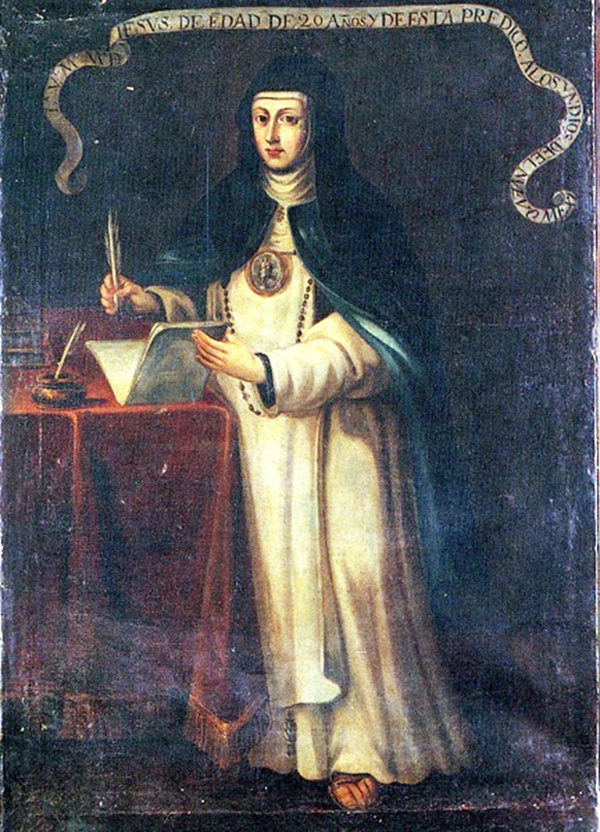 艾吉达的耶稣·玛利亚(Mary of Jesus of Agreda, Spanish: María de Jesús),西班牙索里亚艾吉达圣母无玷始胎修道院院长(Monastery of La Concepción, Agreda, Soria, Spain),被教会封为可敬者,坚定的圣母无玷始胎支持者,是那个时代著名的神秘主义者,如同更早期她的同胞亚味拉的大德兰,她们时常在虔诚的祈祷中进入神魂超拔的状态。
艾吉达的耶稣·玛利亚也是一位宗教作家,她一生中曾写过14本书,包括一系列关于万福童贞玛利亚生活的启示,尤其以她与西班牙国王菲利普四世大量的书信往来,以及在西班牙与新西班牙殖民地之间分身的报道闻名于世。她的分身活动据说发生在她位于西班牙乡村的隐修院与新墨西哥中部的朱马诺印第安和得克萨斯西部。在蓝色被用做修会会衣颜色之后,自17世纪以来,在大众文化中她被称为穿蓝衣的女士或蓝衣修女。
人物生活
早期生活
1602年,玛利亚·科罗内尔·阿拉纳(María Coronel y de Arana)出生于位于索里亚省的一个小镇艾吉达,是犹太裔方济各·科罗内尔(Francisco Coronel)和阿拉纳·卡特琳娜(Catalina de Arana)的女儿。这对贵族夫妇育有11个子女,其中只有4个活至成年:方济各(Francisco)、何塞(José)、玛利亚(María)和泽鲁尼玛(Jerónima)。艾吉达的耶稣·玛利亚后来描述,她的母亲较她的父亲更为活泼,他们对自己的信仰都非常热心。这个家庭与位于小镇郊区的圣朱利安托钵会方济各会(Franciscan friars of the Friary of San Julián)的会士们有着密切的关系。不仅他们的母亲会带着孩子们去托钵会参与弥撒和告解,托钵会的会士们也会拜访他们的家庭。尽管如此,玛利亚后来回忆说,她觉得小时候她的父母对她非常严厉。
耶稣·玛利亚的传记作家与同时代的主教何塞·西门尼斯·萨曼涅哥(José Jiménez y Samaniego)是科罗内尔家族的老朋友,有见证表明艾吉达的耶稣·玛利亚在年幼时就表现出独特的恩宠标记,满腹神学知识,早年时,他写到"她在神魂超拔和神视中天主告诉她这个世界的罪恶,并且这种确信有罪的想法持续她终生。" 四岁时,迭戈·耶佩斯主教(Diego de Yepes)(也是亚味拉的大德兰Teresa of Avila的传记作家和最后一位听告解神师)证实,他对这个孩子属神的敏锐有极深的印象。在她生命中的这个时期内,她感到她父母对她的态度越来越温和。
十二岁时,她决定进入塔拉索纳的赤足加尔默罗修女院(Discalced Carmelite nuns in Tarazona)。当她父母准备陪她一同前往那里时,她的母亲卡特琳娜·阿拉纳有了一个神视,在神视中,她将自己的家变成了修女院,她和她所有的女儿们都在那里做修女。当年幼的玛利亚同意这个安排时,她的父亲拒绝了,并在这件事上获得了他兄弟梅德尔和邻居们的支持,他们都认为这样做有悖于他们的婚誓。父亲的反对持续了三年,直到1618年,作为一个刚步入五十岁的中年男子,经过考虑,他(他的兄弟随后亦然)进入了纳尔达圣安东尼的方济各会(Franciscan Friary of San Antonio in Nalda)做了杂役修士(lay brother)。而耶稣·玛利亚的兄弟们早已都成为修士,继续他们在布尔戈斯(Burgos)天主教神职的学习。十七岁时,耶稣·玛利亚进入艾吉达的圣母无玷始胎修会的克莱尔苦修会(Poor Clare)做初学生,1620年庆祝取洁礼时,她开始了她的修女生涯。
修院生活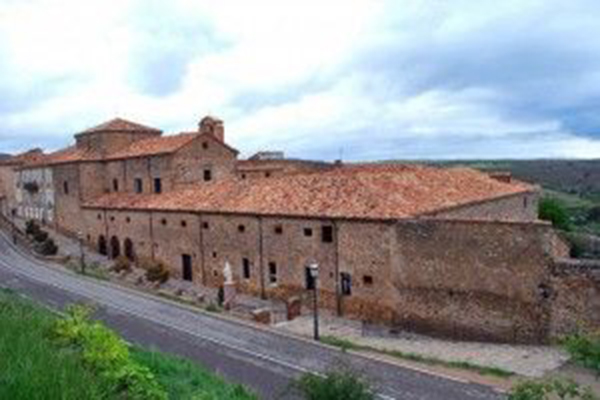 艾吉达的耶稣玛利亚建立的修院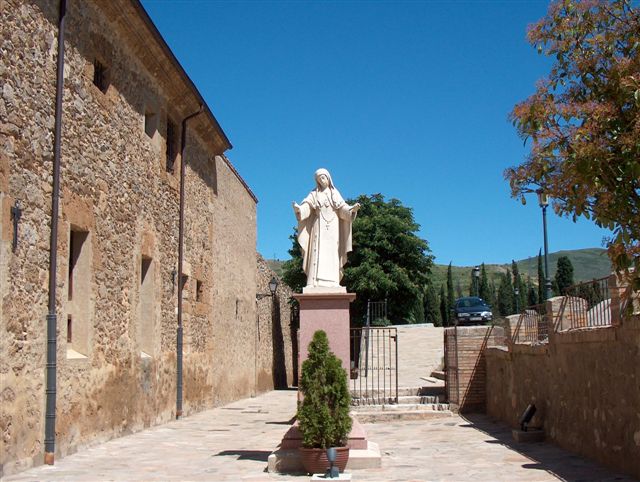 修院前耶稣玛利亚的白色塑像
卡特琳娜和她的女儿们随后将她们的房子捐赠给圣母无玷始胎修会作为该会的一个隐修院,这个修院是艾吉达的耶稣·玛利亚给圣母无玷始胎修会巨大捐赠中的一部分,标志着那个时代西班牙的宗教信仰情况。她们创建的这个修院作为赤足的——或改革的——修会分院的一部分,不巧的是那个地区没有这个分会的修院,所以原来的卡塞德分会的修女被派往她们位于布尔戈斯的修院担任院长并对她们的修会生活进行教导。后来她回忆说,这段时期对她的精神生活是一个严峻的考验,并导致了某种虚荣,而在她父母发生分歧和因建院而耽搁的那段时期内,她不得不改掉她多年以来懒散的习惯。
随着其他妇女很快加入这个团体,修院被重建,并于1633年竣工,尽管开始重建时,修会的保险柜里只有24雷亚尔(约合当时的2.5西班牙元),后来收到人们100雷亚尔及其它物资的捐赠,还有人前来做义工。1620年耶稣玛利亚一发完愿,就经历了一段长时间的病痛和诱惑。她母亲离世后,在她25岁时,被任命为常务副院长,她的谦卑和善良使她获得了修女们的喜爱,随后修女们选举她做院长。她有效地管理着修院直至去世,其间除了三年的休息时间。
作为修院院长,她总是第一个去做卑微的工作,她清扫门厅,照顾病人,为病人清洗衣物,尤其喜爱做最低微的服务工作。她的生活方式极为严苛,她不仅不食肉,也不食奶、蛋、乳酪,每天只在硬床板上睡两至三个小时,夜里的其余时间她都用于热心祈祷,以至于人们都很想知道在这种情况下她还如何能进行日常工作。即便作为院长,她也努力实践服从,听从她长上的各种建议,在属神的事物上听从她告解神师的指导。曾经有一段时间,她的一位听告解神师对她极其严厉,不同意她提出的一切要求,即便这样,玛利亚也愉快地听从,后来她时常说:"他做得很好,我时常想,他是对的,因为服从使我的灵魂感到极大的平安。"
神秘的分身和对传教士的影响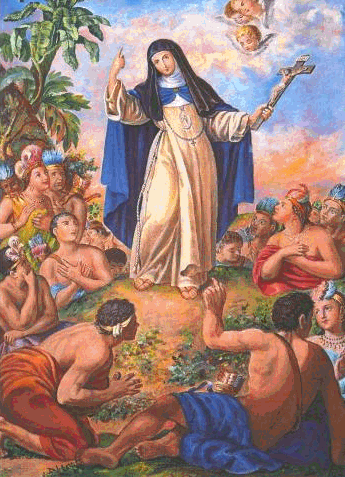 分身就是一个人在一个地方,或是看上去在那里,却同时出现在另外一个地方。
在1620年至1631年之间,耶稣·玛利亚报告她时常被天使提至被人们称为朱马诺的土著居民地(settlements of Jumanos)。新西班牙的朱马诺印第安人(Jumano Indians)(今得克萨斯Texas与新墨西哥New Mexico)长久以来需要传教士,他们希望得到阿帕奇人(Apaches)的保护。最终在1629年,由胡安·萨拉斯(Juan de Salas)带领的方济各托钵会团体前往拜访了他们。
女修道院院长后来报道不再较之前频繁地拜访那里,有许多位见证人证实她所有时间都在艾吉达的隐修院内,从未离开过。耶稣·玛利亚本人回忆说,圣母玛利亚曾在她还是一个孩子时,就启示她要为新西班牙的土著印第安人祈祷,这样这些灵魂便不会丧亡,于是她便时常热切地为这些灵魂祈祷并做刻苦补赎。1620年时,她第一次来到他们的岛上,她感觉到那里温暖的气候,就在那时,圣母玛利亚命令她开始向他们传递天主教信仰。在1620年至1623年的三年间,她至少500次显现给居住在吉瓦拉斯(quivairas)朱马诺及其它今天属于新墨西哥、得克萨斯和亚利桑那地区的人们。她说,在早年时,圣母玛利亚便启示给她处在恩宠中的灵魂与处在罪恶中的灵魂的不同状况以及拥有纯正信仰的灵魂是多么稀少。
在派遣修士之前,管理新墨西哥的阿隆佐·贝纳维德斯神父(Alonzo de Benavides)询问当地土著人为何他们如此急切地想要领洗。他们说一位穿着蓝色衣服的女士曾拜访过他们,这位女士让他们去寻求神父的帮助,他们指着一副蓝衣修女的画像说,这位女士也是这样的穿着,不过是一位年轻美丽的女士。朱马诺人前往依斯莱塔(Isleta),告诉人们蓝衣女士就在现在的萨利纳斯国家纪念馆(Salinas National Monument)这个地方拜访了他们,今天芒坦爱尓(Mountainair)的一个小镇,距阿尔布凯克(Albuquerque)以南65英里处。与此同时,艾斯特班·佩雷亚(Esteban de Perea)向贝纳维德斯(Benavides)提交了一份来自西班牙索里亚的耶稣·玛利亚的听告解神父的调查,询问是否有任何证据表明她曾拜访过朱马诺人。
随着对耶稣·玛利亚神秘游历新大陆报道的迅速猛增,梵蒂冈教义部也关注了这个情况,然而她并未受到严厉阻止。
关于耶稣·玛利亚在美国西南部的神秘显现以及《天主的奥秘之城》中的默启段落,激励了十七、十八世纪的传教士们,他们把她的传道立为自己一生的工作,使耶稣·玛利亚成为美国殖民史中一个重要的组成部分。
个人著作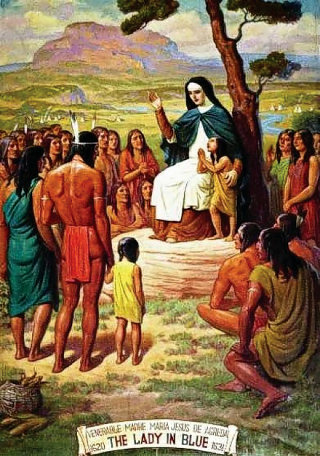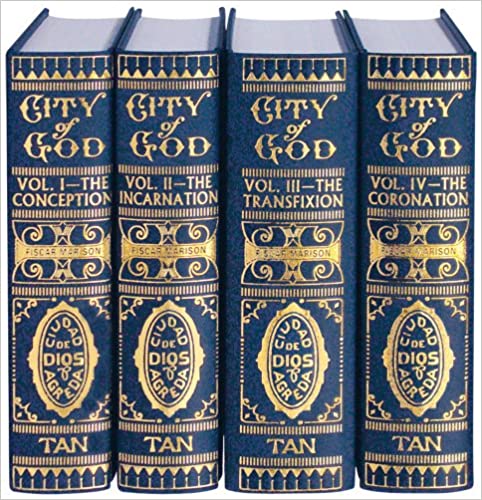 西班牙语版本的扉页
耶稣·玛利亚最为人熟知的著作是《天主的奥秘之城》(Mystical City of God, Spanish: Mistica Ciudad de Dios, Vida de la Virgen María),出版于1722年。书中涉及她直接由万福童贞玛利亚(口述)领受的关于地球和天堂上生活的众多启示。书中包含"万福童贞玛利亚"与"三位一体天主"的关系,及耶稣同时兼具神性和人性的一些行为与神迹,也包含大量细节,涵盖了新约的时间轴,还涉及圣母关于如何获得圣洁的建议。《天主的奥秘之城》圣母玛利亚的传记对巴洛克文学的贡献,时常在各大学或西班牙语言与文化专业被广泛学习。西班牙语著作文辞优雅,既涉及地球上的人类,也涉及属神世界,许多细节在当时既不为人知,也不被人完全接受。其中包括地球从太空中观看的样子(包含在她写于17世纪末出版的《地球的苦难条约》中)。童贞玛利亚的始胎无原罪,圣母玛利亚被提升至天堂,圣弥额尔总领天使和圣加俾额尔总领天使的职责,以及耶稣童年时期的一些细节,还涉及到基督的热情、复活及升天的细节。
由于1678年出版的一本错误的法文译本及各种对耶稣·玛利亚该著作的错误解读导致《天主的奥秘之城》在1681年8月被列入教会禁书目录。在禁书名单上显示为"暂时的"。后教宗克雷孟十一世于1747年将《天主的奥秘之城》从禁书名单中移除。教会内关于书中提及的"圣母始胎无原罪"教义存在极大的争议,直到1854年,教宗庇护九世以他不能错误的宗座神权,庄重宣布钦定圣母无玷始胎的通谕后,书中关于"圣母始胎无原罪"才被广泛接受。
除了已出版的14部著作外,耶稣·玛利亚还应西班牙菲利普四世国王的邀请,担任他的神师顾问和政治顾问,任期超过22年,已保存的来往信件有600多封。
离世与遗作
艾吉达的耶稣·玛利亚于1667年5月24日,五旬节早上9点离世。在她墓前曾发显过许多神迹。
在艾吉达的耶稣·玛利亚的众多著作中,尤以《天主的奥秘之城》最为著名,这套宏大的由圣母玛利亚亲自启示给她的关于万福童贞玛利亚生活的巨作倍受欢迎,读者遍及教宗、枢机主教及神学家三百余年之久。
身体不腐与封圣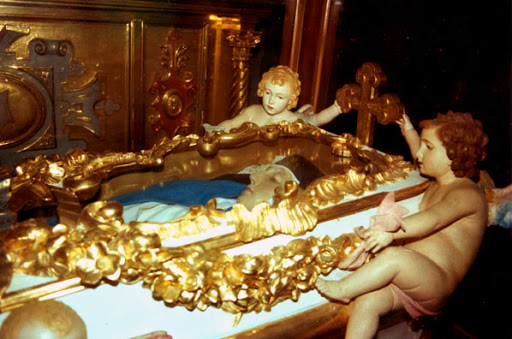 可敬者不腐的身体放置于西班牙艾吉达圣母无玷始胎隐修院教堂内
当艾吉达的耶稣·玛利亚的棺木于1909年被打开时,人们对这位17世纪女修院院长的身体做了一项粗略的科学检查。1989年,一位叫安德雷亚斯·梅蒂纳(Andreas Medina)的西班牙医生参与了另外一项科学检查。1991年,她对调查记者哈维尔·塞拉(Javier Sierra)说:"最让我吃惊的是当我们将1909年医学报告中描述的身体状况与1989年的身体状况进行比较时,我们意识到在过去的八十年中,身体完全没有任何腐坏。" 调查人员在重新密封她的棺木前进行了拍照和取证,目前仍展示在修院教堂内。
艾吉达的耶稣·玛利亚离世后不到十年,教宗克雷孟十世宣布其为可敬者,为她"满宠圣德的卓越生活"表示敬意,尽管列入真福的程序1673年就开始了,但由于一些原因,封圣进程一度中断,关于《天主的奥秘之城》中大量圣母玛利亚给她的启示以及属神世界的描述,在几任教宗中存在争议,使得封圣进程至今尚未完成。不过一些人认为耶稣玛利亚身体的不腐,是她圣洁的进一步证据。
001天主的奥秘之城第一册第1卷第1章1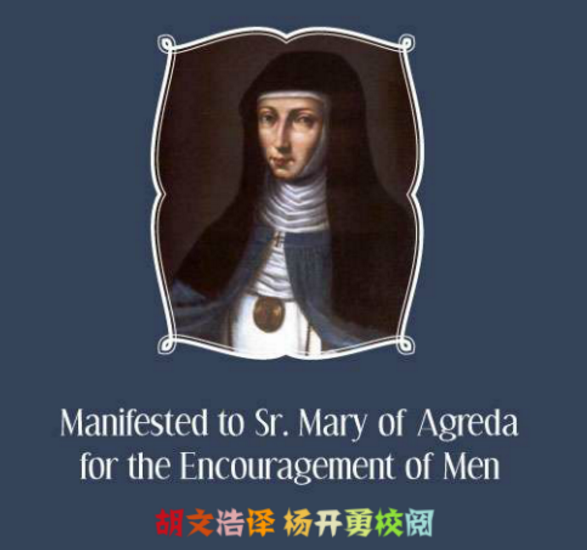 此书是17世纪西班牙修女Sister Mary Jesus Agreda 所著. 她得到天主默感启示, 看到圣母和耶稣的一生, 包括天上及人间的生平; 还有天主创造世界, 魔鬼和背叛天主的堕落天神等事情经过. 这一切详详细细地记录在这四巨册中.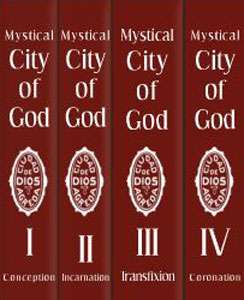 这套书在1949得到罗马教庭认可, 列为圣书,是天主教经典,三百多年来影响天主教主流思想. 这书中所记载耶稣和圣母的人间生活,完全苦行: 终生吃素, 手不沾金钱, 自给自足.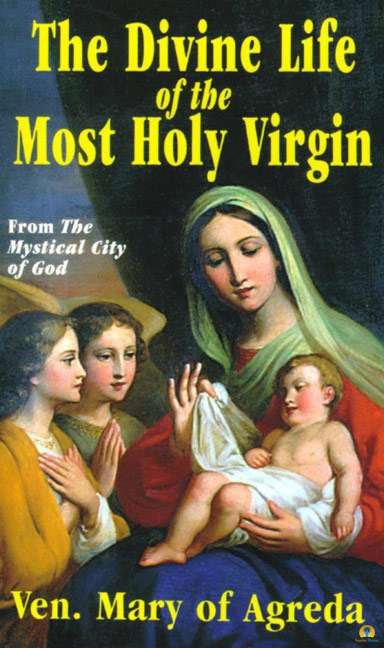 天主的奥秘之城第一章 第一节

SPECIAL NOTICE TO THE READER REVELATIONS
启示读者特别注意事项
NOTHING that essentially differs fromthe teachings of the Catholic Church can rightfully be taught or believed byany man or under any pretext.
任何本质上不同于大公教会教导的东西,都不能被任何人或以任何借口,正当地用来传授或相信。
Moreover, even the essential doctrinescan be taught and expounded only in the sense and spirit approved, or at leastnot disapproved, by the Church.
此外,即使是最基本的教义,也只有在教会意识及精神认可,或者至少不是不认可之下,才能被传授和阐述。
This at once will establish the positionwhich private revelations, whether coming from Heaven or originating fromhallucination, merely human or devilish, hold in the Church of God.
这就立即确立了私人启示在天主的教会中占有的地位,无论是来自于上天的启示,还是来自幻想,或仅是人或鬼的启示。
There can be no doubt that God can anddoes manifest to chosen souls hidden things in addition to what He teachesthrough the public ministry of His Church.
毫无疑问,除了通过教会公开事工的传授,天主也能而且确实向祂拣选的人显明隐藏的事。
It is also an accepted truth that Hesometimes reveals them to his friends for the express purpose of communicatingthis extra knowledge to other well disposed persons through the natural andhuman means at the disposal of those receiving his revelations.
这也是一个公认的事实,祂有时向祂的朋友快速传递特殊的知识,通过那些接受祂启示的人,使用自然和人的手段,把这些额外的知识传达给其他有开放之心的人。
These manifestations He invariablysurrounds with enough evidence to satisfy all requirements of a cautious andwell founded human belief.
祂总是以足够的证据围绕着这些显现,以满足人们在相信上,曾有的谨慎和充分根据的要求。
It follows naturally that whenever Hethus surrounds private revelations with evidences of their heavenly origin, Hewill be pleased with a rational and loving belief and dissatisfied with acaptious and obstinate unbelief of the facts or truths thus privately revealed.
很自然地,每当天主用属天的证据围绕着私人启示时,祂对理性和充满爱的信者感到高兴,但对私人启示的事实或真相的吹毛求疵和顽固不信者感到不满。
Where, however, these external evidencesare wanting, or wherever holy Church intimates the least direct or indirectdisapproval, there any faith in private revelation would be not only foolish,but positively wrong.
然而,在外部证据不足,或圣教会暗示有一丝丝直接或间接的反对,任何对私人启示的相信不仅是愚蠢的,而且是肯定错误的。
FULL APPROVAL
完全批准
The Church has as yet given no publicand full approval to private revelations of any kind; nor will she ever do so,since that would be really an addition to the deposit of faith left by Christ.
教会至今还没有对私人启示给予公开和充分任何形式的认可;她也永远不会这样做,因为这私人启示真正是基督留下的额外信仰寄託。
But tacitly and indirectly she hasapproved many private revelations, and among them the writings of Mary ofAgreda.
但教会她默许了许多私人的启示,其中包括艾吉达的玛利亚著作。
She could well do so, since there are nowritings of that kind which exhibit more reliable human proofs of divine originthan the "Ciudad de Dios" of the Venerable Servant of God, Mary of Jesus of Agreda.
教会她完全可以这样做,因为出自人手并能展示源自神圣、可靠的这类著作中,莫过于尊贵的主仆,艾吉达的耶稣.玛利亚所著作的《天主之城》。
The existence of the Bible justifies thequery, whether there are not other books that have been written under supernaturalguidance, though we know of course that none of them can ever have the sameimportance and authenticity as the Bible.
《圣经》的存在证明了这个疑问,是否有其他的书是在超然的指引下写的,尽管我们当然知道它们都不可能如圣经一样的重要和真实。
For the Bible was provided as the recordof the general revelations of God to mankind at all its stages to the end oftimes.
因为《圣经》是天主对人类所有阶段,且一直到世界末日,而提供的一般启示的记录。
A VAST FIFLD BETWEEN
介于两者之间
Evidently there remains an immensedomain of truths outside the range of natural human knowledge and not speciallyrevealed in the Bible.
显然,在人类的自然知识范围之外,还有大量的真理没有被特别揭示在《圣经》中。
You will at once say: that whole fieldis covered by the one true religion.
那么你会立刻说:整个领域都被真信仰所覆盖。
Of course it is. The teaching andministry of men especially appointed for that purpose, the practice and exampleof those eminent in the Christian virtues, the writings of those versed inhigher truths, are the ordinary means of spreading truth and leading men totheir great destiny.
当然是的。专门为此目的而指定者的教导和事工,那些在基督徒德性方面杰出者的实践和榜样,那些精通更高真理者的著作,都是传播真理和引导人们走向伟大命定的普通手段。
But besides all this, history provesthat God, for special purposes, often grants to his friends higher insight intosupernatural truths and facts, which, if at his command they are recorded inwriting, are intended by Him as an additional source of higher knowledge andwell deserve to be considered as private revelations.
但除此之外,历史证明,出于特殊目的,天主经常给予祂的朋友对超然真理和事实的更高洞察力,如果在祂的命令下,这些事实被记录下来,祂的意图是作为更高知识的额外来源,就完全值得被认为是私人启示。
EARMARKS OF DECEIT
欺骗的特征
Past ages simply teem with writings thatclaim to be derived from or based on divine revelation or inspiration. Many ofthem are clearly nothing but frauds, showing the signs of conscious orunconscious hallucination.
古往今来,充斥着各种声称源自或基于天主的启示或灵感的作品。他们中的许多人显然只是骗子,表现出有意识或无意识的幻觉。
Many again seem beyond mere naturalhuman powers of insight, but at the same time in their authorship andtendencies show nothing divine or beneficent, thus proving that besides humanerror and malice the sinister and treacherous knowledge of malign spirits oftenfinds its way into such writings. Ancient sorcery and magic and modernspiritism have their root in this sort of preternatural communication.
许多作品似乎又超越了人类天然的洞察力,但与此同时,作品的作者身份和作者倾向却没有显示神圣或有裨益,从而证明,除了人的错误和恶意之外,恶灵的邪恶、奸诈的知识也常常进入这些作品中。古代的巫术和魔法,以及现代的招魂术,都起源于这种超自然的交流。
TO BE CLOSELY SCRUTINIZED
要仔细查验
Hence it would be foolish not to demandthe closest inquiry into anything put forward as private revelation.
因此,如果不要求对任何私人启示提出的问题进行最密切的查验,那将是愚蠢的。
Fortunately it is easy to apply sure andunfailing tests.
幸运的是,施以确实且可靠的测试是很容易的。
All that is necessary, is to ascertainthe character and motives of the writer and the result or drift of hiswritings.
我们所要做的就是弄清作者的性格和动机,以及他的作品的结果或主旨。
Mahomet proves himself an epilepticadventurer and his Koran a travesty of Judaism and Christianity, settling likea blight upon civilization.
穆罕默德证明了自己是一个癫痫病的冒险家,他的《可兰经》是对犹太教和基督教的嘲弄,就像文明的一场瘟疫。
Joseph Smith and his companions turn outto be rebellious incendiaries and murderers and their book of Mormon aridiculous fake, establishing a fanatic and bigamous theocracy.
若瑟.史密斯和他的同伴们被证明是反叛的煽动者和谋杀者,他们的《摩门经》是荒谬的赝品,建立了一个狂热的重婚的神权政体。
The fakir Dowie pretending prophecy,ends as a lunatic in a bankrupt Zion, yet leaving millions to his relatives.
骗子道伊假装预言,以一个破产的锡安,以疯子的身份结束,但给他的亲戚留下了数百万美元。
The humbugging Eddy, aftercrazy-quilting scraps from the Bible with shreds of Buddhism, Brahmanism andTheosophy, shuffles off her wrinkled coil amid a numerous following of dupeswho rather expected her faked science to keep her perpetually alive or raiseher up from the dead,Is there any difficulty in discovering the fraud in revelations ofsuch a kind?
骗子埃迪,用佛教、婆罗门教和通神论的碎片,疯狂地缝上圣经的碎片后,在无数的追随者中拖着她皱巴巴的圈套,这些追随者宁愿指望她捏造的科学让她长生不老,或者让她起死回生,在这样的"启示"中发现欺诈有困难吗?
Yet they claim divine inspiration andvery often contain passages which show sources of information and deceit notaltogether human.
然而,他们声称是神圣的启示,却经常包含一些文字,而这些文字显示了不完全是人的信息和欺骗的来源。
The sinister manifestation of spiritismand the astounding information often furnished by mediums, are not all sleightof hand or illusion of the senses; some of these things can be explained onlyby assuming interference of a sinister spirit world.
巫术的邪恶表现和通常灵媒提供的惊人信息,并不都是花招或感官的幻觉;因为这些事情中的一些,只能通过假设是由一个邪恶灵界的干涉来解释。
REALLY ANOTHER ARGUMENT FOR PRIVATEREVELATIONS
关于私人启示的其他实在的论证
Would it not be absurd to concede thecommunication with evil spirits or departed souls, damned or otherwise, (andall reasonable people concede it), and deny the possibility of communing withthe good spirits or souls and with God?
承认与邪灵、亡灵,下地狱的灵或其他的灵沟通,(有理性的人都会承认这些),却否认人和善灵或人和天主交流的可能性,这难道不是荒谬的吗?
Who would want to limit the power of Godin this way?
谁愿意这样限制天主的能力呢?
It will not do to claim that all thecommunication of God and the good spirits takes the ordinary course provided inthe public ministry of the true religion.
不能说所有与天主和善灵的沟通,都按照真信仰的公开事工所提供的一般程序而有。
For it does not. Saint Paul saw thingsthat he dared not reveal, though he was not slow in writing down his otherrevelations.
因为事实并非如此。圣保禄就看到了他不敢透露的事情,尽管他很快就把其它(可以)启示的东西写了下来。
The doctrine of the ImmaculateConception and the Infallibility was privately revealed many times before theywere officially defined and accepted as self-understood truths by allreasonable men.
"圣母始胎无染原罪"和"绝对正确"的教义在正式确认,和被所有理性的人接受为'自我理解'的真理之前,就曾多次私下启示过。
Before these doctrines were defined, whohad the greater prudence and insight?
在这些教义被界定之前,谁有更大的智德和洞察力?
Those people who refused to believethese truths because they were privately revealed, or those who examined thoserevelations and finding them humanly credible, and not contrary to the truereligion, simply accepted them as revealed by God?
是那些因为这些真理是私下启示的而拒绝相信它们的人,还是那些查验这些启示并发现它们是合乎人性的可信的,不是与真正的信仰相违背,並单纯地接受它们是天主启示的人?
I should think the latter showedthemselves ahead of their times and far more enlightened in their belief thanthe former, who persisted in a finical unbelief concerning all privaterevelations.
我认为后者走在时代的前列,在信仰上比前者开明得多,前者对所有私人启示都有一种顽固的不信。
NO DIFFICULTY TO DISTINGUISH THE TRUEFROM THE FALSE
辨别真伪没有困难
If we find that the author of allegedprivate revelations has been a faithful adherent of the one true religionestablished by God, that he has led a good and blameless life, that hiswritings do not run counter to the Bible nor to the public teachings of thetrue Church, that he was not actuated by motives of selfish gain, pecuniary orotherwise, that the writings themselves tend toward the practice of perfectionboth as far as the writer as well as the reader is concerned, that they havenot been openly disapproved by the Church;
如果我们发现所谓的私人启示的作者是天主建立的唯一真正信仰的忠实追随者,他引导一个好的和无可指责的生活,他的著作既不违背《圣经》,也不违背真教会的公开教导,他不是出于自私的利益、金钱或其他方面的动机,就作者和读者而言,作品本身都趋向于成全的操练,他们没有被教会公开反对过;
then certainly, if the informationrecorded is such that it would presuppose supernatural inspiration or directcommunication with the higher world, we are not justified in immediatelyrejecting the writings as fraudulent.
那么当然,如果所记录的信息前提是超自然的灵感,或与高层天界的直接交流,我们就没有理由立即以欺诈为由拒绝这些著作。
Closer examination may easily lead toreasonable certainty that they are privately revealed.
若更仔细的调查很容易得出合理的结论,即这些信息是私下启示的。
But we all know that this acceptance cannever mean anything more than a mere human belief, not the belief of faith,such as for instance is demanded by holy Scripture.
但我们都知道,接受私下启示仅仅意味着人的信念,而不是信仰,如圣经所要求的信仰。
In fact, as soon as any such writinglays claim to implicit faith, it certainly is no revelation and ought to berejected at once as spurious.
事实上,任何类似的写作一旦自称是信仰,就确定没有启示,而应立即以虚假的理由予以拒绝。
002天主的奥秘之城第一册第1卷第1章2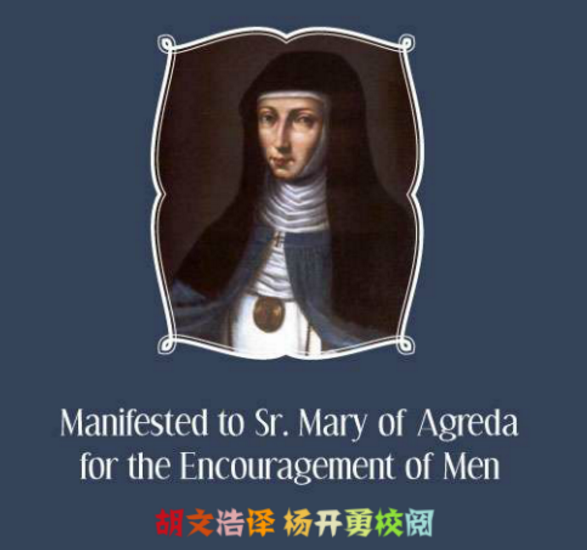 MARY OF AGREDA

艾吉达的玛利亚
2April 1602 – 24 May 1665
She was the daughter of Francis Coroneland Catherine of Arana, born April 2, 1602, in the small town of Agreda nearTarazona in Spain.
她是方济.科罗内尔和阿拉娜的加大利的女儿,在1602年4月2日,生于西班牙塔拉索纳附近的小镇艾吉达(西班亚北部靠近法国)。
In 1617 she entered the convent of thediscalced Franciscan Nuns in the Convent of the Immaculate Conception in Agredaand took her vows one year later.
1617年,她进入了格里达圣母无玷原罪修会的圣方济女修会,并在一年后宣誓。
In 1625 she was chosen abbess, muchagainst her wishes, and, except during a short intermission, was re-electedevery three years until she died, in 1665.
1625年,她被选为女修会会长,这是违背她的意愿的,除了短暂的间歇,她每三年连任一次,直到1665年去世。
The fame of her prudence and foresight,not only in the government of her convent but in other matters, soon spreadoutside the convent walls and persons of the highest rank in state and Churchwere eager to obtain her counsel in important affairs.
她的智德和远见的名声,不仅在她的修会的治理上,而且在其他事情上,很快就传遍了修院的墙外,在国家和教会里地位最高的人都渴望在重要的事情上得到她的建议。
King Philip IV visited her several timesin her convent and corresponded with her about national affairs for many years.
国王斐理伯四世在她的修道院里拜访过她几次,多年来一直与她通信,讨论国家大事。
But she was no less famous for herexalted virtues. In many respects her life was a faithful copy of that of St.Francis.
但她同样以高尚的美德而闻名。在许多方面,她的生活完全是圣方济的翻版。
The miracle of bilocation related of heris in fact more remarkable and lasted a longer time than that recorded anywherein the lives of the saints.
事实上,与她有关的分身奇迹比记录中圣人们生活的任何地方都更加引人注目,持续也更长久。(评注:圣五伤比约神父也有此神迹)
Her good sense, her truthfulness, hersincerity, her humility, her unselfish love of God and man eminently adaptedher for the communication of messages from God to men.
她的善智,坦率,真诚,谦卑,她对天主和人的无私的爱,使她非常适合于神人之间传达信息。
WHAT INDUCED HER TO WRITE
是什么促使她写作
In all writing that lays claim toprivate revelation, the motives of the writer must be closely scrutinized.
在所有声称是私人启示的作品中,作者的动机必须被仔细查验。
If it appears to be a self-imposed task,for selfish ends, pecuniary or otherwise, tending to particularity in religiousteachings or practice not approved by the established faith or written withoutknowledge or consultation of the rightful superiors, it ought to be rejected asspurious.
如果写作动机看起来是出于自私、金钱或其他目的而强加给自己的任务,倾向于独特的宗教教导或实践,而沒有被公认的信仰所认可,或没有得到合法長上知晓、咨询的情况下写成的文章,那么它应该被视为虚假而该被拒绝。
God will reveal nothing for such purposeor under such circumstances, and He will permit human error and deceit and thesinister influence of hell to run their natural course.
天主不会为了这样的目的或在这样的情况下启示任何事情,祂会允许人类的错误、欺骗和地狱的邪恶影响,而自然发展下去。
Nothing of all this appears in thewritings of Mary of Agreda. Though she was urged interiorly and exteriorly torecord the facts of history revealed to her concerning the Mother of God, sheresisted for twelve years and was finally induced to write only through the positivecommands of her superiors.
所有这些都没有出现在艾吉达的玛利亚的著作中。尽管内心和外在都敦促她,记录下关于天主之母的历史事实,但她拒绝了十二年,最后只能通过长上的积极命令才得以写作。
Reluctantly she began her history in theyear 1637 and finished it in the year 1645, continually asking to be relievedfrom the task because she thought herself unworthy.
她不情愿地在1637年开始了天主之母的的历史,并在1645年完成,她不断地要求从这个任务中解脱出来,因为她认为自己不配。
As soon as the insistence of hersuperiors relaxed and an error of judgment on the part of an outside confessorgave her a plausible excuse, she burned all her writings, thus destroying thelabor of many years.
一旦长上的坚持放松了,外來听告解神父的一个误判,就给了她一个合理的借口,她就烧掉了自己所有的作品,从而毁掉了多年的劳动。
When this came to the knowledge of thehigher authorities and when they insisted on her rewriting the history whichcontinued to be supernaturally made known to her, she again succeeded indelaying the task for ten years.
当更高的长上知道了这件事,并坚持要她重写,这段一直以超自然的方式让她知道的历史时,她又成功地把这件事推迟了十年。
Only the strictest command underobedience and the threat of censures finally induced her to write themanuscript which she began in 1655 and finished in 1665, and which is stillpreserved in the convent of Agreda.
只有在最严厉的命令和训责的威胁下,她才最终写了这部手稿,这部手稿她从1655年开始,到1665年完成,至今仍保存在艾吉达的修会。
WHY REVEALED TO A WOMAN
为何向一个女人显现
It is to be remembered that God's almighty power is restricted to no particular instrument; Hecreates out of nothing. In the case of Balaam, he used not only that wicked manbut even his beast for special revelation.
我们应该记住,天主全能的力量并不局限于任何特定的器皿;祂从无中创造出有。在巴郎的例子中,祂不仅使用了那个恶人,甚至他的牲口也得到了特别的启示。[注,巴郎,在和合本圣经译成巴兰]
It does seem that He prefers women forprivate revelation.
天主祂似乎更喜欢对女人进行私人启示。
He chose men to reveal the great publictruths of the Bible and to attend to the public teaching, but to women in thenew law He seems to have consigned the task of private revelations.
祂选择男人来揭示《圣经》中伟大的公共真理,并关注公共教导,但在新法律中,祂似乎把私人启示的任务交给了女人。
At least most of the known privaterevelations have been furnished us by women and not men. We must infer fromthis that they are better adapted for this work.
至少大多数为人所知的私人启示,是由女人而不是男人供应给我们的。我们必须由此推断她们更适合做这项工作。
In fact, no special learning or greatnatural insight is required of a messenger; such qualities might tend tocorrupt or narrow down the inspired message to mere human proportions, whereasprivate revelation is given precisely for the purpose of communicating highertruths than can be known or understood naturally.
事实上,信息传达者不需要特殊的学识或高超天然洞察力;因为这样的品质可能会使受感的信息破坏,或缩小到仅仅是人的范围,而私人启示恰恰是为了传达比天然所能知道或理解的更高的真理。
Humility, great piety and love, deepfaith are the requisites of God's special messengers.
谦卑、至孝、大爱、忠信,是天主特殊使者的必要条件。
Women as a rule are more inclined tothese virtues than men, and therefore are not so apt to trim the message of Goddown to their own natural powers of understanding.
一般来说,女人比男人更倾向于拥有这些德性,因此不至于把天主的信息,因自己天然的理解能力而删减。
In choosing women for his specialrevelations He gives us to understand from the outset, that what He wishes toreveal is above the natural faculties of perception and insight of either manor woman.
在选择女性作为天主祂的特殊启示时,祂从一开始就让我们理解,祂想要启示给我们的(事情),是超越了男人或女人的自然感知能力和洞察力。
how was "ciudad" received?
那么《天主之城》是如何被(世人)接受的?
As soon as the "City of God" appeared in print it was welcomed and extolled as a most wonderfulwork.
《天主之城》一出版问世就受到欢迎,并被誉为最奇妙的作品。
The different translations found no lessenthusiastic welcome in nearly all the European countries.
不同的译本在几乎所有的欧洲国家,都受到同样热烈的欢迎。
It secured the immediate approbation andencomium of the ordinaries, the universities, the learned and eminent men ofchristendom.
它立即得到了普通民众、大学、基督宗教界有学问的,和杰出人士的认可和赞扬。
There is probably no other book whichwas so closely scrutinized by those in authority, both civil and religious,andafterwards so signally approved as the "City of God."
可能没有其他书像《天主之城》那样受到权威如此仔细的审查,无论是民间还是宗教人士,后来又如此明确地批准了这本书。
By order of Innocent XI., AlexanderVIII., Clement IX., Benedict XIII., and Benedict XIV. it was repeatedlysubjected to the closest scrutiny and declared authentic, worthy of devoutperusal and free from error.
根据依诺森十一世、亚历山大八世、克莱孟九世、本笃十三世以及本笃十六世之命,它反复受到最密切的审查,并被宣布是真实可信的,毫无错误而值得虔诚细读。
The title "Venerabilis" was conferred upon the author. A large sized volume would berequired to record the praises and commendations written in favor of the great "City of God."
"尊崇"这个头衔被授予了作者。需要以'巨著'来记录赞美和推崇之词,赞美伟大的《天主之城》。
OPPOSITION
反对
As the "City of God" so strenuously maintains the prerogatives of the Mother of God andthe authority of the Popes, it was not to be expected that it should escape themalicious slander and intrigues of those tainted with Jansenism andGallicanism.
《天主之城》竭力维护着'天主之母'的独特地位和教宗的权柄,因此,它不可能逃脱那些被杨森主义和加利刚主义玷污者的恶意诽谤和阴谋诡计。
Many members of the Sorbonne in Pariswere secret or open adherers of these sects at the time when the "Ciudad" was first published in French about the year 1678.
1678年《天主之城》第一次以法语出版时,巴黎(人文荟萃最负盛名的)索邦(大学)的许多成员,都是这些教派的秘密或公开信徒。
The first translation in French was veryinexact and contained many interpolations and false versions of the original.
第一个法语版本的译文非常不准确,包含了许多篡改和错误的翻译。
Dr. Louis Elias Du Pin and Dr. Hideux ofthe Sorbonne made this translation the foundation of virulent attacks. Du Pinwas called by Pope Clement XI. "Nequioris doctrinae homi-nem,""A man of pernicious doctrines."
路易.埃利亚斯.杜平博士和索邦大学的希德克斯博士把这个翻译弄成恶毒攻击的基础。教宗克莱孟十一世称杜平为"Nequioris doctrinaehomi-nem","有害教义的人士"。
Hideux turned out to be a rabid andfanatical Jansenist, cut off from the Church as a heretic.
而希德克斯原来是一个狂热的杨森派信徒,作为异教徒(他已)被教会开除。
As they and other members of theSorbonne succeeded in enlisting the sympathy of influential Gallican courtiersand church dignitaries, both in Paris and at Rome, they secured a clandestineprohibition of the "City of God," which appeared in the acts of the Congregation of the Office.
由于他们和索邦大学的其他成员,成功地赢得了巴黎和罗马有影响力的加利刚派朝臣和
教会要人的同情,他们获得了一项对《天主之城》的秘密禁令,这一禁令出现在(罗马教廷)信理部的法令中。
[The Congregation Of The Office信理部]–天主教于罗马梵蒂冈教廷内下设圣部 圣部内有九个部门 首要的就是信理部 简单说信理部就是天主教的法庭 为保卫天主教的教义而设立 为检视一切可能发生的异端学说]
When it was discovered, no one could befound who would dare stand sponsor for it, and immediately Pope Innocent XI.,on November 9, 1681, annulled the act, positively decreeing that the "City of God" be freely spread among the clergy and laity.
当禁令被发现的时候,没有人敢支持它,教宗依诺森十一世在1681年11月9日废除了该法令,明确规定《天主之城》应在神职人员和教友之间自由传播。
The very fact that this prohibition didnot issue from the Index Commission but from a department not concerned withthe examination of books, proves that it owes its insertion to Gallicanintrigue, secretly extending even to high circles in Rome, and to thefair-minded, this sectarian attempt will be a convincing argument for theexcellence and orthodoxy of the doctrines contained in the revelations of Maryof Agreda.
这项禁令不是由禁书目录委员会发布的,而是由一个与书籍审查无关的部门发布的,这一事实证明,这项禁令的出台是由于加利刚派的阴谋,甚至秘密地延伸到罗马的高层人士,公平的说,这种宗派主义的企图是一个令人信服的论据,证明艾吉达的玛利亚的启示中所包含的教义的卓越性和正统性。
MANY EDITIONS
许多版本
The popularity and excellence of thegreat history of the Mother of God is also evidenced by its widespreaddiffusion. It has appeared in over sixty editions in Spanish, Italian, French,Portuguese, German, Latin, Arabic, Greek, and Polish.
《天主之城》的广泛传播也证明了"天主之母"的受欢迎和卓越的伟大历史。它已经用西班牙语、意大利语、法语、葡萄牙语、德语、拉丁语、阿拉伯语、希腊语和波兰语,出版了60多个版本。
Does it not seem providential that thefirst English translation of this great work should have been reserved for ourown times?
这部伟大著作的第一个英译本是为我们这个时代而保留的,这难道不是天意吗?
No other language on the face of theearth is the medium of so many theories, sects and isms as the English languageand the "City of God" is a most timely and efficient antidote for the epidemic of falsedoctrines, which is sweeping over all the earth, and affects especially theEnglish-speaking portion of the human race.
因为地球上没有任何一种语言能像英语一样,成为众多理论、宗派和教义的媒
介,而(英文版的)《天主之城》是最及时、最有效的解药,来对付席卷全世界的虚假教义,尤其是影响到说英语的世人。
EXPECTATIONS OF THE TRANSLATOR
译者的期望
The translator and promoter of the "City of God" is confident that it will not be one of the books idly filling theshelves of libraries, but one which at the first cursory inspection will arousethe desire of further inquiry and lead to repeated and attentive perusal.
《天主之城》一书的译者和推广者相信,这本书不会成为图书馆书架上随意摆放的书籍之一,而是一本乍一看就会引起进一步探究的欲望,并导致反复仔细阅读的书籍。
The translation here with offered is asexact and as perfect a rendition of the original Spanish into English, as tenyears of assiduous labor and a considerable experience in literary productiongive a right to expect.
这里所提供的将原文西班牙语翻译成英语的译文是准确和完美的,十年的勤奋工作和丰富的文学创作经验使我们有权有所期待。
The subject-matter surely ought tosecure for it a proper place in the more elevated ranks of English Literature.
这本书的内容当然应该在更高层次的英国文学中占有一席之地。
May this first English translation,under the guidance of our holy faith, bring forth abundant fruits of the Spiritamong English-speaking people in all parts of the world.
希望这首个英文的译本,在我们神圣信仰的指引下,在世界各地说英语的人们中间,结出丰硕累累的圣神果实。
Feast of the Annunciation, 1912.
1912年圣母领报节
Fiscar Marison, South Chicago.
费斯卡.马里森,于南芝加哥
003天主的奥秘之城第一册第1卷第1章3 批准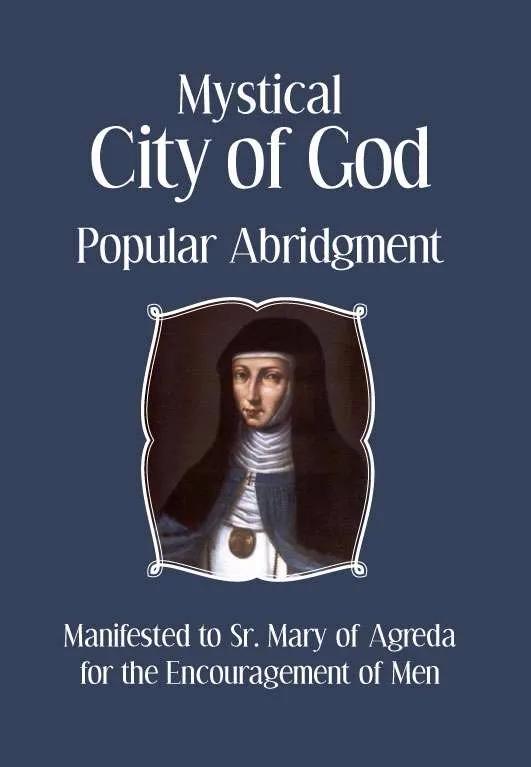 APPROBATIONS
批准
The first Pope officially to take noticeof "Ciudad de Dios" was Pope Innocent XI, who, on July 3, 1686, in response toa series of virulent attacks and machinations of some members of the Sorbonne,known to be Jansenists, issued a breve permitting the publication and readingof the "Ciudad de Dios."
第一位正式公告《天主之城》的是教宗诺森十一世,1686年7月3日,在回应索邦大学一些成员(众所周知是詹森派)的一系列恶毒攻击和阴谋时,他发布了一份简短的声明,允许出版和阅读《天主之城》。
Similar decrees were afterward issued byPopes Alexander VIII, Clement IX and Benedict XIII.
后来亚历山大八世、克莱孟九世和本笃十三世,也颁布了类似的法令。
These decrees were followed by twodecrees of the Congregation of Rites, approved by Benedict XIV and Clement XIV,in which the authenticity of "Ciudad de Dios" as extant and written by theVenerable Servant of God, Mary of Jesus, is officially established.
这些法令之后,又颁布了两项经本笃十四世和克莱孟十四世批准的圣部法令,其中正式确立了天主可敬的仆人,耶稣的玛利亚所写的存世的「天主之城」的真实性。
The great pope Benedict XIII, when hewas archbishop of Benevent, used these revelations as material for a series ofsermons on the Blessed Virgin.
伟大的教宗本笃十三世,当他还是贝尼文托大主教的时候,用这些启示作为关于圣母玛利亚的一系列布道的素材。
On Sept. 26, 1713, the bishop of Ceneda,Italy, objecting to the publication of the "City of God," was peremptorilyordered by the Holy Office to withdraw his objections as interfering with thedecree of pope Innocent XI for the universal Church.
1713年9月26日,意大利塞尼达主教反对出版《天主之城》,圣座命令他收回他的反对意见,因为这妨碍了教宗诺森十一世为普世教会颁布的法令。
The process of canonization of Mary ofAgreda was promoted by the Spanish bishops and other eminent men of the Churchsoon after her death in 1666.
1666年,(作者)艾吉达的玛利亚死后不久,西班牙主教和教会的其他杰出人士就推动了将她封圣的进程。
It has resulted so far in securing herthe title of Venerabilis, thus clearing the way to her beatification, forwhich, let us hope, God will soon raise a promoter among the many pious andeminent men who hold in esteem her writings and have learned of her holy lifeand of the miracles wrought at her tomb.
到目前为止,进程已使她获得了"可敬"的称号,从而为她的宣福礼扫清了道路,让我们希望,天主不久将在许多虔诚和杰出的人中培养一个推动者,尊重她的作品,了解她的神圣生活和在她墓前创造的奇迹。
The Redemptorist Fathers published a newGerman translation in 1885, which was approved and highly recommended by theBishop of Ratisbon in the following terms:
1885年,赎世主会神父出版了一本新的德文译本,经拉底斯邦主教批准并大力推荐如下:
"We take pleasure in giving our episcopalapprobation to the annotated translation of the Spanish original "Ciudad deDios" of Mary of Jesus and recommend this book, which will surely edify allreaders and be the occasion of great spiritual blessings."
「我们很高兴,对耶稣的玛利亚的西班牙原文《天主之城》带注释的翻译被主教认可,并推荐这本书,它肯定会启迪所有的读者,成为伟大的灵性祝福的机会。 」
Ratisbon, September 29, 1885.
雷根斯堡(德意志联邦共和国东南部城市)1885年9月29日。
Ignatius, Bishop of Ratisbon.
雷根斯堡主教依纳爵。
Notable is the high recommendation ofthe Prince-Archbishop of Salzburg, Apost. Legate, Primate of Germany, etc.
值得注意的是教宗特使,萨尔茨堡大主教阿波斯特的高度推荐。
"According to the decrees of PopeInnocent XI and Clement XI the book known as 'Ciudad de Dios' written by theVenerable Servant of God, Maria de Jesus, may be read by all the faithful."
「根据教宗诺森十一世和克莱孟十一世的法令,所有的信徒都可以阅读由神圣可敬的天主仆人,耶稣的玛利亚所写的《天主之城》一书。 」
"A number of episcopal approbations, therecommendations of four renowned universities, namely, of Toulouse, Salamanca,Alcala and Louvain, and of prominent members of different orders, coincide inextolling the above-named work.
「许多主教,四所著名大学,即图卢兹大学、萨拉曼卡大学、阿尔卡拉大学和鲁汶大学,以及不同阶层的知名人士,都一致推荐赞扬了上述作品。
The learned and pious Cardinal D'Aguirresays that he considers all the studies of fifty years of his previous life asof small consequence in comparison with the doctrines he found in this book,which in all things are in harmony with the Holy Scriptures, the Holy Fathersand Councils of the Church.
博学和虔诚的枢机主教达吉雷说,他认为他以前五十年的所有研究与他在这本书中发现的教义相比都是微不足道的,这在所有事情上都与《圣经》,教父和教会的大公会议和谐一致。
The Venerable Superior-General of St.Sulpice, Abbe Emery, adds: "Only since I read the revelations of Mary of Agredado I properly know Jesus and his Holy Mother."
艾默里修会院长可敬的圣叙尔皮斯补充说:「只有在我读了艾吉达的玛利亚启示,我才真正了解了耶稣和祂的圣母。 」
"We therefore do not hesitate—in granting ourepiscopal approbation to—"Ciudad de Dios"—and wish to recommend it to thefaithful and especially to our clergy."
「因此,我们毫不犹豫地授予对《天主之城》的主教认可,并希望把它推荐给教友,尤其是我们的圣职人员。 」
Franz Albert, Archbishop. ArchiepiscopalChancery, Salzburg.
弗朗茨.艾伯特大主教。萨尔茨堡大主教秘书处。
September 12, 1885.
1885年9月12日。
A more recent official approbation of"Ciudad de Dios" is from the Bishop of Tarazona, prefacing the new edition of1911-1912.
最近官方对《天主之城》的认可来自于塔拉索纳的主教,他为1911-1912年的新版本作序。
"We, Dr. James Ozoidiy Udave, by the grace ofGod and of the Apostolic See, Bishop of Tarazona, Administrator Apostolic ofthe Diocese of Tudela, etc., etc.
「我们,詹姆斯·奥佐迪·乌代夫博士、塔拉索纳主教、都代拉教区的教宗行政长官等等,等等感谢天主和宗徒之座的恩宠。
Having charged the priest Don EduardoRoyo, chaplain and confessor at the convent of the Immaculate Conception ofAgreda, carefully and exactly to compare the manuscript which is to serve ascopy for the printing of the new edition of the "City of God" .
委托艾吉达的圣母始胎无无染原罪修会的司铎和听告解神父唐·爱德华多·罗约仔细、准确地比较手稿,作为新版《天主之城》印刷的副本。
now about to be published by thereligious of the above-named convent, with the authenticated autographmanuscript of that work there preserved,—and having ascertained by a personalrevision of a great part of the manuscript that the said priest has diligentlyand faithfully fulfilled this charge imposed upon him by us:
现在即将由上述修道院出版,并保存该作品的真迹手稿,通过亲自校对手稿的大部分内容来确定,上述司铎已勤奋而忠实地履行了我们对他的这一委托:
We now therefore certify that thispresent edition of 'Ciudad de Dios,' with the exception of a few mereorthographic modifications, is entirely conformable to the autograph of thatwork as composed and written by the Venerable Mother Mary of Jesus of Agreda.
因此,我们现在证明,目前的《天主之城》版本,除了几处简单的拼写修改外,完全符合由艾吉达的可敬的耶稣玛利亚创作和撰写的那部作品的手稿。
Tarazona, April 7, 1911.
塔拉索纳,1911年4月7日
[Diocesan Seal] James, Bishop of Tarazona.
[主教印]塔拉索纳教区主教雅各伯
Finally follows the official approbationof the Right Reverend Bishop of the Fort Wayne Diocese, where this Englishtranslation is published.
最后是可敬的韦恩教区主教的正式认可,这篇英文译本就是在这里出版的。
Rome City, Ind., Aug. 24, 1912.
1912年8月24日,印第安那州罗马市
The Rev. George J. Blatter,
可敬的乔治·J·布拉特
Dear Rev. Father:—
敬爱的神父:
My Imprimatur is herewith granted toyour English translation of the work entitled 'Ciudad de Dios.' Wishing youevery blessing, I remain,Devotedly in Domino,
兹批准你将这篇题为《天主之城》的著作翻译成英文。我衷心地祝你蒙天主赐福,我将始终如一地支持你。
J·H· ALERDING, Bishop of Fort Wayne.
伟恩堡主教J·H·阿勒丁
The author has made use of capitalletters in the text slightly at variance with common usage, in order to avoidcomplication and secure greater clearness.
作者在文本中使用了与一般用法稍有不同的大写字母,以避免混乱,使文本更清晰。
The paragraph numbers are those of thenewest Spanish edition of "Ciudad de Dios" in 1912. In the abridgment they varyslightly.
1912年最新的西班牙版本《天主之城》。在删节本中的段落编号,它们略有不同。
City of God is divided into three Partsand eight Books.
《天主之城》分为三部八卷。
Part I contains Books 1 and 2.
第一部包含第一卷和第二卷
Part II contains Books 3, 4, 5 and 6.
第二部包括第三、四、五和六卷
Part III contains Books 7 and 8.
第三部包括第七和第八卷
As circumstances compel a serialpublication of the four volumes, the author judged it best to head thesedivisions as follow:
鉴于情况需要将这四卷连载出版,作者认为最好将这些部分划分如下:
The Conception, Books 1 and 2.
无玷始胎,第一、二卷。
The Incarnation, Books 3 and 4.
道成肉身,第三、四卷。
The Transfixion, Books 5 and 6.
满被圣宠,第五、六卷。
The Coronation, Books 7 and 8.
圣母加冕,第七、八卷。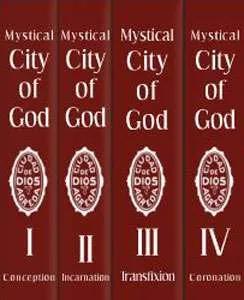 004天主的奥秘之城第一册第1卷第1章4 介绍天上母后的生活
INTRODUCTION TO THE LIFE OF THE QUEEN OF HEAVEN
介绍天上母后的生活
GIVING THE REASON FOR WRITING IT, AND EXPLAINING OTHERCIRCUMSTANCES IN CONNECTION THEREWITH.
说明撰写原因,并解释与此相关的其他情况。
1.I should not be astonished to hear myself condemnedas audacious, foolhardy and presumptuous by any person who will begin torealize (if realized it can be) that I, a simple woman, who is of herself butsheer weakness and ignorance and who is, on account of her sins, most unworthy,has resolved and attempted to write of divine and supernatural things.
1、听到任何人谴责我鲁莽、愚蠢和狂妄,他们开始意识到(如果能意识到这一点),我是一个单纯的女人,本身就是一个完全的软弱和无知的人,由于她的罪孽,她是最不值得写神圣和超自然的东西的,我不会感到惊讶。
This condemnation will be the more justified in these,our present times, in which the holy Church, our mother, is so abundantlysupplied with teachers and holy men, so rich in doctrines of the holy Fathersand Doctors;
在我们现在这个时代,圣教会我们的母亲,供应大量的教师和有圣德的人,有丰富的教父们和圣师们的教义,这样的谴责就更加合理了;
in this our most opportune age, when even prudent andwise persons, full of holy zeal in the spiritual life, are disturbed andtroubled at the least mention of a higher life, looking upon visions andrevelations as most suspicious and dangerous paths for the pursuit of Christianperfection.
在我们这个恰当的时代,即使是对属灵生活充满圣洁热诚的谨慎而明智的人,只要一提到更高的生活,就会感到不安和困惑,把神视异象和启示看作是追求基督徒完美的最可疑和最危险的道路。
If no excuse can be found for such an enterprise initself, or even for attempting things that are so far above and superior towhat man can hope to compass, and so far beyond all human capacities, then wecan only conclude that to undertake them is either a sign of perverse judgmentor the result of an activity far surpassing all the human power.
如果为这样一项事业本身找不到理由,甚至找不到任何理由去尝试一下,那些远远超出人类所能希望的指标、那些远远超出人类所有能力的事情,那么我们只能得出这样的结论:从事这些事,要么是一种反常的判断,要么是一项远远超过人类所有能力的活动的结果。
2.As faithful children of the holy Church we mustconfess that all the mortals, not only with the use of all their naturalpowers,
2、作为圣教会的忠实子民,我们必须承认,所有的人类,不仅使用了他们所有的自然力量,
but with the simultaneous use of all the common andordinary graces, are but incapable and, as it were, mute and ignorant weaklingsfor so difficult an undertaking as to explain and describe the hidden mysteriesand magnificent sacraments which the powerful arm of the Most High has wroughtin that Creature whom, as his Mother,
但既便同时用尽一切普遍性一般性的恩宠,仍然无能为力,正如以前,哑巴无知的懦夫为如此困难的承诺,去解释并形容那隐藏的奥秘及壮丽的圣事,那就是至高者大能的手臂已造就的"受造物",成为他自己的"母亲"。
He has designed to be an immense ocean of grace andprivilege and the Depositary of the greatest treasures of the Divinity.
他设计成为一个巨大无垠的恩宠和特宠的海洋,并保存着最伟大的神性宝藏。
How incapable must our weakness acknowledge itself tobe, when even the angelic spirits confess that words fail them when attemptingto describe that which is so far above their thoughts and capacities.
甚至于当天使的灵都承认,当他们试图描述远远超出他们思想和能力的事物,语言也无法表达时,我们的软弱是多么无能。
The life of this Phoenix among the works of God is abook so sealed up that none is found among all the creatures of heaven andearth, worthy to open it (Apoc. 4, 3).
在天主的作品中,这"凤凰"的生命是一本被如此封闭的书,以至于在天地万物中找不到人配得开启它。(默示录4:3)
It is evident then, that only the powerful Lord canunseal it; He who made Her more perfect than all the creatures; or She herself,the Mistress, our Queen and Mother, who was worthy to receive and properly toappreciate her ineffable gifts.
因此,很明显,只有大能的上主才能解封它;天主使她比所有的受造都更完美;或者她自己,我们的导师,我们的母后和母亲,她配得接受并恰当地感激她那不可言喻的恩赐。
It is in her power to select suitable instruments, andsuch as for her glory seem capable of manifesting these gifts in theproportion, at the time, and in the manner serviceable to her Onlybegotten Son.
她有能力选择合适的器皿,为她的荣耀而言,似乎能按比例来表现她的恩宠,在(适当的)时间,以(适当的)方式服务她的独生子。
3. I wouldwillingly maintain that these instruments can be no other than the teachers andlearned saints of the Catholic Church, or the doctors of the schools, who haveall taught the way of truth and life.
3、我愿意维持,这些工具只能是天主教会的教师和博学的圣徒,或学校的博士,他们都已经教导了真理和生命的道路。
But the thoughts and the judgments of the Most High areexalted as much above out own as heaven is exalted above the earth and no oneknows his mind and no one can counsel Him in his works (Rom. 11, 34) ; He it isthat holds the scales of the sanctuary in his hands (Apoc. 6,5), and who weighsthe winds (Job 28, 25); who grasps in his hands all the orbs (Is. 40, 12), andwho, by the equity of his most holy counsels, disposes of all things withweight and measure (Wis. 11, 21), assigning to each one opportune time andplace.
但至高者的意念和判断,高过(我们)自己的,如同天高过地。没有人知道祂的意念,也没有人在祂所行的事上指教祂,祂手里拿着圣所的天平(默示录6:5)称量风的重量,(约伯传28:25)他手中握着所有的天体(依撒意亚40:12)祂按自己至圣的旨意,用公平衡量一切的事(智慧篇11:21)为每个事物指定合适的时间和空间。
He dispenses the light of wisdom (Ecclus. 24, 37) andby his most equitable bounty He distributes it, and no one can ascend to theheavens to draw it down (Baruch 3, 29), or fetch it from the clouds, or knowits ways or investigate the hidden paths thereof (Baruch 3, 31).
祂施与智慧之光(德训篇24:37)以最公正的慷慨分赐了智慧,没有人能升到天堂把它取下来(巴路克3:29),或从云中取来,或认识其道,或窥探其中隐密的路径(巴路克3:31)。
He alone observes it as it is in itself, and transfusesit as the vapor and emanation of his immense charity (Wis. 7, 25) as thebrightness of his eternal light, as the flawless reflection and image of hiseternal bounty, through holy souls among the nations in order to make themfriends of the Most High and constitute them as Prophets (Wis. 7, 27).
只有他自己看到智慧,因为智慧在他内,他注入智慧如无垠慈善的水气和放射,如永恒之光的明亮,如他永恒赏报的完美反射及形象,经由万国圣洁的人,为使他们与至高者为友,并使他们成为先知。(智7, 27)
The Lord alone knows why and for what purpose He thusprepared me, the last of his creatures; why He thus called and raised me,obliged and compelled me, to write the life of his most holy Mother, our Queenand Lady.
唯有上主才知道为什么祂这样预备我,我是祂最差的受造物;为什么他这样召叫我,抬举我,迫使我写下祂最圣洁的母亲,我们的母后和圣母的生平。
4. It isbeyond the prudent surmise of any man that, without this influence and power ofthe Most High, the thought of such a work should enter into a human heart, orsuch an enterprise should take shape in my mind.
4、这是任何人都猜不透的,如果没有至高者的影响和力量,这样一部作品的思想就(不)会进入人的心灵,或者这样一个计划就(不)会在我的头脑中成形。
For I acknowledge and confess myself to be a weakwoman, wanting in all virtue; therefore, it should be far from my thoughts toapproach such a work, but equally as far from me to refuse it on my ownaccount.
因为我知道并承认自己是个软弱的女人,缺乏一切德能;因此,我根本没有想过要去从事这样的工作,同样,我也不会因为自己的缘由而拒绝它。
In order that a just estimate may be had in this matterI will mention in simple truth something of that which happened to me regardingthis history.
为了对这一问题作出公正的判断评价,关于这段历史,我将简单地提到一些发生在我身上的事情。
5 In the eighth year after the foundation of thisconvent, in the twenty-fifth of my life, obedience imposed upon me the officewhich I unworthily hold at the present day, namely to be the abbess of thisconvent.
5、在这个修会成立后的第八年,也就是我生命的第二十五年,我被委以重任,担任这个修会的女修院院长,这是我现今所不能胜任的。
I found myself much troubled, sorrowful anddiscouraged, because neither my age nor my inclinations were such as arerequisite for governing and commanding, but they were rather such as befittedone who should be governed and obey.
我发现自己非常不安、悲伤和沮丧,因为我的年龄和我的性格都不是治理和指挥别人所必需的,而我的年龄和性格更适合一个应该被管理和服从的人。
I knew also, that in order to invest me with thisoffice a dispensation had been obtained.
我也知道,为了让我担任这个职务,已经获得了特许。
On account of these and other just reasons, the terrorswith which the Most High has crucified me during all my life, were muchaugmented.
由于这些和其他合理的原因,对至高者将我一生钉在十字架上的恐惧,大大增加了。
In addition thereto God left me in dreadful doubtwhether I was on the secure path or whether I should obtain or lose hisfriendship and grace.
除此之外,天主还让我陷入可怕的疑惑之中,不知道我是否走在一条安全的道路上,也不知道我是否应该得到或失去祂的友谊和恩宠。
6. In thistribulation I cried to the Lord with all my heart that He help me and if it behis will that I should be freed from this danger and burden.
6.在这忧患中,我全心向上主呼求,求祂帮助我,可否愿意使我脱离这危险和重担。
Although it is true that the Lord had prepared mesometime beforehand and commanded me to accept the office, and although when Itried to excuse myself on account of my pusillanimity, He always consoled meand reiterated his command, I nevertheless did not cease my petitions, butrather augmented them.
虽然上主确实预先为我预备了一段时间,命令我接受这个职分,虽然当我试图为我的怯懦而道歉时,祂总是安慰我,重申祂的命令,不过我没有停止我的祈求,反而是增强了。
For I perceived and understood in the Lord that,although He showed this to be his holy will, which I could not hinder, yet Iwas aware at the same time that he left me free to retire and resist, and, if Iwished, to act according to my weakness as a creature and in the consciousnessof my total insufficiency; such is the prudence of the Lord in his dealingswith men.
因为我在上主里面理解和明白,虽然祂把这当作是祂的神圣旨意,我不能阻止,但同时我也明白,祂留给我自由,让我可以退缩和违抗,如果我愿意的话,我可以按照我作为一个受造物的软弱,和我完全不足的觉悟行事;这就是上主待人的智慧。
Relying on this kindness of the Lord, I increased myefforts to be relieved from this evident danger, which is so little estimatedby our human nature with its bad habits and disorderly passions.
靠着天主的仁慈,我更加努力地从这种明显的危险中挣脱出来,因为人性的坏习惯和混乱的激情,这种危险在我们人类的本性中是很少被估计的。
The Lord, however, repeated continually that it was hiswill and He consoled me, admonishing me through his holy angels to obey.
然而,上主不断重复这是祂的旨意,祂安慰我,通过祂的圣天使劝告我服从。
7. I fled inthis affliction to our Queen and Lady as to my only refuge in all troubles, andafter I had manifested to Her my way of life and my desires, She deigned toanswer me in these sweetest of words:
7、我在这患难中逃到我们的母后圣母那里,作我在一切烦恼中唯一的避难所。我向她表明了我的生命状况和我的愿望之后,她屈尊用这些最甜美的话回答我:
"My daughter,console thyself and do not be disturbed in thy heart on account of this labor; preparethyself for it and I will be thy Mother and Superior, whom thou shalt obey; andthe same I will be to thy subjects.
「我的女儿阿、你当安慰自己,不要因这劳力的事心里烦乱。你自己为此准备好吧,我就是你的母亲,和你要服从的长上;我对你的下属也是如此。
I will supplement thy deficiencies and thou shalt be myagent, through whom the will of my Son and my God shall be fulfilled.
我将弥补你的不足,你将成为我的代表,通过你,我儿子,我天父的旨意将得以实现。
In all thy temptations and troubles thou shalt takerefuge with me, confer about them with me, and take the advice, which I willgive thee in all things.
你要在一切的试探和患难中,藏到我这里来,与我一同商议,听从我在凡事上所要给你的建议。
Obey me, and I will favor thee and will continue to beattentive to thy affliction."
你要听从我,我就帮助你,也必继续看顾你的忧苦。 」
These were the words of the Queen, as consoling as theywere soothing to my soul.
这些是圣母的话语,对我灵魂既是劝勉也是抚慰。
From that day on the Mother of mercy multiplied hermercies toward me, her slave; for She became more intimate with me andcontinued her intercourse with my soul, receiving me, listening to me, teachingme with ineffable condescension, giving me counsel and encouragement in myaffliction, filling my soul with the light and knowledge of eternal life andcommanding me to renew the vows of my profession in her presence. vowsprofession
从那日起,慈悲圣母对我这个属她的仆人倍加怜悯,她与我更加亲近,继续与我的灵魂交流,接待我,倾听我,以难以形容的谦卑教导我,在我的苦难中给我忠告和鼓励,用永生的光和知识充满我的灵魂,并命令我在她面前更新我的信仰誓言。
Finally this our most amiable Mother and Lady revealedHerself still more fully to her slave, withdrawing the veil from the hiddensacraments and magnificent mysteries which are contained, though unknown tomortals, in her most holy life.
最后,这位我们最和蔼可亲的母亲和圣母向我更充分地启示了她自己,揭开了隐藏在她最神圣的生活中的圣礼和宏伟奥秘的面纱,尽管人并不知道这些奥秘的东西。
And, although this blessed and supernatural light wasuninterrupted, and especially clear on her festival days and on other occasionswhen I was instructed in many mysteries; yet it was not so full,frequent andclear as that which was afterwards vouchsafed to me when She added the commandthat I write the history of her life according as her Majesty herself shoulddictate and inspire me.
而且,虽然这种神圣而超自然的光芒没有中断过,尤其是在她的瞻礼日和其他场合,当我被教导许多神秘的事情时,这种神圣而超自然的光芒却不像后来她添加命令时授予我的那样完整、频繁和清晰,当她再次吩咐按照母后自己指示和启示我的方式写下她的生平。
Particularly on one of these festivals of the most holyMary the Most High informed me that He had in reserve many hidden sacramentsand blessings, which He had conferred upon this His heavenly Mother in the daysof her pilgrimage and that it was His intention to manifest them to me, inorder that I might write them down according to her guidance.
特别地,在至圣玛利亚的一个节日里,至高者告诉我,祂保留了许多隐藏的圣事和祝福,这些圣礼和祝福是祂在这位天上的母亲朝觐时授予她的,祂打算向我展示,以便我可以按照她的指引写下来。
This will of the Most High, though I resisted it, wascontinually present to my mind for the space of ten years, until I attemptedthe first writing of this divine history.
这至高者的旨意,虽然我抗拒它,却在我的脑海里持续出现了十年,直到我尝试写这神圣的历史的第一篇文章。
8.Consulting about my doubts with the holy princes andangels, whom the Most High had appointed to direct this work of writing thehistory of our Queen, and manifesting to them how great was my disturbance andaffliction of heart and how stuttering and mute was my tongue for such anarduous task, they replied over and over again that it was the will of the MostHigh that I write the life of his most pure Mother and our Mistress.
8、向天使们咨询我的疑虑,他们是至高者委派来指导这项书写我们母后的历史的工作的,并向天使们表明我的内心是多么的不安和痛苦,我的舌头对于这样一项艰巨的任务是多么结巴和不会说话,天使们一再回答说,我写出至洁之母和我们的导师生平是至高者的旨意。
On one day especially, when I made many objections anddeclared to them my difficulties, and my incapability and great fears, theyspoke to me these words:
特别是有一天,当我提出许多反对意见,向他们宣布我的困难、我的无能和巨大的恐惧时,他们对我说:
"With goodreason thou fearest and art disturbed, O soul, doubtest and hesitatest in amatter, where we angels ourselves would do the same, as considering ourselvesunable worthily to describe the high and magnificent doings of the Omnipotentin the Mother of Piety and our own Queen.
「灵魂啊,你有充分的理由感到恐惧和不安,对一件事感到怀疑和踌躇,我们天使自己也会这样,因为我们认为自己没有资格去描述这位全能者在虔诚的母亲和我们自己的母后所做的崇高而伟大的事情。
But remember, dearest soul, that the firmament, thewhole machinery of the world and all things created will sooner fail, than thewords of the Most High Many times He has promised to his creatures, and in theholy Scriptures it is recorded, that the obedient man shall speak of victoriesover his enemies and shall not be reprehensible in obeying (Prov. 21, 28).
但是记住,亲爱的灵魂,天空,整个世界的系统,被创造的所有事物,比至高者在圣经中记录的,对祂的受造物所说的话更快地衰退,顺服的人将向他们的敌人夸胜,顺服的人不被责备。(箴言21:28)
And when He created the first man and gave him thecommand not to eat of the tree of knowledge, he established the virtue ofobedience, and swearing He swore, in order to give greater assurance to man.
当祂创造了第一个人,命令人不要吃智慧树的果子时,他就建立了顺服的美德,并且发誓,为了给人更大的保证。
For the Lord has repeatedly given such an oath; forinstance, when He promised to Abraham that the Messias should descend from hisrace, He added thereto the assurance of an oath (Gen. 22, 16) ; the same He didwhen He created the first man, assuring him that the obedient shall not err.
因为上主已经多次起誓;例如,当祂向亚巴郎预许默西亚应该从他的族中而出的时候,祂还另外加上了誓言的保证(创世纪22:16);创造了第一个人,并向他保证顺服的人是不会犯错的。
He also repeated this oath, when He ordained that hismost holy Son should die (Luke 1, 73) ; and He gave a like assurance to menthat they, who should obey this second Adam, imitating Him in the obedience, bywhich He restored what the first lost through his disobedience, shall liveforever and that the enemy shall have no part in them.
当祂命定祂的至圣的儿子将要死去时,祂还重复了这一誓言(路加福音1:73),祂给人一个类似的保证,他们应该服从这第二个亚当,在顺服中效法祂,通过这一点,祂至圣的儿子恢复了第一个(亚当)因他的不服从而失去的东西,他们将永远活着,敌人将不会置身其中。
Remember, Mary, that all obedience takes its rise fromGod as from its first and principal source, and we angels obey the power of hisdivine right hand and his most just will.
记住,玛利亚,所有的顺服都是从天主而来的,就像从最初最主要的源头而来一样,我们天使也顺服天主神圣右手的能力和祂最公义的旨意。
We cannot contravene or ignore it, because we see theimmutable being of God face to face and we perceive that his will is holy, pureand true, most equitable and just.
我们不能违背或忽视顺服,因为我们面对面地看到天主永恒不变的存在,我们认识到祂的意志是神圣、纯洁和真实的,是最公平和公正的。
Now this certainty, which we angels possess through thebeatific vision, you mortals also possess in its proper proportion as wayfarersthrough the words of the Lord concerning your prelates and superiors : "He whohears you, hears Me; and who obeys you, obeys Me." (Luke 10, 16).
这是我们天使借着荣福直观而得的,你们人类也是借着上主对你们的教长和长上所说的话,按着适当的比例得着这确知:「听你们的(耶稣的代表十二门徒),就是听我;顺服你们的就是顺服我(路加福音10:16) 」
Now since obedience is rendered on account of God, whois the principal Cause and who is the Superior of all, it is befitting to hisalmighty Providence that He take the consequences of obedience, whenever thatwhich is commanded is not in itself sinful.
既然顺服是因为天主,天主是万有之上的主因,所以只要所吩咐的事本身不是有罪的,祂就承担顺服的后果,这是合乎祂全能的圣意的。
Accordingly the Lord assures us of these things by anoath, and He will sooner cease to exist, though this is impossible, than thatHe will fail in his word.
因此,主藉着誓言,将这些事向我们保证,祂宁愿很快就不复存在,虽然这是不可能的,但也不愿失信祂的话。
In the same way as the children proceed from theirparents, and all the living from Adam, multiplied from his natural being in hisposterity; so also all superiors are constituted by God as by the supreme Lordon whose account we yield obedience to them; human beings to their livingsuperiors, we angels to our higher hierarchies of the same nature, and allbeings together, in their superiors, obey the eternal God.
就如儿女从父母而出,一切人类从亚当而出,在他的后代中繁衍生息。因此,所有的长上都是由天主任命的,就像至高的天主一样,我们因为天主的缘故服从他们;人类服从他们活着的长上,我们天使服从我们同一性质的长上,所有的人与他们的长上一起服从永恒的天主。
Remember now, that all of these have directed andcommanded thee to do that, about which thou still hesitatest; if thou nowshouldst begin to write by mistake, intending thereby to fulfill his commandsin obedience, then the Most High would do with thy pen the same as He did withthe knife of Abraham, when he was about to sacrifice his son Isaac, for on thatoccasion the Lord commanded one of us angels to withhold the arm and the knife.
现在你要牢记,这一切事都指示你,吩咐你去行,你还在犹豫;如果你现在开始写,遵行他的命令,那么至高者必与你的笔同在,如同与亚巴郎将要献祭他儿子依撒格的刀同在一样,那时,上主吩咐我们中间的一位天使,把刀和膀臂截住。
He did not thus command us to withhold thy pen, but hasordered us with lightest breath to speed it on, and while gazing on hisMajesty, to direct and assist thee by illuminating thy intellect."
祂并没有这样命令我们抓住您的笔,而是命令我们微微吹一口气加快它的速度,在凝视上主的同时,通过启迪您智慧来指导和帮助您。 」
9. Suchencouragement and instruction my holy angels and lords gave me at this time. Onmany other occasions the prince saint Michael informed me of the same wish andcommand of the Most High.
9、在这个时候,我的圣天使和主给了我这样的鼓励和教导。在许多其他场合,总领天使弥额尔告诉我,至高者也有同样的愿望和命令。
By the continual enlightenments, favors andinstructions of this great prince, I have understood great sacraments andmysteries of the Lord and of the Queen of heaven; for this angel was one ofthose, who guarded and assisted Her and who were delegated from the angelicchoirs, as I will relate in its place (Part I, 201-206).
藉着这位伟大王子(总领天使)不断的启发、帮助和指示,我明白了上主和天上母后的伟大圣事和奥秘;因为这位天使是守护和帮助她的天使之一,是从天使歌侣(圣咏团)委派来的,正如我将要叙述的那样(第一部分,201-206)。
He is at the same time the general patron and protectorof the holy Church. He was a special witness and faithful minister of themysteries of the Incarnation and Redemption. This I have often heard of saintMichael himself, who showed me singular favors in my troubles and dangers, andhas promised me his assistance and direction in this undertaking.
他同时也是神圣教会的守护者和保护者的总领天使。他是一个特别的见证者和救赎。这是我经常听到的关于总领天使弥额尔的事情,他在我遇到困难和危险时给予了我特别的帮助,并答应在这项工作上给予我帮助和指导。
10. In additionto all this and other facts, which need not here be mentioned, and in additionto what I shall say farther on, the Lord has directly, in his own person,commanded and manifested to me his will many times, and in words which I shallpresently repeat.
10.除了所有这些和其他不需要在这里提及的事实,以及我将在后面说的话之外,主已经直接以他自己的名义,多次命令并向我表明了祂的旨意,我现在将重复他的话。
He said to me one day on the festival of the Presentationof most holy Mary in the temple:
天主在至洁之母奉献于圣殿纪念日那天向我说:
"My spouse, manymysteries pertaining to my Mother and the saints have been made manifest in theChurch militant; but many are still hidden, especially the interior secrets oftheir lives, and these I wish now to make known; and I desire thee to put themdown in writing according as thou art directed by the most pure Mary.
「我的净配,关于我母亲和圣徒的许多奥秘,已经在教会的积极分子身上显露出来了;但是许多奥秘仍然隐藏着,特别是他们生活中的内心秘密,我现在想要把这些秘密公之于众;我希望你按照至洁的玛利亚的指示,把它们写下来。 
I will reveal and explain them to thee; for until now Ihave, according to the hidden designs of my wisdom, kept them in reserve,because the time for revealing them was not befitting or opportune to myProvidence. Now, however, it is, and it is my will that thou write. Obey, soul!"
我要向你启示和解释它们,因为到目前为止,我一直按照我智慧的隐秘计划,把它们保留下来,因为揭示它们的时机对我的圣意来说并不合适,也不是时候。不过,现在是了,我的旨意就是让你写下来。服从吧,人灵! 」
11. All thesefacts which I have mentioned, and many more which I could mention, would nothave been urgent enough to rouse my will to an enterprise so arduous and soforeign to my condition, if to them had not been added the motive of obedienceto my superiors, who are set to govern my soul and teach me the way of truth.
11. 我所谈到的所有这些事实,以及我所能谈到的更多的事实,如果不加上服从我的长上的动机,它们就不会迫切要把我的意志激发到一个如此艰巨、如此与我的处境格格不入的事业,因为他们将支配我的灵魂,教导我真理的道路。
For certainly my mistrusts and fears were not sounimportant as to permit me to come to a full decision without their commandsin so great a matter, when in resolving upon others, also supernatural andvastly less difficult, I rely so much on the guidance of obedience.
因为我的怀疑和恐惧当然不是那么不重要,以至于允许我在如此重大的事情上没有他们的命令就做出一个完全的决定,而在解决其他同样是超自然的、困难度小得多的事情时,我则非常依赖服从的指导。
As an ignorant woman I have always sought thisnorthstar, for it is a duty incumbent on all to test all things, even thoughthey seem to be most noble and excellent beyond suspicion, by the approbationof the teachers and ministers of the holy Church.
作为一个愚拙的女人,我一直在寻找这颗北极星,因为通过神圣教会的教师和教会当局的认可,查验一切事物,即便它们(我得到的启示)似乎是最高尚和最优秀的,毋庸置疑,这是所有人义不容辞的责任。
Such assurance I have been solicitous to procure forthe direction of my soul, and more particularly in this undertaking of writingthe life of the Queen of heaven.
我一直渴望得到这样的保证,这是我灵魂的方向,尤其是在写《圣母元后的生平》这一任务中。
I have frequently tried to prevent my superiors frombeing moved by any accounts of my interior experiences, disguising, as much asI could, many things, and in tears begging the Lord to enlighten them and tofill them with mistrust against me, to watch over them lest they be deceived orlest they permit me to be deceived or misdirected.
我经常试图阻止我的长上被我内心经历的任何描述所打动,尽我所能掩饰许多事情,流泪恳求天主开导他们,让他们充满对我的不信任,看顾他们,以免他们被欺骗,或者他们允许我被欺骗或误导。
Many times I have desired that the very thought ofallowing me to engage in this enterprise would fade from their minds.
很多次我都希望让我参与这项事业的想法能从他们的脑海中消失。
12. I will alsoconfess that the demon, availing himself of my natural dispositions and of myfears, has made great efforts to hinder this work by seeking to terrify andafflict me.
12.我也要承认,魔鬼利用了我天生的性情和我的恐惧,用巨大的努力来阻止我的工作,试图恐吓和折磨我。
He would no doubt have succeeded in keeping me from itif the zeal and persistence of my superiors had not counteracted my cowardice.
12、如果我的长上的热情和坚持没有超越我的胆怯,牠无疑会成功地阻止我这样做。
In this persecution the Lord, the most pure Virgin andthe holy angels often took occasion to renew their enlightenment, their tokensand wonders.
12、在这种迫害中,主,至洁童贞女玛利亚和圣天使经常利用机会来更新他们的启示,他们的记号和奇迹。
Nevertheless, in spite of all this, I deferred, or tospeak more appropriately, I resisted this undertaking many years; I refusedcompliance, as I will describe further on, not having the boldness to attemptthe execution of something so far above all my powers.
然而,尽管如此,我还是推迟了,或者更恰当地说,我多年来拒绝了这项任务。我没有勇气去做一件超出我能力所及的事,我在后面会详细说明。
And I believe that this was not without specialprovidence of his Majesty; for in the course of those years so many things havehappened to me, and I may say, so many mysterious and various difficultiesintervened, that I would not have been able to preserve the tranquillity andquiet of spirit, which is necessary for retaining the proper light andinformation; for not in all states of mind, though they are of the highest andmost advanced, can the soul engage in that exalted activity which is necessaryto correspond to such exquisite and delicate in fluences.
我相信,这并非没有至大尊威者的特殊旨意,因为在这些年里,我经历了许多事情,我可以说,有许多神秘和各种各样的困难介入其中,我无法保持灵性的平静和安宁,而这对于保持特有的光和信息是必要的;因为这些启示是最崇高的和深奥的,而灵魂不是在所有的精神状态中能够从事这种崇高的活动,(毕竟)这活动是需要与如此精致和微妙细腻的影响相回应的。
In addition to this, there was still another reason,namely: During this protracted delay I could inform myself and assure myself ofthe truth of these things not only by means of the new enlightenment, whichgrew as time passed on, and by the prudence which experience gives, but also bythe persevering insistence of the Lord, of the holy angels and of my superiors,under whose obedience I lived.
除此之外,还有另一个原因,那就是:在这漫长的拖延中,我不仅可以通过随着时间的推移而增长的新的启迪和经验给予的谨慎,而且通过天主、圣天使和我的长上不懈的坚持,才能知晓和弄清这些事情的真理。
Likewise an opportunity was given me to quiet my fearsand misgivings, to overcome my cowardice and perplexity, and to trust that tothe Lord, which I would not trust to my weakness.
同样地,也给了我一个机会来平息我的恐惧和疑虑,克服我的懦弱和迷惘,并将这一切托付给主,而这是我不会托付给我的软弱的。
13. Confidingthen in the great virtue of obedience, I resolved in the name of the Lord andof my Queen and Mistress to lay aside my reluctance.
13、于是,我凭着顺服的伟大德性,以至尊天主和我的天上母后、善导之母的名义,决定放下我的不情愿。
I call this virtue great, not only because by it themost noble activities in the faculties of a creature, namely the mind, thejudgment and free will, are offered as a holocaust to the Lord; but alsobecause no other virtue ever assures success more unfailingly than obedience;for by it the creature then does not operate of itself alone, but also as aninstrument of him that governs and commands.
我称这种美德为伟大的德性,不仅因为它是在有的能力中最高尚的活动,即理性、判断力和自由意志,作为全燔祭献给天主;但也因为没有任何德性能比服从更能确保成功的持久;因为有了顺服,受造的人不但不再单独行动,而同时作为统领者和发命者的器皿。
This was the assurance of Abraham, when he overcame theforce of the natural love for his son Isaac (Gen. 22, 3).
当亚巴郎战胜了对他儿子依撒格的自然之爱,这就是亚巴郎的信心了。(创世纪22:3)
And if it was sufficient for such an act, andsufficient to detain the sun and the heavens in their swift course (Josue 10,13), it can certainly be sufficient to influence the movement of the earth.
如果这亚巴郎的作为是充分足够的,并且足以使太阳和天空停留在其快速的轨道上(若苏厄书 10,13),那么这当然足以影响地球的运动。
Perchance if the hand of Oza had been guided byobedience, he would perhaps not have been punished as presumptuous in touchingthe ark.
如果乌匝的手受到服从的指引,他也许不会因为擅自触摸约柜而受到惩罚。
Well do I know that I am more unworthy than Oza instretching out my hand to touch, not the lifeless and figurative ark of the oldcovenant, but the living Ark of the New Testament, which contained the manna ofthe Divinity, the source of grace and the New Law.
好吧,我知道,我比乌匝更不配伸出手去触摸,不是旧约中没有生命的具象的约柜,而是新约中的活的约柜,它包含了神性的玛纳,这是恩宠和新律法的泉源。
But if I remain silent, I fear with good reason todisobey most high commands, and I could exclaim with Isaias: "Woe is me becauseI kept my peace!" (Is. 6, 5).
但是,如果我保持沉默,我有充分的理由害怕,不服从至高者的命令,我可以随着依撒意亚大声说:「我有祸了,因为我保持了我的和平! 」(依撒意亚书6:5)。
Therefore, O my Queen and Lady, it is better that thybenignest goodness and mercy and the blessings of thy liberal hand should shineforth through my base and unworthy efforts ; it is better that I shouldexperience thy blessings in obeying thy commands, than that I should fall intothy displeasure.
因此,我们的母亲的母后和圣母,您最善良的仁慈和慈悲,以及您慷慨的手的祝福,应该通过我卑微和不配的努力光耀出来;我最好在服从您的命令时感受到您的祝福,而不是落入您的不悦之中。
It will be a work of thy clemency, O purest Mother, toraise the poor from the earth and to execute through a weak and unfitinstrument, a work so difficult; for thereby Thou shalt magnify thycondescension and the graces which thy most holy Son communicates to Thee.
这将是你宽仁的工作,啊,至贞至洁的母亲,把卑微的人从地上扶植起来,并通过一个软弱无能的器皿完成一项如此困难的工作;因为这样,必显出你的屈尊就卑,和你圣子所赐给你的恩宠。
Moreover Thou thereby shalt exclude that deceitfulpresumption, which might make us imagine that by human efforts, or by earthlyprudence, or by the force and authority of deep discussion, this work isaccomplished.
尤有甚者,你因此排除欺骗性的假设,这种假设可能会使我们想象,通过人的努力,或者通过属地的谨慎,或者通过力量和深入讨论的权威,完成这项工作。
Thou thereby showest, that by divine virtue Thouawakenest anew the hearts of the faithful, drawing them toward Thee, Thou fountainof kindness and mercy.
你因此显明,用神圣的德性,重新唤醒了信徒的心,把他们引向你,你是仁慈和怜悯的泉源。
Speak therefore, O Lady, that thy servant may hear withan ardent desire fully to obey Thee (I Kings 3, 19).
哦!圣母,请你说吧,好让你的仆人听从,且热切地想完全听从你(列王记上3:19)。
But how can my desires ever reach or equal myindebtedness?
但我的渴望怎么能达到或配得上我所受的恩惠呢?
A befitting response on my part will be impossible, butif it were possible, I would desire to give it.
我不可能做出合适的回应,但如果可能的话,我愿意做出回应。
O powerful and exalted Queen, fulfill thy promises bymanifesting to me thy graces and attributes, in order that thy greatness may bemade known and heralded through the nations and generations.
大能而尊贵的母后啊!求你成就你的话,将你的美意,和你的作为显给我看,使你的大德传遍万国万代。
Speak, O Lady, for thy servant heareth; speak andmagnify the Most High in the powerful and wonderful works, which his right handperformed for Thee in thy most profound humility.
哦!圣母,求你发话,你的仆人静听。使至高者在你最大的谦卑中,述说并赞美祂用祂的圣手为你所行的大能和奇妙的事。
Let them flow from the hollow of his hands filled withhyacinths into thine (Cant. 5, 14), and from thine to thy devout servants, inorder that the angels may bless Him, the just magnify Him, and the sinners seekHim.
让大能和奇妙的事从祂捧着红宝石的手流到你的手中(雅歌5:14)也从你那里赐给你虔诚的仆人,为使天使称颂祂,义人赞美祂,罪人寻求祂。
Let all of them see the example of thy highest sanctityand purity, and by the grace of thy most holy Son, let me be favored with thismirror and efficacious rule, by which I can set my life in order.
让他们一切的人都看到你的至贞至洁的榜样,并且借着你至圣圣子的恩宠,让我因这镜子(榜样)反射你圣善、纯洁,使我可以效法你的生活善度一生。
For this is to be the principal purpose and firstobject of my solicitude in writing thy life.
因为,这是我写你的生平时所关心的主要目的和首要目标。
This Thou hast repeatedly intimated to me,condescending to offer me a living pattern and a mirror without flaw, in whichI should see and according to which I should adorn my soul, so as to becomeworthy to be thy daughter and the bride of thy most holy Son.
这是你一再向我宣讲的,你肯屈尊俯就给我一个活的典范和一面无瑕疵的镜子,使我能看见我的灵魂,使我的灵魂得到装饰,使我配做你的女儿和你圣子的新娘。
14. This shall bemy whole object and intention; and therefore I shall not write as a teacher,but as a disciple; not as one instructing, but as one trying to learn, knowingthat it is the duty of women to be silent in the holy Church, and to listen tothe teachers (I Cor. 14, 34).
14、这将是我的全部目的和意图;所以我不以教师的身分写作,乃以门徒的身分写作。不是作一名讲道的,乃是作一名努力学习的,知道妇女在圣教会中应当静默,听从教师的话。(格林多前书14:34)
But as an instrument of the Queen of heaven I willdeclare what She deigns to teach me and whatever She commands me; for all thesouls are capable of receiving the Spirit, which her divine Son has promised topour out over men of all conditions (Joel 2, 28).
但作为天上母后的器皿,我要宣讲她屈尊教导我的,和她吩咐我的,因为万人都能领受圣神,就是她的圣子预许要倾倒在各种各样人的身上的。
The souls are also able to communicate it in abefitting manner, whenever a higher authority acting according to thedispensations of Christ's Church so disposes.
当一个更高的权威根据基督教会的处置行事时,灵魂也能够以一种合适的方式与它交流。
I am now convinced that the Church has authorized thishistory through my superiors.
我现在确信教会已经通过我的长上们,批准了这段历史。
That I should err is possible, and to an ignorantwoman, natural; but then I err, while obeying and not acting of my own freewill; thus I remit myself and subject myself to those who are my guides and tothe correction of the holy Catholic Church, to whose ministers I fly in all mydifficulties.
我犯错是可能的,对一个无知的女人来说,这是自然的;但后来我犯了错误,我不按我自己的自由意志行动而是服从;因此,我使自己服从那些指导我的人,服从天主圣教会的纠正,在我所有的困难中,我都听从她的牧者。
And I wish that my superior, teacher and confessor be awitness and a censor of this doctrine, which I receive, and also a severe andvigilant judge of the manner in which I put it into practice, or fail in thefulfilling of the obligations consequent upon this blessing.
对我所领受的这一教义,我希望我的长上、导师和听告解神父,能成为这一教义的见证人和审查者,同时也能严格和警醒地判断我将其付诸实践的方式,或未能履行因这祝福而该有的义务。
15. Pursuant tothe will of the Lord and the command of obedience, I have written for thesecond time this heavenly history; for during the first writing of it, thoughthe light by which I perceived the mysteries was abundant and fruitful inproportion as my shortcomings were great, my tongue was unequal to the task offinding the proper terms, and my pen not swift enough for a full statement.
15、我照主的旨意和顺服的命令,第二次写下这属天的历史。因为在第一次写这本书的时候,虽然随着我的缺点越来越多,我对其中奥秘的领悟也越来越深刻,但我的舌头却不能找到恰当的词语来胜任,我的笔也不够快,无法写出完整的句子。
I omitted some things, and with the lapse of time andby the aid of new enlightenments, I found myself better prepared to write atthis second time Nevertheless there always remains much of what I understoodand have seen, which I must leave unsaid; since to say all will never bepossible.
我略去了一些东西,随着时间的推移和新启示的帮助,我发现自己在第二次写作时准备得更好了。然而,总有很多理解和看到的东西,我必须不说;因为说出一切是不可能的。
Besides these reasons, there was another known to me inthe Lord, namely; That in my first writing my mind was much hindered fromattending to the matter and arrangement of this work by my temptations andgreat fears.
除了这些原因之外,我在主里还知道另一个原因,那就是,在我第一次写作的时候,我的思想受到了很大的阻碍,因为我的诱惑和巨大的恐惧,无法处理和安排这项工作。
They raised such tempests of contrary thoughts andsuggestions within me, that, deeming it the greatest presumption to haveattempted such an arduous task, I concluded to burn it.
它们在我心中激起了如此强烈的相反的想法和建议,以至于我认为试图完成这样一项艰巨的任务是最大的冒犯,所以我决定烧掉它。
And I believe that this did not happen without thepermission of the Lord, for in the turbulency of my soul I could not presentmyself in a state entirely befitting and desirable to the Lord for writing andengraving into my heart and spirit his doctrine, as He commands me to do nowand as can be seen from the following event.
我相信这一切都是天主允许的,因为在我灵魂的动荡中,我无法把自己呈现在完全适合主及合主心意的状态中,将祂的道铭刻在我的心里和灵里,正如从接下来的事件中可以看出,祂现在命令我做的。
16. On one ofthe festival days of the Purification of Our Lady, after having received themost holy Sacrament, I wished to celebrate this holy festival,which was the anniversaryof my profession, with many acts of thanksgiving and of total resignation tothe Most High,who without any merits of mine had chosen me as His spouse.
16、在一个圣母取洁礼庆日,领了至圣圣体后,我希望举行这神圣的庆日,这是我发愿的周年纪念,伴随着许多感恩的行动,和对至高者的完全顺从,祂在我毫无德能的情况下,拣选我做祂的净配。
While I was thus exciting these affections, I felt inmy interior a most powerful change accompanied by abundant light which raisedme and urged me strongly and sweetly toward the knowledge of the essence ofGod, His goodness, perfections and attributes, and to the disclosing of my ownmisery (Wis. 8, 1).
当我因此而激动不已的时候,我的内心感受到了一种最强大的变化,伴随着充沛的光芒,这光鼓舞着我,强烈而甜蜜地促使我去认识天主的本质、祂的善良、完美和属性,以及暴露我自己的贫乏。
And these different things, which were placed before myunderstanding at one and the same time, produced in me various effects:
这些同时摆在我的理解力面前的不同事物,在我里面产生了不同的效果:
The first was that all the attention of my mind and allmy aspirations were raised on high; the other effect was, that I was humbled inmind to the very dust, in such a way that it seemed to take away my own existence.
第一,我所有的心思的注意和志向都被提升到高处;另一种结果是,我的心灵被压得像尘土一样,仿佛把我自己的存在都带走了。
At the same time I felt a most vehement sorrow andcontrition for my grievous sins, joined to the determination to amend and torenounce all worldly things, aspiring instead toward complete love of God.
与此同时,我对自已犯的严重的罪,感到最强烈的悲痛和悔恨,决心改正和放弃世间的一切事物,渴望完全爱天主。
In these affects I remained as if annihilated, and thegreatest pain seemed but consolation, and death, but life.
在这些感动中,我犹如被彻底征服,最大的痛苦似乎只是安慰,死亡却是生命。
The Lord having pity on my faintness, in sheer mercy,spoke to me:
主怜悯我的软弱,以全然的慈悲对我说:
"Be notdismayed, my daughter and spouse, for in order to pardon, to wash and to purifythee from thy sins, I will apply my infinite merits and the blood, which I shedfor thee; animate thyself to desire all perfection in imitation of the life ofthe most holy Mary.
「我的女儿,我的净配,不要惊惶,因为为了赦免你,洗净你的罪恶,我要运用我无穷的善功和我为你所流的血;激励你自己去追求完全,仿效至圣的圣母玛利亚的生活。
Write it a second time in order that thou mayest supplywhat was wanting and impress her doctrines on thy heart.
再(重新)写一遍,这样你就能补足所缺的东西,并把她的教义铭刻在你的心里。
Do not again irritate my justice, nor show thyselfthankless for my mercy by burning what thou shalt have written, lest myindignation deprive thee of the light which, without thy merits, thou hastreceived for the manifestation of these mysteries."
不要再触怒我的正义,也不要因我的怜悯而忘恩负义,再次把你将要写的东西烧了,免得我的愤怒使你失去了光,那光是你为显明这些奥秘而接受的,而不是你的功德。 」
17. Iimmediately thereupon saw the Mother of God, who also spoke to me: "Mydaughter, as yet thou hast not derived becoming fruit for thy soul from thetree of life, which was offered thee in the writing of my history, nor didstthou enter into the substance of its contents.
17、我立刻看见了天主之母,她也对我说:「我的女儿,到现在为止,你还没有从我的历史中给你的生命树上结出果实来,你也没有进入它的内容的实质。
Thou hast scarcely yet thought of this hidden manna,nor hast thou attained that perfect and ultimate preparation, which theAlmighty requires in order to engrave and imprint, in a proper manner, myvirtues into thy soul.
你几乎没有想过这种隐藏的吗纳,也没有达到天主所要求的成全和最终的准备,为能以适当的方式把我的德性刻在你的灵魂里。
I am to give thee the befitting qualities andperfections for that which the divine right hand is to accomplish in thee.
我要赐给你相应的特质和成全,这是上主的右手要在你身上完成的。
I have asked Him that, through my intercession andthrough the abundant graces conferred upon me, I be permitted to adorn thee andcompose thy soul, so that thou mayest turn again to the writing of my life withless attention to the material and more to the spiritual and substantial partof it.
我求天主,通过我的转求,通过我被赐予的丰盛的恩宠,我被允许装饰你,作成你的灵魂,这样你就可以重新开始写作我的生平,而不是把注意力放在肉体上,而是更多地放在你的灵性和本质的部分上。
Remove the hindrances which oppose the currents ofdivine grace flowing to thee from the Almighty through me and make thyselfcapable of readily accepting the full portion assigned to thee by the divinewill.
除去那些从全能者经由我流向你的神圣恩宠的阻拦,使你自己能够欣然接受上主的旨意所分配给你的全部命定。
See that thou do not curtail or limit by thyshortcomings and imperfections."
注意不要被你的缺点和不完美削弱或束缚。 」
Thereupon I saw that the divine Mother clothed me in agarment whiter than the snow and more shining than the sun; and She girded mewith a most precious girdle and said:
于是,我看见圣母给我穿上了一件比雪还要白,比太阳还要亮的衣服;她给我束上一根最珍贵的腰带,说:
"This is aparticipation of my purity."
「这是我贞洁的象征。 」
I also asked for the infused science of the Lord, whichshould serve me as most beautiful hair for my adornment and for other preciousgifts and presents, the value of which I saw and knew was great, but which Iwas not able fully to estimate.
我还要求你充满上主的知识,成为我最美丽的头发,作为我的装饰和其他珍贵的恩赐和礼物,我看到和知道上主知识的价值是巨大的,但我无法完全估量。
After having thus adorned me, the heavenly Lady said:"Work faithfully and earnestly to imitate me and to be my most perfectdaughter, engendered of my spirit, nourished at my breast.
这样装饰了我之后,圣母对我说:「你要忠诚而认真地效法我,做我最完美的女儿,生在我的灵里,养在我的怀中。 」
I give thee my blessing, in order that in my name andunder my direction and assistance thou mayest again resume thy writing."
我把我的祝福赐给你,以我的名义,在我的指导和帮助下,你可以重新开始你的写作。 」
18. The whole ofthis holy life of Mary is divided, for greater perspicuity, into three parts.
005天主的奥秘之城第一册第1卷第1章5 介绍天上母后的生活2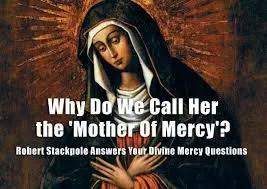 18、圣母马利亚的整个圣洁生活被分为三部分,以便更清楚地理解。
The first treats of all that pertains tothe first fifteen years of her life, from the moment of her most pureConception until the moment when in her virginal womb the eternal Word assumedflesh, including all that the Most High performed for Mary during these years.
首先是关于她生命最初15年的一切,从她最纯洁的受孕时刻到她在童贞的子宫里道成为肉身的时刻,包括在这些年至高者为玛利亚所做的一切。
The second part embraces the mystery ofthe Incarnation, the whole life of Christ our Lord, his Passion and Death andhis Ascension into heaven, thus describing the life of our Queen in union withthat of her divine Son and all that She did while living with Him.
第二部分包含了道成肉身的奥秘,我们的主基督的整个一生,祂的受难和死亡,以及祂升天的过程,因此描述了我们的母后与她的圣子的结合的生命,以及她与祂一起生活时所做的一切。
The third part contains the life of theMother of grace during the time She lived alone, deprived of the companionshipof Christ our Redeemer, until the happy hour of her transition, assumption andcrowning as the Empress of heaven, where She is to live eternally as theDaughter of the Father, the Mother of the Son and the Spouse of the Holy Ghost.
第三部分包含了恩宠之母在她独自生活期间的生活,被剥夺了我们的救主基督的陪伴,直到她转化的快乐时刻,蒙召升天,在那里她将永远作为天父的女儿、圣子的母亲和圣神的净配。
These three parts I subdivided intoeight books, in order that they may be more convenient for use and alwaysremain the subject of my thoughts, the spur of my will and my meditation dayand night.
我把这三个部分细分为八本书,以便更方便地使用,使之成为我思想的主题、意志的激励和日日夜夜的默观。
19. Inorder to say something of the time in which I wrote this heavenly history, itmust be noticed that my father, brother Francis Coronel, and my mother, sisterCatharine de Arana, my parents, founded in their own house this convent of thediscalced nuns of the Immaculate Conception by the command and the will of God,which was declared to my mother, sister Catharine, in a special vision andrevelation.
19、为了说明我写这段神圣历史的时间,必须注意到,我的父亲方济·科罗内尔弟兄和我的母亲,加大利纳·德·阿拉纳姊妹,根据天主的命令和旨意,在自己的房子里建立了这座圣母始胎无染原罪女修院,这是在一种特殊的神视异象和启示中向我的母亲加大利纳修女宣布的。
This foundation took place on the octaveof the Epiphany, January 13th, 1619.
这个创建发生在1619年1月13日主显节的八庆日上。
On the same day we took the habit, my motherand her two daughters; and my father took refuge in the order of our seraphicFather Saint Francis, in which two of his sons had already been living asreligious.
就在同一天,我的母亲和她的两个女儿穿上了会衣,我父亲皈依了我们的炽爱天使之父圣方济修会,他的两个儿子已经在里面过着修士的生活。
There he took the habit, made hisprofession, lived an exemplary life, and died a most holy death.
在那里,他穿上会衣,发愿,过着模范的生活,以最神圣的方式死去。
My mother and myself received the veilon the day of the Purification of the Queen of heaven, on the second ofFebruary, 1620.
1620年2月2日,我母亲在天主之母取洁庆日的那天领受了修女头纱。
On account of the youth of the otherdaughter her profession was delayed.
由于另一个女儿年纪还小,她的发愿就耽搁了。
The Almighty in his sheer goodnessfavored our family so much, that all of us were consecrated to Him in thereligious state.
全能的天主以祂全然的善良如此眷顾我们的家庭,以至于我们全家都奉献给祂。
In the eighth year of the foundation ofthis convent, in the twenty-fifth of my age, in the year of our Lord 1627, holyobedience imposed upon me the office of abbess, which to this day I unworthilyhold.
在这修院成立的第八年,在我二十五岁的时候,在主后一六二七年,神圣地服从了强加给我的女修会院长的职务,直到今天,我还不配担任。
During the first ten years of the timein which I held this office, I received many commands from the Most High andfrom the Queen of heaven to write her holy life, and I continued in fear anddoubt to resist these heavenly commands during all that time until the year1637, when I began to write it the first time.
在我担任这一职位的头十年里,我领受了许多来自至高者和来自天上母后的命令,要求我写下她的神圣生平,在这段时间里,我一直在恐惧和怀疑中抵制这些神圣的命令,直到1637年,我开始第一次写下它。
On finishing it, being full of fears andtribulations, and being so counseled by a confessor (who directed me during theabsence of my regular confessor), I burned all the writing containing not onlythis history, but many other grave and mysterious matters; for he told me, thatwomen should not write in the Church.
写完后,我心里充满了恐惧和痛苦,听从一位听告解神父的建议(他在我的定期听告解神父不在时指导我),我烧掉了所有的文字,其中不仅有这段历史,还有许多其他重要而神秘的事情;因为他对我说,女人在教会中不可写字。
I obeyed his commands promptly; but Ihad to endure most severe reproaches on this account from my superiors and fromthe confessor, who knew my whole life.
我立刻服从了他的命令。但我不得不为此忍受来自长上和听告解神父的最严厉的责备。
In order to force me to rewrite thishistory, they threatened me with censures.
为了迫使我重写这段历史,他们以谴责来威胁我。
The Most High and the Queen of heavenalso repeated their commands that I obey.
至高者和天上母后也重复他们的命令,我于是服从。
During this second writing, so abundantwas the light concerning the divine Essence, so copious were the blessings ofthe divine right hand for the renewal and vivification of my soul in theteachings of my heavenly Mother, so perfect  [注意 这里似乎遗漏些原文?]
在这第二次写作中,上主本质的光明是如此丰富,上主右手的赐福是如此丰富,在圣母的教导中,我的灵魂重新得力。讲授是如此完美,崇高的圣事奇妙传递给我,因此有必要再写一本与这一历史有关的书,书名将是:《净配的法律:祂圣爱的顶峰和从至洁之母玛利亚的生命之树中收集的果实。》
By divine favor I begin rewriting thishistory on the eighth of December, 1655, on the day of the ImmaculateConception.
在天主的恩宠下,我开始在1655年12月8日,圣母无玷始胎瞻礼日重新书写这段历史。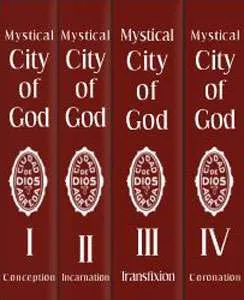 006天主的奥秘之城第一册第1卷第1章6 天主赐予我灵魂的两个特别的神视异象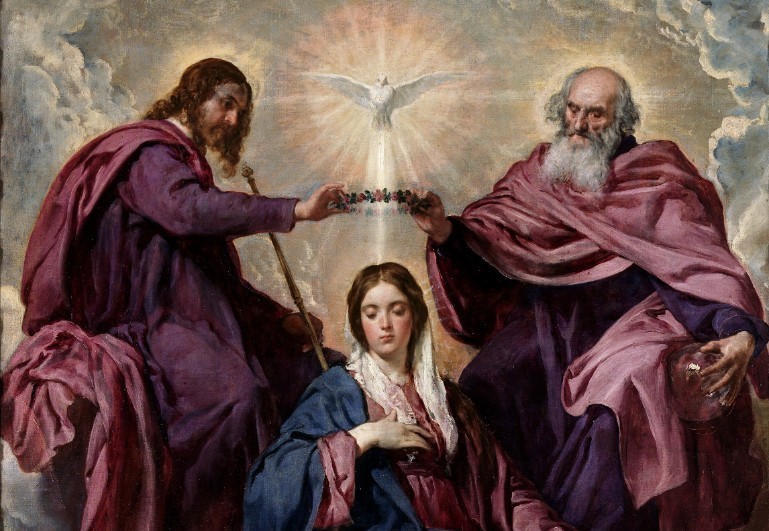 BOOK ONE
第一卷
Treats of the Divine Fore-Ordainment of Christ and His Mother as the Highest Ideals of all Creation; of the Creation of the Angels and Men as their Servants; of the Lineage of the Just Men, Finally Resulting In the Immaculate Conception and Birth of the Queen of Heaven; and of Her Life up to Her Presentation In the Temple.
从开始就神圣的预定耶稣(人子)及他的母亲为所有受造物的极致典范;为他们的仆人–天使和世人的最高典范;为义人世系的最高典范;最终无玷受孕和圣母元后的诞生成就了天主救世的旨意,以及她的生活,直到她奉献于圣殿。
CHAPTER I.
第一章
CONCERNING TWO SPECIAL VISIONS VOUCHSAFED TO MY SOUL BY THE LORD AND CONCERNING OTHER ENLIGHTENMENTS AND MYSTERIES, WHICH COMPELLED ME TO WITHDRAW FROM EARTHLY THINGS AND RAISED MY SPIRIT TO DWELL ABOVE THE EARTH.
关于天主赐予我灵魂的两个特别的神视异象,以及关于其他的光照和奥秘,它们迫使我远离尘世的事物,提升我的灵,使我居住在超越于尘世之上。
1. I confess to Thee (Matth. 11, 25) and magnify Thee, King Most High, that in thy exalted Majesty Thou hast hidden these high mysteries from the wise and from the teachers, and in thy condescension hast revealed them to me, the most insignificant and useless slave of thy Church, in order that Thou mayest be the more admired as the omnipotent Author of this history in proportion as its instrument is despicable and weak.
我向你称谢(玛窦福音11:25)并颂扬你,至高的王,您对智慧人和师傅们隐藏了这些崇高的奥秘,并在您的俯就屈尊中向我,你教会最微不足道和最无用的奴仆揭示了这些奥秘,以便您可以更受称赞,因为按比例计算,您是这段历史的全能的作者,因此祂的器皿是可鄙和软弱的。
就在那时候,耶稣发言说:「父啊!天地的主宰!我称谢你,因为你将这些事瞒住了智慧和明达的人,而启示给小孩子。 」(玛窦福音 11:25)
2. After I had overcome the above mentioned reluctance and disorderly fears which caused so much timid hesitation, lest I suffer shipwreck in that sea of marvels, the most exalted Lord caused me to feel a virtue from on high, strong, sweet, efficacious and gentle;
2、在我克服了上面提到的勉强和无序的恐惧之后,这引起了如此多的胆怯的犹豫,以免我在那充满奇迹的海洋中遭遇沉船,最崇高的上主使我从崇高、坚强、甜蜜、有效和温柔中感受到一种德能;
an enlightenment which illumined the intellect, subjected the rebellious will, tranquillizing, directing, governing and attracting the whole range of interior and exterior senses, thus subjecting my entire being to the will and pleasure of the Most High and directing it in all things toward his honor and glory alone.
一种光照,它照亮了智慧,征服了反抗的意志,使人平静,指挥,管理和吸引了内外全部范围的感官,从而使我整个人服从于"至高者"的旨意和希望,并在所有的事情中引导它(內在外在的感官)朝向祂的荣耀和光荣。
Being thus prepared, I heard a voice from the Almighty, which called me and raised me up toward Him, exalting my dwelling-place on high (Ec-clus. 51, 13) and strengthening me against the lions, that hungrily roared about me in order to snatch my soul from the enjoyment of great blessings in the boundless mysteries of this holy Tabernacle and City of God.
经过这样的预备,我听见全能者有声音呼叫我,把我向祂举起来,高举我在高处的居所。又使我坚固,抵挡狮子的攻击,因狮子在我周围贪婪的怒吼,要夺去我的灵魂,不使我在这神圣的会幕和天主之城的无限奥秘中享受大福。
(评注:这个神圣的会幕和天主之城应该是指圣母吧?)
Surrounded by the sorrows of death and perdition (Ps. 17, 5) and beset by the flames of Sodom and Babylon, in which we live, it liberated me from the portals of sorrow, into which I was enticed to enter.
(我)被死亡和毁灭的悲哀所包围(圣咏17:5),被我们所居住的索多玛和巴比伦的火焰所包围,祂把我从被引诱其中的悲伤的门户中解放出来。
My enemies, forming visions of fallacious and deceitful delights for the misleading of my senses and the capture of them by pretended pleasures, set their allurements about me, in order that I might blindly turn toward these flames and be consumed by them.
我的仇敌,制造虚假和欺骗性快乐的幻象,迷惑我的感觉,用虚假的快乐来捕捉它们(我的感觉),他们诱惑我,使我盲目地转向这些火焰,被它们(虚假的快乐)吞噬。
But from all these snares, laid for my footsteps (Ps. 56, 7), the Most High has delivered me, elevating my spirit and teaching me by the most efficacious admonitions the way of perfection. He invited me to a life spiritualized and angelic, and obliged me to live so cautiously, that in the midst of the furnace, the fire touched me not (Eccli. 51, 6).
然而从这些为我的脚步所设的网罗中(圣咏56:7),至高者拯救了我,使我的灵得以提升,并以最有效的训诫教导我走向成全之路。他邀请我过一种灵性的、天使般的生活,迫使我生活得非常谨慎,以至于在火炉中,火都碰不到我。(德训篇51:6)
[经文:他们为我的脚设下了罗网,要我的性命;在我前面挖掘了陷阱,自己反跌入其中。(圣咏56:7);使我脱离了环绕我的窒息热火,我在火中,却没有烧伤; (德训篇 51:6)]
He often liberated me from the impure tongue, when it sought to communicate to me its earthly fables (Ps. 118, 85).
当不洁的舌头向我讲说世俗的谎言时,祂常常把我从其中解救出来。(圣咏118:85)
[经文:不按你法律生活的骄傲人,暗中给我挖掘了陷阱深坑。(咏 119:85)]
His Majesty invited me to rise from the dust and littleness of the law of sin, to resist the defections of sin-infected nature and restrain its disorders, combatting them by his enlightening inspirations and raising myself above myself (Lam. 3, 28).
荣耀尊威的天主邀请我从罪律的尘埃和渺小中站起来,抵制天然罪性感染的缺陷,抑制罪的紊乱秩序,用天主的启示帮助和鼓励我与罪惡本性斗争,使我自己超越自我。
[经文:默然独坐,因为是上主加于他的轭;(耶肋米亚哀歌3:28)]
He called me repeatedly, sometimes by the power of his omnipotence, sometimes with the correction of a Father, and at others with the love of a Spouse, saying: Arise, my dove,creation of my hands, make haste and come to Me (Cant. 2, 10),who am the light and the way (John 8, 12), he that follows Me, walks not in darkness.
祂一再呼唤我,有时是以祂全能的力量,有时以天父的纠正,有时又以净配的爱呼唤我。祂说:起来,我的鸽子,我手所造的,快快来到我这里(雅歌2:10),我是光和道路。(约8:12)跟从我的,就不在黑暗里走。
[经文:我的爱人招呼我说:起来,我的爱卿!快来,我的佳丽! (雅歌 2:10);耶稣又向众人讲说:我是世界的光;跟随我的,决不在黑暗中行走,必有生命的光。 (若 8:12) ]
Come to Me, who am the secure truth, and unchangeable holiness, to Me, who am the Powerful and the Wise, and the Teacher of those that follow wisdom (Wis. 7, 15).
到我这里来吧,我是牢固的真理,不变的圣洁,我是全能的,我是智慧,是追求明智者的教师(智慧篇7:15)。
[经文:愿天主使我遵照他的意愿说话,使我的思想配合他的恩赐,因为是他领导智慧,引导智者。(智慧篇 7:15) ]
3. These words were like arrows of sweet love, which filled me with admiration, reverence, knowledge and dread of my sins and of my vileness, so that I retired from his presence, shrunken and annihilated in the knowledge of my nothingness.
3、这些话就像甜蜜的爱之箭,使我充满了惊奇、崇敬、知识和对我的罪与卑劣的恐惧,使我从祂的面前中退却,在对我虚无的认识中退缩和湮灭。
And the Lord spoke to me: "Come, O soul, come to Me, who am thy omnipotent God, and although thou hast been a prodigal child and a sinner, arise from the earth and come to Me, thy Father; receive the stole of my friendship and the ring of a spouse."
主对我说:「灵魂啊,来吧,到我这里来,我是你全能的天主,你虽然是个浪子,是个罪人,但你要从地上起身,到我,你的父亲这里来,领受我友谊的披肩和净配的戒指。 」
(stole 有圣带、领带之意 圣职人员执行宗教仪式时,佩于颈间约长80吋之丝带,加在白衣之外,象征神权。不过这里代表友谊可能用披肩更合适。)
4. Still remaining in that secure retreat of which I have spoken, I saw on a certain day, six angels, whom the Almighty had appointed to assist and guide me in this undertaking and in other dangers.
4、我还停留在我所说的那个安全的隐退中,有一天,我看到了六位天使,他们是全能的天主指定的,在这项任务和其他危险中帮助和指导我的。
Coming toward me, they purified and prepared my soul, and then presented me before the Lord. His Majesty gave to my interior being a new light and, as it were, a participation in glory, by which I was made capable and desirous of seeing and understanding the things, which are above the powers of a mere terrestrial creature.
他们来到我这里,洁净我的心,预备我的心,将我交在主面前。祂的威荣给我的内心带来了一种新的光芒,也就是说,是一种荣耀的参与,使我有能力并且渴望看到和理解那些超越了仅仅是一个尘世之人的力量的东西。
Soon after, two other angels, of a still higher order, appeared to me and I felt within me the power of the Lord by which they called me. I understood that they were most mysterious envoys and that they wished to reveal to me high and hidden sacraments.
此后不久,又有两位更高一级的天使向我显现,我心里感到主的大能,就是他们呼召我的大能。我明白他们是最神秘的使者,他们希望向我揭示崇高而隐秘的圣事。
Eagerly I responded, and desirous of enjoying the blessing which they pointed out to me, I declared to them, how ardently I longed to see what they wished to show me and yet so mysteriously concealed from me. Then they at once answered with great serenity: "Restrain thyself, O soul."
我急切地响应,而且很渴望享受他们指给我的祝福,我对他们说,我多么热切的渴望看到他们想给我看却又如此神秘地瞒着我的东西。然后他们立刻非常平静地回答:「灵魂啊,克制自己吧。 」
I turned to the great princes of heaven and said: "Princes of the Almighty and messengers of the great King! Why do you now detain me contrary to my will and why do you defer my joy and my delight, after you have called me?
我转向天上的大君说:「大能的大君和伟大国王的使者!你们现在为何违背我的意愿留住我呢?你们召了我以后,为什么推延我的喜悦和快乐呢?
What force is this of yours, and what power, which calls me, fills me with fervor, which allures and yet detains me, which attracts me to follow after the odor of my beloved Lord and of his ointments, and yet restrains me with strong bonds? Tell me the cause of all this!"
你的这股力量是什么?是什么力量在召叫我?是什么力量让我充满热情,吸引我又阻留我,吸引我追随我敬爱的主和祂的膏油的气味,却又用坚固的纽带束缚着我呢?告诉我这一切的原因! 」
They answered: "Because, in order to be instructed in all these mysteries, thou must needs, O soul, come with bare feet and despoiled of all thy desires and passions; for these mysteries do not accommodate or lend themselves to disordered inclinations.
他们回答说:「因为,灵魂啊,为了领受所有这些奥秘,你必须赤脚而来,剥夺你所有的欲望和喜好,因为这些神秘不会容纳或助长无序的倾向。 
Take off thy shoes like Moses (Exodus 3, 5), for such was the command given to him before he could see the wonderful bush."
像梅瑟那样脱下你的鞋子(出埃及记3:5),因为这是他在看见奇妙的灌木丛之前所受的命令。 」
"Princes of heaven and my lords," I answered, "much was asked of Moses, when he received the command to perform the works of an angel while yet living in mortal flesh: but he was a saint, and I am but a sinner full of miseries.
「天上的王子和我的首领, 」我回答说,「当梅瑟在肉身中还活着的时候,他接到了执行天使工作的命令时,有人向他提出了很多要求,但他是一个圣人,而我只是一个饱受痛苦的罪人。
My heart is disturbed and I am in conflict with the slavery and the oppression of sin, which I feel in my members, and which are opposed to the law of the spirit" (Rom. 7, 23).
我的心不安,在罪的奴役和压迫中相抗争,这是我在肢体中所感受到的,是与理智的律法相抵触的。 」
[经文:可是,我发觉在我的肢体内,另有一条法律,与我理智所赞同的法律交战,并把我掳去,叫我隶属于那在我肢体内的罪恶的法律。(罗 7:23) ]
To which they rejoined: "Soul, it would indeed be for thee a most difficult enterprise, if thou hadst to execute it merely with thy own power; but the Most High, who wishes to see in thee this disposition, is powerful, and He will not deny to thee his help, if from thy heart thou ask his assistance and thou prepare thyself to receive it.
他们回答说:「灵魂啊,如果你只用自己的力量去做,那对你来说的确是一件非常困难的事情;但是至高者,如果你发自内心地请求祂的帮助,并准备好接受祂的帮助,那么祂是强大的,祂不会拒绝你的帮助。 
And his power, which caused the bush to burn and at the same time prevented it from being consumed, can prevent also the fire of the passions which encompass and beset the soul, from consuming it, if it truly desires to be saved. His Majesty asks for that which He desires, and can execute what He asks.
祂的力量,使荆棘丛燃烧,同时阻止它被烧毁,也可以阻止包围和困扰灵魂的欲望之火吞噬它(灵魂),如果它真的想要被拯救的话。上主想要什么就要求什么,他要求什么就能实现什么。
Strengthened by Him, thou canst do that which He commands (Phil. 4, 13) ; take off thy shoes and weep in bitter sorrow, call out to Him from the bottom of thy heart, in order that thy prayers may be heard and thy desires fulfilled."
靠着祂的力量,你可以按祂的命令去做(斐理伯书4:13)脱下你的鞋,在痛苦中悲伤哭泣,从心底呼唤祂,好叫你的祷告得着应允,你的心愿得以成全。 」
[经文:我赖加强我力量的那位,能应付一切。 (斐理伯 书4:13) ]
5. Presently I saw a most precious veil covering a treasure and my heart burned with desire to see it raised and to look upon the sacred mystery which I understood was hidden beneath. My desire was answered in the following manner: "Obey, O soul, in what was enjoined and commanded thee; despoil thyself of thyself, and then this mystery will be revealed to thee."
不一会儿,我看见一层最珍贵的面纱遮住了一个宝贝,我的心燃烧起来,渴望看到它被掀起,想看看隐藏在下面的神圣的奥秘。我的愿望得到了如下的回答:「灵魂啊,听从所命令和吩咐的,把你自己夺去,这样这奥秘就显露在你面前了。 」
I resolved to amend my life and to overcome my appetite; I sighed and wept with many aspirations from my inmost soul for the manifestation of this blessing. While I made my good resolves, the veil which covered the treasure, began to be lifted.
我决心改变我的生活,克服我的欲望;为这祝福的实现,从我内心深处,我叹息着,哭泣着。正当我下定决心的时候,那罩在财宝上的面纱开始被揭开了。
Presently the veil fell entirely and my interior eyes saw what I shall not know how to describe in words. I saw a great and mysterious sign in heaven; I saw a Woman, a most beautiful Lady and Queen, crowned with the stars, clothed with the sun, and the moon was at her feet (Apoc. 12, 1).
不久,面纱完全落下,我内在的眼睛看到了我无法用语言描述的东西。我在天上看见一个伟大而神秘的异兆;我看见一个女人,一个最美丽的圣母和元后,戴着星星的王冠,身披太阳,脚踏月亮。(默示录12:1)
[经文:那时,天上出现了一个大异兆:有一个女人,身披太阳,脚踏月亮,头戴十二颗星的荣冠; (默示录 12:1) ]
The holy angels spoke to me: "This is that blessed Woman, whom Saint John saw in the Apocalypse, and in whom are enclosed, deposited and sealed up the wonderful mysteries of the Redemption.
圣天使们对我说:「这就是圣若望在启示中看到的那个蒙福的女人,在她身上,封存着救赎的奇妙奥秘。
So much has the most high and powerful God favored this Creature, that we, His angelic spirits, are full of astonishment.
至高大能的天主如此眷顾这受造之物,以致我们,他的天使般的灵魂,都甚感希奇。
Contemplate and admire her prerogatives, record them in writing, because that is the purpose for which, according to the measure suitable to thy circumstances, they will be made manifest to thee."
深思并称赞她的特权,把它们写下来,因为这就是目的,根据适合你情况的程度,这些特权将向你显明。 」
I was made to see such wonders, that the greatness of them took away my speech, and my admiration of them suspended my other faculties; nor do I think that all the created beings in this mortal life will ever comprehend them, as will appear in the sequel of my discourse.
我看到了如此的奇迹,它们的伟大夺去了我的言语,我对它们的钦羡使我的其他官能暂停了,我也不认为所有在尘世中被创造的人能够理解它们,正如我的言说的后续部分所示。
6. On another day, while my soul sweetly tarried in the aforesaid habitation, I heard a voice from the Most High saying: "My spouse, I desire that thou rouse thyself in earnest to seek Me, and to love Me with fervor; that thou make thy life more angelic than human, and that thou forget entirely the terrestrial affairs.
6、又有一天,当我的灵魂在上述居所中甜蜜地逗留时,我听见从至高者那里传来的声音说:「我的净配啊!我希望你振作起来,恳切地寻求我,热切地爱我,希望使你的生命比世人更肖似天使,完全忘记尘世的事物。
I wish to raise thee as one that is poor from the dust, and as one full of need from the dunghill (Ps. 112, 7), so that, while I exalt thee, thou mayest humiliate thyself, and the nard of thy sweet odor may remain in my presence; knowing thy own misery, be thou convinced from the bottom of thy heart, that thou meritest for thyself only tribulation and humiliation.
我希望把贫乏的你从灰尘中提拔,把充满穷苦的你从粪堆里提拔(圣咏11:7)。这样,当我高举你的时候,你就可以谦卑你自己,你甜美的气味也可以留在我的面前;你知道自己的痛苦,从心底就确信,你应该只配得磨难和屈辱。
〔经文:从尘埃里提拔弱小的人,由粪土中举扬穷苦的人。(圣咏112:7) 〕
Consider my greatness and thy littleness; remember that I am just and holy; I deal with thee considerately, making use rather of my mercy and not chastising thee as thou deservest.
你要细想我的伟大和你的渺小;要记念我是公义圣洁的;我宁可用我的怜悯善待你,不按你应得的惩罚你。
Strive to build upon this foundation of humility all the other virtues in order to fulfill my wishes. I appoint my Virgin Mother to teach, correct and reprehend thee. She will spur thee onward and accompany thy footsteps according to my liking and pleasure."
努力在这个谦卑的基础上建立所有其它的美德,以实现我所想要的。我委派我的童贞母亲来教导、纠正和责备你。她会根据我想要的和希望的,伴着你的脚步,激励你前进的。 」
7. While the Most High spoke to me the Queen stood near by; and the heavenly Princess disdained not to accept the office which his Majesty assigned to Her.
7、当至高者与我说话的时候,元后站在旁边;天后不会不接受王指派给她的任务。
She accepted it benignly and said to me: "My daughter, I desire that thou be my disciple and my companion, and I will be thy Teacher; but remember that thou must obey me courageously and from this day on no vestige of a daughter of Adam must be found in thee.
她仁慈地接受了,对我说:「女儿,我希望你做我的门徒和朋友,我做你的老师。但你要记住,你必须勇敢地服从我,从今天起,你身上再也找不出亚当之女的痕迹了。
My conduct and my works during my pilgrimage on earth, and the wonders, which the arm of the Almighty wrought through me, shall be the mirror and the model of thy life."
我在人间的朝圣之旅的行为和我的工作,以及全能者的手臂在我身上所做的奇迹,将是你生命的镜子和典范。 」
I prostrated myself before the throne of the King and Queen of the universe and I offered to obey Her in all things; I gave thanks to the Highest for the favor, which He, so much in excess of my s, conferred upon me in giving me such a Guide and Protectress.
我俯伏于宇宙之王和元后的宝座前,我愿意在一切事上服从她。我感谢至高者的恩惠,祂赐予我如此的指导者和保护者,大大超过了我的德能。
Into Her hands I renewed the vows of my profession; I offered myself to Her and proposed to work anew at the amendment of my life.
在她的手里,我重新许下我发愿的誓言;我把自己献给她,并打算重新开始我的生活。
Again the Lord spoke to me: "Behold and see!" Turning I saw a most beautiful ladder with many rungs; around it were many angels, and a great number of them were ascending and descending upon it.
主再次对我说:「看哪!」转过身来,我看到了一个最美丽的梯子,上面有许多横档。周围有许多天使,其中许多天使在上面上去和下来。
His Majesty said to me: "This is the mysterious ladder of Jacob, the house of God and the portal of heaven (Gen. 28, 17) ; if thou wilt earnestly strive to live irreprehensible in my eyes, thou wilt ascend upon it to Me."
上主对我说:这是雅各伯的神秘的梯子,是天主的住所,上天之门,若你在我眼中努力地过一个无瑕的生活,你将从这梯子上升到我这来。 」
〔经文:他又满怀敬畏地说:"这地方多么可畏!这里不是别处,乃是天主的住所,上天之门。"(创28:17) 〕
8. This promise incited my desires, set my will aflame and enraptured my spirit; with many tears I grieved, that I should be a burden to myself in my sinfulness (Job. 7, 20).
这预许激起了我的渴望,点燃了我的意志,使我的灵魂欣喜万分;我流了许多眼泪,为自己的罪孽成为负担而悲伤(约伯传7:20)。
I sighed for the end of my captivity and longed to arrive where there would be no obstacle to my love.
我期盼我被囚的结束,渴望能到达一个对我的爱没有障碍的地方。
In this anxiety I passed some days, trying to reform my life; I again made a general confession and corrected some of my imperfections.
在这种切望中,我度过了一些日子,试图改变我的生活;我再次作了总忏悔,纠正了我的一些不完美之处。
The vision of the ladder continued without intermission, but it was not explained to me.
I made many promises to the Lord and proposed to free myself from all terrestrial things and to reserve the powers of my will entirely for his love, without allowing it to incline toward any creature, be it ever so small or unsuspicious; I repudiated all visible and sensible things.
我向主许下许多愿,要将自己从一切地上的事物中解放出来,将我的意志力完全保留在祂的爱上,不允许意志倾向于任何受造之物,无论是如此渺小或是微不足道的;我拒绝一切看得见的和能感觉得到的东西。
Having passed some days in these affections and sentiments, I was informed by the Most High, that the ladder signified the life of the most Holy Virgin, its virtues and sacraments.
在这些情感和情绪中度过了几天之后,我从至高者那里得知,梯子象征着至圣童贞圣母的生命、美德和圣事。
His Majesty said to me: "I desire, my spouse, that thou ascend this stair of Jacob and enter through this door of heaven to acquire the knowledge of my attributes and occupy thyself in the contemplation of my Divinity.
上主对我说:「我的净配,我渴望你登上雅各伯的这一梯子,进入这扇天堂之门,以获得我的属性的知识,并让你自己沉浸在对我的神性的默观中。 
Arise then and walk, ascend by it to Me. These angels, which surround it and accompany it, are those that I appointed as the guardians of Mary, as the defenders and sentinels of the citadel of Sion.
起来行走,随它梯子到我这里来。这些围绕着它并陪伴着它的天使,就是我指派的"玛利亚的守护者",是锡安城避难所的守卫者和哨兵。
Consider Her attentively, and, meditating on her virtues, seek to imitate them."
凝神注视她,深思她的美德,努力模仿它们美德。 」
It seemed to me then, that I ascended the ladder and that I recognized the great wonders and the ineffable prodigies of the Lord in a mere Creature and the greatest sanctity and perfection of virtue ever worked by the arm of the Almighty.
我似乎觉得,我爬上了梯子,我认出了天主的伟大奇迹和妙不可言的奇事,那是一个纯粹的受造,是全能者的臂膀造作出来的最神圣和最完美的美德。
At the top of the ladder I saw the Lord of hosts and the Queen of all creation. They commanded me to glorify, exalt and praise Him on account of these great mysteries and to write down so much of them, as I might bring myself to understand.
在梯子的顶端,我看到了万军的上主和万有之元后。他们命令我为了这些巨大的奥秘而光荣、尊崇和赞美祂,并写下我可以理解的那么多的奥秘。
The exalted and high Lord gave me a law, written not only on tablets, as He gave to Moses (Exod. 31, 18), but one wrought by his omnipotent finger in order that it might be studied and observed (Ps. 1, 2).
至高的上主赐给我一条法律,不仅写在版上,正如祂所赐给摩西的(出埃及记31:18),而是一个用祂全能的手指来做成它,以便学习和研读(圣咏1:2)。
He moved my will so that in her presence I promised to overcome my repugnance and with her assistance to set about writing her history, paying attention to three things:
祂改变了我的意愿,因此我答应在她面前克服我的抵触,在她的帮助下开始写她的历史,注意三件事:
First, to remember that the creature must ever seek to acknowledge the profound reverence due to God and to abase itself in proportion to the condescension of his Majesty toward men and that the effect of greater favors and benefits must be a greater fear, reverence, attention and humility;
首先,要记住,人必须永远寻求承认对天主的深深敬畏,并因上主对人类的屈尊俯就,也相称地贬抑自己,更大的恩宠和恩惠的效果必然是更大的敬畏、恭敬、留心和谦卑;
secondly, to be ever mindful of the obligation of all men, who are so forgetful of their own salvation, to consider and learn what they owe to the Queen and Mother of piety on account of the part assumed by Her in the Redemption, to think of the love and the reverence which She showed to God and the honor in which we are to hold this great Lady;
其次,永远牢记所有为人的义务,世人如此容易忘了自己的救赎,凝思和知道由于元后和虔诚之母在救赎中所扮演的角色,他们欠元后和虔诚之母的是什么,想到她对天主所表现的爱和敬畏,以及我们的荣幸:能接待这位伟大的圣母;
thirdly, to be willing to have my spiritual director, and if necessary the whole world, find out my littleness and vileness, and the small returns which I make for what I receive.
第三,愿意我的神师,(以及)如果有必要的话,也让全世界都知道我的渺小和卑微,以及我所得到的微薄的回报。
9. To these my protestations the most Holy Virgin answered: "My daughter, the world stands much in need of this doctrine, for it does not know, nor does it practice, the reverence due to the Lord omnipotent.
对这些话,至圣圣母回答说:「我的女儿,这个世界非常需要这个教义,因为它不被知道,也不被实践对全能的主应有的敬畏。
On account of this ignorance his(His?) justice is provoked to afflict and humiliate men.
由于这种无知,祂的正义被激起来使人受折磨和受羞辱。
They are sunken in their carelessness and filled with darkness, not knowing how to seek relief or attain to the light.
他们在自己的淡漠中消沉,充满了黑暗,不知道如何寻求解脱或达到光明。
This, however, is justly their lot, since they fail in the reverence and fear, which they ought to have."
然而,这是他们理所当然该得到的命运,因为他们没有应有的尊敬和敬畏。
Besides this the Most High and the Queen gave me many other instructions, in order to make clear to me their will in regard to this work.
此外,至高者和元后又指示我许多别的事,要使我明白他们对这项工作的旨意。
It seemed to me temerity and want of charity toward myself, to reject the instruction which She had promised me for narrating the course of her most holy life.
在我看来,拒绝接受她预许我讲述她至圣生平历程的指示,对自己似乎是鲁莽和缺乏爱德的。
It seemed equally improper to put off the writing of it, since the Most High had intimated this as the fitting and opportune time, saying to me in this regard:
推迟这写作似乎同样是不合适的,因为至高者把这看作是合适的时机,并在这方面对我说:
"My daughter, when I sent my Onlybegotten, the world, with the exception of the few souls that served Me, was in worse condition than it ever had been since its beginning;
「我的女儿,当我把我的独生子差遣出去的时候,这个世界,除了为我服事的少数几个灵魂之外,那时的状况比自开始以来要糟糕得多;
for human nature is so imperfect that if it does not subject itself to the interior guidance of my light and to the fulfillment of the precepts of my ministers by sacrificing its own judgment and following Me, who am the way, the truth and the life (John 14, 6), and by carefully observing my commandments in order not to lose my friendship, it will presently fall into the abyss of darkness and innumerable miseries, until it arrives at obstinacy in sin.
因为人性是如此的不完全,如果人性不服从于光的内在指引,通过牺牲自己的判断,跟随我作为道路、真理和生命(若望福音14:6),并仔细遵守我的诫命,以免失去我的友谊,人性很快就会陷入黑暗的深渊和无数的苦难,直到它在罪中趋于顽梗。
From the creation and sin of the first man until I gave the law to Moses, men governed themselves according to their own inclinations and fell into many errors and sins (Rom. 8, 13).
从第一个人的被造和犯罪,直到我把法律交给梅瑟,人都是照着自己的意思行事,跌入许多的错误和罪中(罗马书8:13)。
After having received the law, they again committed sin by not obeying it (John 7, 19) and thus they lived on, separating themselves more and more from truth and light and arriving at the state of complete forgetfulness.
他们在领受律法之后,又因不遵守法律而犯了罪(若望福音7:19),他们就这样活着,越来越远离真理和光明,达到完全遗忘的地步。
In fatherly love I sent them eternal salvation and a remedy for the incurable infirmities of human nature, thus justifying my cause.
在父爱中,我给他们带来了永恒的救赎,给人性中无法治愈的缺陷提供了一种补救办法,从而证明我的理由。
And just as I then chose the opportune time for the greater manifestation of my mercy, so I now select this time for showing toward them another very great favor.
就像我当时选择了一个合适的时机来表现我的慈悲一样,我现在选择这个时间向他们显明另一个非常大的恩惠。
For now the hour has come and the opportune time to let men know the just cause of my anger, and they are now justly charged and convinced of their guilt.
现在时机到了,让人们知道我愤怒的正义原因的时候到了,他们现在受到了公正的指控,并信服自己有罪。
Now I will make manifest my indignation and exercise my justice and equity; I will show how well justified is my cause.
现在我要显明我的愤怒,伸张我的正义和公平;我要证明我的理由是多么正当。
In order that this may come to pass more speedily, and because it is now time that my mercy show itself more openly and because my love must not be idle, I will offer to them an opportune remedy, if they will but make use of it for returning again to my favor.
为了使主的公义这件事更快地实现,又因为现在是我的慈悲更加公开的时候了,又因为我的爱不可空置,我要给他们一个适当的补救办法,只要他们愿意利用它我的慈悲再次回心转意到我的恩惠来。
Now, at this hour, when the world has arrived at so unfortunate a pass, and when, though the Word has become incarnate, mortals are more careless of their weal and seek it less;
现在,在这个时刻,当世界已经到达如此不幸的一个关口,当道成肉身,世人更忽视他们的福祉,更少寻求它;
when the day of their transitory life passes swiftly at the setting of the sun of time;
当他们短暂生命的一天在时间的夕阳下迅速流逝;
when the night of eternity is approaching closer and closer for the wicked and the day without a night is being born for the just;
当永恒的黑夜对邪恶者越来越近,没有黑夜的白昼为正义而生;
when the majority of mortals are sinking deeper and deeper into the darkness of their ignorance and guilt,oppressing the just and mocking the children of God;
当多数的世人越来越深地陷入无知和罪恶的黑暗中,压迫正义,嘲弄天主的儿女;
when my holy and divine law is despised in the management of the iniquitous affairs of state, which are as hostile as they are contrary to my Providence;
当我的圣洁和神圣的法律在处理国家的不公事务时被藐视,它们与我的天意相违背,充满敌意;
when the wicked least deserve my mercy; in these predestined times, I wish to open a portal for the just ones through which they can find access to my mercy; I wish to give them a light by which they can dispel the gloom that envelops the eyes of their minds.
当邪恶的人最不值得我的慈悲时;在这个命定的时代,我希望为义人打开一扇大门,让他们能够获得我的慈悲;我希望给他们一盏灯,让他们驱散笼罩在头脑中的阴霾。
I wish to furnish them a suitable remedy for restoring them to my grace.
我希望给他们一个适当的补救办法,使他们恢复我的恩宠。
Happy they who find it, and blessed they who shall appreciate its value, rich they who shall come upon this treasure, and blessed and very wise those who shall search into and shall understand its marvels and hidden mysteries.
那些找到补救办法的人是幸福的,那些领会它的价值的人是有福的,那些来到这个宝藏前的人是富有的,那些探索并理解它的奇迹和隐藏的奥秘的人是有福的,是非常明智的。
I desire to make known to mortals how much intercession of Her is worth, who brought restoration of life by giving mortal existence to the immortal God.
我希望让世人知道圣母元后的转求是多么有价值,她通过将必朽的凡人献给永恒的天主而使生命得以恢复。
As recompense I desire that they look upon the wonders wrought by my mighty arm in that pure Creature, as upon a mirror by which they can estimate their own ingratitude.
作为报答,我有力的手臂在那纯洁的人身上所创造的奇迹,我希望他们把这看作是一面镜子,用它来判断自己的忘恩负义。
I wish to make known to them much of that, which according to my high judgment is still hidden concerning the Mother of the Word."
我想让他们知道这一点,根据我的最高判断,这件事关于"圣言之母"的事仍然是隐藏的。 」
10. "I have not revealed these mysteries in the primitive Church, because they are so great, that the faithful would have been lost in the contemplation and admiration of them at a time when it was more necessary to establish firmly the law of grace and of the Gospel.
「我没有在早期教会中揭示这些奥秘,因为它们是如此伟大,以至于信徒们在更需要坚定地确立恩宠和福音的法律之时,会迷失在对它们的默观和钦崇中。 」
Although all mysteries of religion are in perfect harmony with each other, yet human ignorance might have suffered recoil and doubt at their magnitude, when faith in the Incarnation and Redemption and the precepts of the new law of the Gospel were yet in their beginnings.
虽然信仰的所有奥秘彼此之间是和谐的,然而,当对道成肉身、救赎和新福音法律的信仰还处于最初阶段的时候,人类的无知可能会在它他们的规模上抵制和怀疑。
On this same account the person of the incarnate Word said to his disciples at the last supper: "Many things have I to say to you; but you are not yet disposed to receive them" (John16, 12).
为此,成为肉身的圣言在最后的晚餐上对祂的门徒说:「我本来还有许多事要告诉你们,然而你们现在不能担负。 」(若望福音16:12)。
(根据经文,应该是在最后的晚餐之后)
These words He addressed to all the world, for it was not yet capable of giving full obedience to the law of grace and full assent to the faith in the Son, much less was it prepared to be introduced into the mysteries of His Mother.
他对全世界说了这些话,因为他们还不能完全服从恩宠的法律,不能完全认同对圣子的信仰,更不用说准备介绍给祂母亲的奥秘了。
But now, mankind has greater need for this manifestation, and this necessity urges Me to disregard their evil disposition.
但是现在,人类对这种显明有了更大的需要,这种需要促使我无视他们的邪恶性情。
And if men would now seek to please Me by reverencing, believing, and studying the wonders, which are intimately connected with this Mother of Piety, and if they would all begin to solicit her intercession from their whole heart, the world would find some relief.
如果人们现在寻求通过恭敬、相信和学习与这位虔诚之母密切相关的奇迹来讨我的喜悦,如果他们都开始全心全意地请求她的转求,世界就会找到一些安慰。
I will not longer withhold from men this mystical City of refuge; describe and delineate it to them, as far as thy shortcomings allow.
我不再向人们隐瞒这座神秘的避难城,你去就你所能地就向他们描绘这座避难城的生活。
I do not intend that thy descriptions and declarations of the life of the Blessed Virgin shall be mere opinions or contemplations, but reliable truth.
我打算让你对圣母生平的描述和声明不仅仅是观点或沉思,而是可靠的事实。
They that have ears to hear, let them hear. Let those who thirst come to the living waters and leave the dried-out cisterns; let those that are seeking for the light, follow it to the end. Thus speaks the Lord God Almighty!"
谁若有耳朵,就听罢!愿口渴的人离开乾涸的池子到活水那里;愿寻求光明的人,跟从光明到底。全能的上主天主如此说! 」
11. These are the words of the Most High on the occasion before mentioned.
这是最高者在前面提到的场合所说的话。
Obedient to the authority, which commands me, I will in the following chapter describe the manner in which I receive my information and enlightenment, and how I see the Lord.
服从命令我的权柄,我将在下一章描述我接受信息和光照的方式,以及我如何看到上主。
Thus complying with his orders, I will explain, once for all, the illuminations and the favors which are vouchsafed to me for this work and to which I will refer in the sequel of this history.
因此,遵照祂的吩咐,我将为这部作品,一劳永逸地解释那给予我的光照和恩惠,我将在这个历史的后续中提到这些。
007天主的奥秘之城第一册第1卷第2章 上主向我显明天上元后生命的奥秘
CHAPTER II.
第二章
HOW THE LORD, IN THE STATE IN WHICH HE HAD PEACED ME, MANIFESTED TO ME THE MYSTERIES OF THE EIFE OF THE QUEEN OF HEAVEN.
上主如何把我放在祂所赐给我的位置,向我显明天上元后生命的奥秘
12. It seemed to me proper to preface this history with an explanatory chapter, describing and explaining once for all, as far as is given me and as far as I can, the manner in which the Lord manifested to me these wonders.
12、在我看来,尽我所能,一劳永逸地描述和解释上主向我展示这些奇迹的方式,在这段历史的前面加上一个解释性的章节是恰当的。
13. Ever since I have had the use of reason, I was conscious of especially one blessing, which in my estimation is the greatest of all those bestowed upon me by God's liberality; namely, a great and penetrating fear, lest I should lose Him.
13、自从我使用理性以来,我意识到特别有一种祝福,据我判断,这是天主的慷慨赐予我的最伟大的祝福;也就是一种强烈而深刻的恐惧,我怕我失去了祂。
And this moved and urged me on to strive after the better and more secure way and to follow after it and implore it from the Lord day after day.
这事使我感动,劝我要追求更好更稳妥的道路,跟随这道路,天天向上主恳求。
He has wounded my flesh with the dart of fear of his judgments (Ps. 118, 120), and I live continually in the dreadful thought: Have I perhaps lost the friendship of the Most High or am I still in his friendship?
我时常生活在天主审判的可怕思想中:或许我已经失去了至高者的友谊,或者我还在祂的友谊中吗?
〔經文:我的肉身因敬畏你而战栗,对你的谕令我也知所敬畏。(咏 119: 120) 〕
My bread day and night have been the tears, which this fear has drawn from my eyes.
眼泪是我日夜的食物,恐惧从我的眼睛里流出。
On account of this dread, since it is more necessary than ever that the friends of the Lord should practice their virtues in secret and without ostentation, I have in these latter times begun to send up earnest and heartfelt prayers and petitions to the Lord, asking also the intercession of the Queen and Virgin, that I may be guided and led along the secure paths hidden from the eyes of men.
由于这种恐惧,因此,"上主的朋友们"比以往任何时候都更有必要隐密地操练他们的德性,而不是炫耀,所以我在后来的时刻开始向主发出诚挚和深切的祈祷和恳求,也请求元后和圣母的转求,以便我可以被引导和指引,沿着人们看不见的安全道路前进。
14. In answer to these repeated prayers the Lord said: "Do not fear, soul, nor afflict thyself; for I will give thee a state of mind and show thee a path of light and security, which only its Author himself could know of or even conceive. Whatever is exterior and dangerous shall leave thee today and thy treasure shall be altogether hidden.
14、在回应我这些反复的祈祷时,上主说:「灵魂啊,不要害怕,也不要折磨你自己,因为我会赐给你一种心灵状态,给你展示一条光明和安全的道路,这条道路只有它的"作者"自己才能知道,甚至是祂构想出来的。任何外在的和危害的东西今天都会离开你,你的财宝也会完全隐藏起来。
Take care of it on thy part and preserve it by a perfect life. I will direct thee toward a hidden path, unobstructed, unfailing and pure; walk thou in it."
你要好好照顾它(你的财宝),用完美的生命来保护它。我必引导你往隐密的路去,这路是畅通的、可靠的、纯洁的,你要在其中行走。 」
And presently I felt a change within me and a highly spiritualized state of mind. To my understanding was given a new light, which illuminated it and infused into it a knowledge of all things in God, and of his operations as they are in themselves and as they are known and seen by God, according to the measure of his communication.
不久,我感到内心发生了变化,一种高度灵性化的心灵状态。我的理解力被赋予了一种新的光,这光照亮了它(内心),并注入了一种关于天主里面才有的知识,以及天主自身的运作和祂所知道和看到的行为,这都是根据它(内心)与上主的交流而衡量。
It is a knowledge of light, holy, sweet and pure, subtle, penetrating, sure and agile, causing love of good and hatred of evil.
那是一种光的知识,神圣,甜美和纯洁,微妙,敏锐,坚定和活泼,引起对善的喜爱和对恶的恨恶。
It is a breath of the power of God and an emanation of a most subtle light, which acts as a mirror for my understanding.
那是天主威能的气息,是一种最微妙的光的散发,它就像是我理解力的一面镜子。
Thus the higher faculties and the interior perception of my soul began to expand in their activity.
因此,我灵魂的上层官能和内在知觉开始在它们的活动中扩展。
For the Object, by means of the light which flashed from It, showed Itself to be infinite, though the perception of It remained limited and the understanding finite.
因为这个(扩展的)"东西",通过它所发出的光,显示出它自己是无限的,尽管我对它的感知是有限的,并且理解是有限的。
It is a vision as it were of the Lord seated on a throne of great majesty, where, always within mortal limitation, I perceive his attributes distinctly.
这是天主坐在一个威严的宝座上的神视异象,在那里,我总是在人的有限度内,清楚地看到祂的属性。
A veil, which seems like purest crystal intervenes, through which the wonderful attributes and perfections of God appear distinctly and clearly perceptible; yet this vision is not entire, immediate or intuitive, or entirely free from obstruction, but always comes through a medium, which is nothing else than this crystalline covering above mentioned.
一层面纱,似乎是最纯净的水晶介入其中,透过它,天主的奇妙属性和完美显得明显而清晰;然而这神视异象并不是完整的、直接的或直观的,也不是完全没有障碍的,而总是通过一种媒介而来,就是上面提到的水晶覆盖物。
The perception of that which it covers is not painful to the understanding, but is marvelous, because the mind is aware that what is perceived is infinite, and that the one who perceives is finite.
对面纱所遮盖之事的看法的理解并不痛苦,而是奇妙的,因为心智所意识的感知是无限的,但人的感觉是有限的。
The mind reposes in the hope of once possessing that which it perceives, and of once seeing the veil removed and the medium done away with, as soon as the soul shall have been freed from the mortality of the body (II Cor. 4, 6).
一旦灵魂从肉体的死亡中解脱出来,心智就将希望寄托在曾经拥有的看法,在揭去面纱及拿走媒介的曾经看见上。
〔经文:因为那吩咐『光从黑暗中照耀』的天主,曾经照耀在我们心中,为使我们以那在【耶稣】基督的面貌上,所闪耀的天主的光荣的知识,来光照别人。(格林多后书4:6) 〕
15. In this vision there are three different ways or degrees, according to the different methods, by which the divine Will communicates it and according to the dispositions of the human will.
15、在这个神视异象中,根据不同的方法,有三种不同的道路或程度,上主的"旨意"通过这种道路或程度,并根据人的意志倾向进行传达。
Sometimes He manifests Himself more clearly, at other times less.
有时祂显现祂自己得更清楚,有时会少一点。
At times some mysteries are revealed to the exclusion of others of great importance.
有时,一些奥秘被启示出来,而另一些重要的奥秘却被排除在外。
This difference is usually in accordance with the dispositions of the soul; for if the soul does not preserve itself in peace or if it is guilty of some fault, no matter how small, it will not experience this vision in its fullness.
这种差异通常与灵魂的性情是一致的;因为如果灵魂没有保持自己在平安中,或者它犯了某种错误,无论多么小,它都不可能充分体验这个神视异象。
In the one I have described the Lord is perceived so plainly and so securely, that there is not the least room for doubt.
在我所描述的那一个(神视异象)中,上主被如此清晰和有把握地感知,以至于没有丝毫可以怀疑的余地。
However, the conviction of the real presence of God in the vision always precedes and impresses itself upon the mind, before one understands fully that which his Majesty speaks.
然而,在充分理解上主所讲的话之前,对天主在神视异象中真实存在的信念,总是先于心灵并会打动心灵。
And this knowledge produces a pleasing constraint, powerfully and efficaciously urging the soul onward to love, serve, and obey the Most High.
这种知识产生了一种令人愉快的约束,有力地且有效地敦促灵魂继续爱、服事,并服从至高者。
In this vision great truths are made clear; how estimable virtue is, and what a valuable treasure is its exercise and preservation.
在这神视异象中,伟大的真理被阐明了;美德是多么可贵,德性的操练和保持是多么宝贵的财富。
The beauty and security of virtue is exhibited and a powerful impulse given toward the good, while a hatred and disgust toward evil and all disorderly inclinations fills the soul, very often entirely subduing them.
德性的美丽和安稳被展现出来,一种强大向善的冲动被给予,而对邪恶和一切混乱倾向的憎恨和厌恶充满了灵魂,常常完全征服了它们(邪恶)。
As long as the soul enjoys this vision and does not lose it, it will never be conquered (Wis. 7, 30), because it gives life, security, fervor and joy.
只要灵魂享受这一神视异象而不失去它(智慧),它就永远不会被征服。因为它给人生命、安全、激情和快乐。
〔经文:因为,光明还要让位于黑夜,但是邪恶绝不能战胜智慧。(智慧7: 30 )〕
Strongly and lovingly it calls and urges the soul onward, gives it lightness and alertness, and establishes the superior part of the being firmly above the inferior.
它(智慧)强烈而充满爱意地呼唤并推动灵魂前进,使之轻盈而机敏,并确立了长上对下级的坚强地位。
Even the body becomes agile and spiritualized during such times, freeing itself from its grossness and weight.
在这样的时刻,甚至身体也变得敏捷和灵性化,从迟钝和沉重中解脱出来。
16. And beginning to perceive and feel these delightful sensations, the soul lovingly calls out to the Most High: "Trahe me post Te" (Cant. 1, 3) let us run together; for, united to its Beloved, it does not any more feel the doings of this earthly life.
16、当灵魂开始觉察和感受到这些愉悦的感觉时,就会充满爱意地向至高者呼喊:「把我带走吧」让我们一起奔跑吧,因为灵魂与她所爱的人联合在一起,不再感受到尘世生活的一切。
〔经文:愿你拉着我随你奔跑!君王,愿你引我进你的内室;我们都要因你欢乐踊跃,赞叹你那甜于酒的爱抚;怪不得众少女都爱慕你! (雅歌1:4) 〕
Seeking to fly after the odor of the ointments of its Beloved, it begins to live more where it loves, than where it lives.
(灵魂)追寻着她的"挚爱者"香膏的气味而飞翔,她开始更多地生活在她所爱的地方,而不是她生活的地方。
Having already left behind its lower nature, it turns back only for the purpose of reforming it and curtailing its animal appetites of the passions.
灵魂已经抛弃了她的下层本性,返回(肉身)的目的只是为了重塑灵魂,抑制灵魂在肉体欲望的激情。
If at any time they seek to rise in rebellion, the soul will subdue them with alacrity, for already "not I live, but Christ liveth in me" (Gal. 2, 20).
肉性若随时起来反抗,灵魂就赶紧地制伏他们,因为「我生活不是我生活,乃是基督在我内生活」(迦拉达书2:20)
〔经文:所以,我生活已不是我生活,而是基督在我内生活;我现今在肉身内生活,是生活在对天主子的信仰内;他爱了我,且为我舍弃了自己。 (迦拉达书2:20) )
17. To a certain extent, in all these holy operations and aspirations, is felt the assistance of the spirit of Christ, who is the God and the life of the soul, and who is known as such by the fervor, by the enlightenment, by the holy desires, by the light, and by the facility of action inspired by Him.
17、在某种程度上,在所有这些神圣的运作和渴望中,都感受到了基督的灵(圣神)的帮助,这灵(圣神)是天主和並且是灵魂的生命,表现出热心、启迪、圣洁的渴望、光明,以及由天主启发的行动能力。
These are such, that only God can be the Author of them. One feels the uninterrupted activity of love which it causes, and of intimate conversation with God, living and continuous, which rivets the attention of the mind to the things of God and withdraws it from earthly things.
就是这样,只有天主是这一切的"作者"。你感觉到天主发起不间断的爱的行动,以及与天主活泼的持续的亲密对话,而把心智的注意力专注到天主的事物,并从尘世的事物中抽离出来。
Christ manifests Himself as living within the soul, exerting his power and dispersing the darkness by his light.
基督显明祂自己並活在灵魂里,运用祂的能力,用祂的光驱散黑暗。
This may be properly designated as standing in the entrance of the house of the Lord; for there the soul beholds the splendor emanating from the beacon light of the Lamb of God (Apoc. 21, 23).
这可称得上是站在上主殿宇的门口,因为在那里,灵魂看见"天主羔羊"的明灯发出的荣光。(默示录21:23)
〔经文:那城也不需要太阳和月亮光照,因为有天主的光荣照耀她;羔羊就是她的明灯。 (默示录21:23) 〕
18. I do not say that this is the whole light, but it is part of it; and it consists in a knowledge superior to the capabilities and faculties of a creature.
18、我不是说这是全部的光,但它是光的一部分,这光包含着一种知识,高于人的能力和官能的知识。
In furtherance of this vision the Most High animates the intellect by a certain subtlety and light, thus adapting it for the exalted knowledge.
为促进这一神视异象,至高者通过某种神透和神光来激发智力,从而使之适应崇高的知识。
Moreover the knowledge thus given is accompanied by the certainty which is peculiar to faith, as experienced in regard to the more common truths of revelation.
尤有甚者,如此获得的知识还伴随着信仰所特有的确定性,作为更普遍启示真理的经历。
Faith accompanies the vision and the Omnipotent gives to the soul power to appreciate the value of the knowledge and the light, which He infuses.
信仰伴着神视异象,全能的天主赐予灵魂力量去领会祂所注入的知识和光明的价值。
Its light is inextinguishable (Wis. 7, 10) and all good things and a nobility of great price come to me with it.
它(智慧)的光芒永不熄灭(智慧篇7:10),一切美好的东西和伟大价值的高贵品质都随同它来到我这里。
〔经文:我爱她,胜过爱健康和美色,我以她比光明更为可取,因为,由她而来的光辉,从不暗淡。(智慧篇7:10) 〕
This light goes before me, directing my ways (Wis. 8, 16) and I took possession of it unerringly, and I desired to communicate it without envy, nor have I concealed its excellence.
这光在我面前,指引我的道路,我准确无误地拥有了它(智慧),我渴望与它交流而不嫉妒,也没有遮住它的卓越。
It is a participation of the Divinity and its presence is a great delight and joy.
它是天主的参与,它的存在是一种巨大的喜悦和欢乐。
It teaches great things freely and it disciplines the heart; with irresistible force it banishes and expels the deceitful things of this world, wherein, solely by looking upon them in this light, the spirit finds immeasurable bitterness.
它(智慧)自由的地教导人学习伟大的事物,又训练人的心;它以不可抗拒的力量驱逐和排除这个世界上欺骗性的事物,其中,仅仅通过这光看它们(世上欺骗性的事物),精神就会发现不可估量的痛苦。
By it the soul leaves behind the perishable things and flies to the sacred refuge of eternal truths.
通过它,灵魂离开了易朽坏的事物,飞向永恒真理的神圣避难所。
It enters into the cellar of fermented wine (Cant. 2, 4) where the Most High orders in me most holy charity.
它(引我)进入发酵酒的酒室,在这里至高者在我里面给我至圣之爱的命令。
〔经文:他引我进入酒室,他插在我身上的旗帜是爱情。 (歌 2:4) 〕
And by it He urges me to be patient and without envy (I Cor. 13, 4), to be kind without offense, to be free from pride and ambition or anger, thinking ill of nobody and suffering and tolerating all things.
通过它(智慧),天主敦促我要有耐心而不嫉妒,要有仁慈而不冒犯,摆脱骄傲、野心或愤怒,对任何人都不报恶意,(愿意)受苦并宽容万事。
〔经文:爱是含忍的,爱是慈祥的,爱不嫉妒,不夸张,不自大, (格林多前书13:4) 〕
Its voice is ever within me (Prov. 8, 1) and secretly warns me powerfully to do what is most holy and most pure, teaching me in all things; and if I fall short in the slightest degree, it reprehends me without ever passing over the smallest point.
它的声音一直在我心中,它暗中有力地警告我去做至圣、至纯洁的事,在所有事情上教导我;如果我稍有不足,它就会责备我,而不会放过最小的一点。
〔经文:智慧不是在呼唤,明智不是在发出她的呼声吗﹖ (箴 言8:1) 〕
19.This is the light, which at one and at the same time enlightens, raises to fervor, teaches and reprehends, chastens and enlivens, calls and deters, warns and compels, makes clear the distinction between good and evil, discloses the hidden and the profound, the length and the breadth (Eph. 3, 18);
19、这就是光,它(智慧)在同一时间启迪、振奋、教诲和谴责、惩戒和激励、召唤和威慑、警告和强迫、明确善与恶的区别、揭示隐藏和深奥的事、长和宽的事。
〔经文:为使你们能够同众圣徒领悟基督的爱是怎样的广、宽、高、深, (厄弗所书 3:18) 〕
which reveals to me the world, its state, its inclinations, its deceits and the lies and fallacies of its lovers and clients.
于是向我揭示了这个世界,它的状态,它的倾向,它的欺骗,以及它的情人和客人的谎言和谬误。
Above all, it teaches me to despise the world, to tread it under foot and to raise myself to the highest Lord and Governor of the universe.
最重要的是,它(智慧)教会我轻看世界,将之踏在脚下,并将我自己提升到宇宙的至高上主和掌管者那里。
And in his Majesty I see and learn the ordering of all things (Wis. 7, 17), the power of the elements, the beginning, the middle and the end of time, its changes and variations, the onward course of the years, the harmony of all creatures and their innate qualities;
在荣耀尊威的天主中,我看到并学习了万物的秩序,元素的能量,时间的始末和中心,它(季节)的变化和变更,岁月前进的进程,万物的和谐及其特有的品质;
〔经文:是他把所有事物的正确知识赐给了我,使我明了世界的构造,和元素的能量,时间的始末和中心,冬至夏至的转变,和季节的变更,年岁的循环与星辰的位置,生物的天性,和野兽的本能,鬼神的力量,和人类的思想,植物的繁杂,和草根的效能。 (智慧篇7:17~20) 〕
all the secrets of men, their acts and their thoughts;
人类的所有奥秘,他们的行为和思想;
how far they stray from the Lord; the dangers in which they live and the errors of their ways;
人们离上主何其遥远,他们的生活何其危险,他们所行的何其错乱。
the states and governments, their curtailed existence and their great instability, their beginning and their end, the true and the false principles which guide them.
国家和政府,他们被限制的存在和他们巨大的不稳定性,他们的开始和结束,指导他们的真实和虚假的原则。
All this is learnt and seen distinctly in God through this light, even as far as pertains to the separate individuals and circumstances.
所有这一切都是通过这种光在天主身上清楚地学习和看到的,即便是与不同的人,在不同的环境也是如此。
But as soon as the soul descends to a lower condition and a more ordinary state, wherein it must make use only of the substance or acquired habit of this enlightenment and cannot enjoy its full splendor, this exalted knowledge of persons, of conditions, and of the secret thoughts before described is more circumscribed and limited.
但是,一旦灵魂降到一个较低层次的情况和一个更原始的状态,在那里灵魂必须只能使用物质或后天习惯的启迪,不能享受智慧的全部光辉,这种对人、对环境和对前面所描述的秘密思想的崇高知识就更加桎梏和限制了。
In this lower state I perceive only so much as is necessary to avoid danger and fly from sin, and to feel true compassion with other persons, though at the same time I am not permitted to speak clearly with any one about that which is revealed it seems as if I am made dumb, except at times, when the Author of this light gives me permission and commands me to admonish one of my neighbors.
(当对方的灵魂)在这个较低的状态中,我也就只觉察到为避免危险和逃离罪恶,以及为他人感到真正的同情所必需的东西,尽管同时我不被允许与任何人清楚地谈论所揭示的东西,似乎我被弄得哑口无言,除非有时,当这光的创始者允许我,命令我去劝告我的邻人。
But even on such occasions I must not disclose the nature of my cognition, but I am constrained to speak to the heart, using plain arguments, simple, ordinary and charitable persuasion in God.
但即使在这种情况下,我也不能透露我认知的本质,但我不得不在天主内用平铺直述的论据,简单、平凡和仁慈的劝说来表达我的内心。
At the same time I am urged to pray for their necessities, which for that object become known to me.
与此同时,我又被敦促为他们无法避免的必然性祈祷,因为我知道这一点。
(根据上下文理解应该是这些人的必死之路)
20. Although all these things were revealed to me with the greatest clearness, yet never has the Lord shown me the final ruin of any soul, which has damned itself.
20、虽然这一切都已经清清楚楚地向我显现,但主从来没有向我显示过一个该下地狱的灵魂,其最后的毁灭。
This knowledge is withheld from me by the providence of God, because He is so just, that He does not deem it befitting to reveal the damnation of a soul except for some great purpose; and if I were to come to the knowledge of such a great ruin, I think I should die of sorrow.
天主的旨意使我不能知道这一点,因为祂是如此的公正,以至于祂认为,除非为了某个伟大的目的,否则不适合揭露一个灵魂的诅咒;如果我知道这样一个巨大的毁灭,我想我会悲伤而死。
This would doubtlessly be the effect of such a revelation, so great is the grief caused by the sight of a soul forever separated from God.
这无疑会是这样启示的结果,看到一个灵魂永远与天主分离所造成的悲伤是如此巨大。
I have besought Him not to show me any one who will damn himself.
我已经恳求祂,不要给我看任何一个会自取灭亡的人。
I would not refuse, at the cost of my life, to liberate anyone who is in sin, nor would I object even to see the present state of such soul; but may I never see one, who is beyond redemption!
我以我的生命为代价,不会拒绝解救任何一个有罪的人,我也不会反对去看这些灵魂的现状;但我永远见不到一个无法救赎的人!
21. This light is given me, not that I may reveal my secrets in particular, but that I may make use of it with prudence and wisdom.
21、这道光赐给了我,并不是为了让我特别能揭示我的秘密,而是为了我可以谨慎和智慧地利用它。
Though it continues to be only accidental, it remains with me in the same way as some substance, that vivifies and comes from God himself;
虽然它只是一种次要的东西,但在我看来,它(这光)仍然是一种来自天主本身的、充满活力的实体;
and in the manner of a habit, to insure the good government of my lower appetites and feelings.
以一种习惯的方式,来确保我低层次的欲望和低层次的感觉得到良好的控制。
Moreover, in the superior part of my soul, I enjoy a vision and habitation of peace and I understand the mysteries and sacraments of the life of the Queen of heaven and of other mysteries of faith, which were thus continually made manifest and present to me in this never failing light.
此外,在我灵魂的高层,我享受着一个和平的神视异象和居所,我理解了天堂元后生命的奥秘和圣事,以及其它信德的奥迹,它们就这样不断地在这永不熄灭的光中显明和呈现给我。
And if at any time I descend, creaturelike, to attend to human affairs, the Lord presently calls me with a sweet yet rigorous severity and again draws my attention to his words and teachings and to the conscious meditation of these sacraments, graces and virtues, and to the exterior and interior works of the Virgin Mother, as I will explain farther on.
如果我在任何时候降下来,像受造物一样处理人的事务,上主马上甜蜜而严厉的召叫我,并再次将我的注意力吸引到他的话语和教导,以及对这些圣事、恩宠和德能以及圣母的外在和内在工作的有意识默想,正如我将在后面解释的那样。
22. Thus, when in the state of enlightenment aforesaid, I see also and recognize the same Queen and Lady as She speaks with me; also the holy angels, their nature and excellence.
22、因此,当我处于上述的光中时,我也会看到并认出与我说话的元后和圣母;还有圣洁的天使,他们的本性和卓越。
Sometimes I see and recognize them in the Lord, at other times I see them in themselves;
有时我从天主里面看到并认识他们,有时我在他们身上看到他们自己;
but with this difference that in seeing them in themselves, I descend to a lower grade of knowledge.
然而这有不同,在他们身上看到他们自己的时候,我的知识就下降到较低的层次。
I perceive also this difference, which results from the object and from the kind of knowledge.
我也感觉到了这种差异,这种差异是由于对方和知识的类別所造成的。
In this lower degree of vision I see, speak and listen to the holy princes;
在低层次的神视异象中,我与神圣王子们说、看、听。
they converse with me and explain many of the mysteries, which the Lord has shown me.
他们与我交谈,向我解释主所指给我的许多奥秘。
The Queen of heaven likewise manifests and propounds to me the mysteries of her most holy life and of its admirable events. With great clearness I recognize each one of these holy persons, feeling the divine effects, which each one excites in the soul.
天上元后同样向我显示并向我提供了她至圣的生平及其可钦崇事件的奥秘。我非常清楚地认出了这些圣人中的每一个,感受到了每一个人在灵魂中所激发的神圣效果。
23. But when I see these same persons in the Lord, I perceive them as through a mirror placed freely by His Majesty, in which He shows to me the saints according to his pleasure, with great clearness and producing most exalted effects in my soul.
23、但是,当我在主里面看到这些相同的人时,我感觉到他们就像是由荣耀尊威的天主自由放置的一面镜子,在镜子中,天主按照自己的喜好向我展示了圣徒,非常地清晰,对我的灵魂产生了最崇高的影响。
For this admirable light, the Lord himself becomes known, as also the Saints and their excellent virtues and wonderful works; likewise the manner in which they exercised these virtues by the help of the graces, that made them capable of all this (Philip 4, 13). 因为这可钦崇的光,主和圣徒,并他们卓越的德能,并奇妙的工作。于是被知晓,而且,他们在恩宠的帮助下,操练这些德能的态度,也使他们能够做到这一切。
〔经文:我赖加强我力量的那位,能应付一切。 (斐理伯书 4:13) 〕
In this state of knowledge the creature is more abundantly and completely filled with a joy, that still further increases the power and satisfaction of the soul, and poises it as if on its center of gravity.
在这种知识的状态下,人会更加丰富和完全地充满快乐,这进一步增加了灵魂的力量和满足,使灵魂像处于重心上一样保持稳定。
For, the more intellectual and the less corporeal or imaginary the light, so much the more powerful and exalted are the effects, and so much the more substantial and certain is the knowledge attained.
因为,光越理智,越少肉体或想象,效果就越强大和崇高,所获得的知识也就越充实和确定。
Yet also here there is a difference: for the vision or knowledge of God himself, of his attributes and his perfections is superior and its effects are most sweet and affable;
然而,这里也有一个不同之处:因为天主自己的神视异象或知识,他的属性和他的完美是卓越的,它的效果是最甜美和友善的;
while the vision and knowledge of the creatures, even in the Lord, is of an inferior order.
而人的神视异象和知识,即使在主里面,也是低等的。
This inferiority, it seems to me, arises in part from the soul itself; since its own vision is so limited, that it cannot attend to or perceive God so well, when seeing Him conjointly with creatures, as when seeing Him by Himself and without them.
在我看来,这种低等来自灵魂本身;因为灵魂自己的视野是如此的有限,当天主和人结合在一起时的看到就不如天主自己和没有灵魂的时候,能很好地注意或觉知天主。
Also this vision of God by Himself is accompanied by a greater plenitude of joy than the vision of creatures in God.
而且,这种对天主本身的神视异象,比对天主的创造物的神视异象有更大更丰富的欢乐。
So delicate is this cognition of the Divinity, that to attend to any other thing in conjunction with it, impairs to a certain extent its clearness, at least so long as we shall be in our mortal state.
这种对上主的认识是如此细致微妙,以致于如果去注意与天主相联系的任何其他事物,就会在一定程度上减损天主的清晰性,至少在我们处于凡人状态时是这样。
24. In the inferior state, which I have mentioned, I see the most holy virgin and the angels in themselves and their mode of teaching me, speaking to me, and enlightening me.
24、在我所提到的低层次状态中,我看到至圣童贞圣母和天使,以及他们教导我、对我说话和启示我的方式。
I understand this to be similar to the mode in which the angels themselves enlighten, communicate and speak with each other, when the superior orders enlighten the inferior.
我理解这类似于当长上命令下级时给属下的启迪,让天使本身相互启发、交流和说话。
The Lord is the first cause of this light, but the Queen who has received it in its highest plenitude, communicates it as through a channel to the superior part of my soul, so that I begin to know her excellence, her prerogatives and mysteries in the same manner as an inferior angel perceives that, which is communicated to him by the superior spirits.
上主是产生这道光的第一因,但元后在最大程度上接受了这道光,把光传达给我灵魂的高层次部分,使我开始了解元后的卓越之处、她的特权和奥秘,就像一个低层次的天使所感知的那样,是由高层次的天使传达给他的。
I recognize Her also by the doctrine which She teaches, by the efficacy peculiar to it, and by other qualities, which are felt and tasted and which indicate the purity, elevation and certainty of these visions.
我也通过元后所传授的教义,通过教义特有的功效,及其它可以感受到、体验到的品质来认出元后,这些品质表明了这些神视异象的纯净、崇高和确定无疑。
There, nothing impure, or obscure, or false, or suspected is met with; and nothing that is holy, pure and true is withheld from view.
在那里,没有不纯的、昏昧的、虚假的、可疑的所有圣洁的、纯洁的、真实的,沒有不被看见。
The same happens to me in its proper proportion, when conversing with the holy angels;
我同圣洁天使们谈话的时候,也会有同样的情形;
for the Lord himself has often informed me, that they enlighten and communicate with me in the same manner as they converse with each other.
因为主自己经常告诉我,他们以彼此交谈的方式来启发我并与我沟通。
Often it happens that the enlightenments pass through all these channels and conduits in succession:
通常情况下,启发光照是通过所有这些渠道和管道产生的:
the Lord gives the intelligence or light, the most holy Virgin reveals it to me and the angels express it to me in words.
上主赐给我智慧或亮光,至圣童贞玛利亚把它(亮光)启示给我,天使用言语向我传递。
At other times (and this is the most ordinary mode) the Lord communicates and teaches me his holy doctrine, sometimes the most holy Queen, and sometimes the holy angels.
在其它时候(这是最通常的模式),主传达和教导我祂的神圣教义,有时是至圣元后,有时是圣洁天使。
It also happens, that I receive only the understanding of things, and then I am left to find for myself the terms which befit that which I hold in the intelligence.
同样,我只获得对事物的理解,然后我自己寻找适合我智力的措词用语。
In finding these terms I may err, if the Lord allows, for I am only an ignorant woman and I must rely on what I have heard.
如果主允许,我发现这些措词可能会有错,因为我只是一个无知的女人,我必须依靠我所听到的。
If any difficulties arise in the explanation of my visions, I take counsel with my master and spiritual guide, especially in more difficult and arduous matters.
如果在解释我的神视异象时,特别是在更困难和艰巨的事情上出现任何困难时,我会向我的导师和神师咨询。
25. In this condition and state I very seldom see corporeal visions, but imaginary visions I see sometimes;
25、在这种情况和状态下,我很少看到有形的神视异象,只是非有形的神视异象;
these are of a much lower grade than the exalted, more spiritual, or intellectual vision, of which I have until now spoken.
这些的等级远低于迄今为止所说的那种崇高的、更灵性的、理智的神视异象。
But this I can assert with confidence: in all the spiritual enlightenments, which I receive, great and small, lower or higher, whether they come from the Lord, the most blessed Virgin, or the holy angels, in all of them I obtain most abundant light and help of salvation, enabling me to see and know the truth and the possibility of greater perfection and sanctity.
但我可以自信地说,在我所领受的一切属灵的启示中,无论是大的,小的,低的,高的,无论是从上主,至圣圣母,或是圣洁天使那里来的,我都从他们身上得着最充足的光和救恩的帮助,使我能看见和知道真理和更大的完美和圣洁的可能性。
I feel within me a divine force, which compels me to seek the greater purity of my soul, and advancement in the grace of the Lord, which makes me ready to die for it and to act in all things according to greater perfection.
我感到内在有一种神圣的力量,它迫使我追求灵魂的更大纯洁,在上主的恩宠中进步,这使我准备好为此努力而死,并按照更完美的方式行事。
With the help of the different grades and kinds of intelligence already described, I learn to know all the mysteries of the life of the Queen of heaven to the great advancement and rejoicing of my spirit.
在已经描述过的不同等级和种类的智慧的帮助下,我学会了了解天上元后生平的一切奥秘,从而使我的灵得到了极大的提升和喜悦。
For this I thank the Almighty with my whole heart and mind, I magnify Him, I adore and praise Him as the all powerful and holy God, strong and admirable, worthy of honor, magnificence, glory and reverence through all the ages. Amen.
为此,我全心全意地感谢全能的天主,我尊祂为大,我崇拜和赞美祂,祂是全能而神圣的天主,强大而可敬,值得世世代代尊敬、称扬、光荣和敬畏。阿们。
008天主的奥秘之城第一册第1卷第3章 关于天主赐给我的神性知识,以及创造世界的法则
CHAPTER III.
第三章
OF THE KNOWLEDGE OF THE DIVINITY WHICH WAS CONFERRED UPON ME, AND OF THE DECREE OF THE CREATION OF THE WORLD.
关于天主赐给我的神性知识,以及创造世界的法则
26. O King, most high and most wise Lord: How incomprehensible are thy judgments, and inscrutable thy ways (Rom. 11, 33)! Invincible God, enduring forever and whose beginning is unknown!
26、王啊!至高而至慧的上主:你的决断是多么不可测量!你的道路是多么不可探查(罗马书11:33)!始不可知而永存。
〔经文:啊,天主的富饶、上智和知识,是多么高深!他的决断是多么不可测量!他的道路是多么不可探察! (罗 11:33) 〕
Who can understand thy greatness and who can be worthy of thy most magnificent works, or who can tell Thee why Thou hast created them (Rom. 9, 20) ?
谁能理解你的伟大,谁能配得上你最伟大的工作,谁能告诉你为什么要创造它们?
〔经文:人呀!你是谁,竟敢向天主抗辩?制造品岂能对制造者说:你为什么这样制造了我? (罗马书 9:20) 〕
For Thou art exalted above all of them and our vision cannot reach Thee and our understanding cannot comprehend Thee.
因为你高于一切,我们的视野达不到你,我们的悟性也不能领悟你。
Mayest Thou be blest, magnificent King, because Thou has deigned to show me, thy slave and a vile worm of the earth, great sacraments and most sublime mysteries, exalting my habitation and raising my spirit to a height, in which I saw things unspeakable.
愿你被称颂,崇高的君王,因为你屈尊向我–你的仆人,地球上的微不足道的虫子,指明了伟大圣事和最崇高的奥秘,你高举我的居所,将我的灵提升到高处,使我看见不可言说的事。
I saw the Lord and Creator of all things; I perceived as it were the exaltedness of a Being existing in Itself, before It created any other thing; I do not know the manner in which It showed Itself to me, but I know what I saw and perceived.
我看见了万物的主和创造者;我感受到这是一个在创造任何事物之前,就存在于自身的崇高的存有者;我不知道祂向我展示自己的方式,但我知道我所看见的和感知的。
His Majesty, comprehending all things, is aware that, while I am speaking of his Deity, my thoughts stand still, my soul is troubled, my faculties cease their operations, and the superior part of my being deserts the lower and animal parts, despises that which is of the senses and flies toward its Beloved, leaving lifeless the body which it should keep alive. In these excursions and abandonments of love my eyes flow over in tears and my tongue becomes mute.
荣耀尊威的天主洞悉一切,了解到这一点,当我谈到祂的天主性时,我的思想静止不动,我的灵魂困扰,我的官能停止运作,而我生命中高层的部分舍弃低层的和动物性的部分;舍弃感官的一切,飞向她的至爱,离开本应该保持生机的毫无生气的身体。在这些爱的分离舍弃中,我的眼睛流泪,我的语言变得无声。
O my most high and incomprehensible Lord, infinite Object of my understanding!
哦!我的至高者和不可测度的主,我理解领悟的无限对象。
How am I annihilated at the sight of Thee, the Measureless and the Eternal, and how my being grovels in the dust, scarcely knowing what I am!
我是如何在无量和永恒的你的眼光中被消灭,并且我是如何俯伏在尘土中,几乎不知道我是谁!
How can my insignificance and misery dare to admire thy magnificence and thy great majesty?
我的渺小和痛苦怎敢钦崇你的威荣和你的伟大主权?
Vivify, O Lord, my being; strengthen my vision and give the breath of life to my fear, so that I may be able to describe what I saw and thus obey thy command.
上主,求你使我的生命存活。求你坚固我的神视异象,使我的敬畏有生气,使我能述说我所看见的,从而听从你的命令。
27. I saw the Most High, at the same time understanding how his Majesty is in Himself; I received a clear intelligence and a true perception of what is meant by a God, infinite in his substance and attributes, eternal, exalted above all, being three in Person, and one true God.
27、我看到了至高者,同时也了解了祂的威严如何。我对天主的含义有清楚的认识和真实的认识,天主的本体和属性是无限的、永恒的、高于一切、三个位格,而一个真天主。
Three in Person, because of the three activities of knowing, comprehending and loving each other; one, so as to secure the boon of eternal unity. It is the Trinity of the Father, the Son and the Holy Ghost.
三个位格是因为认识、理解和爱,这三种彼此间的活动;以确保永远合一的恩惠。祂是圣父、圣子和圣神的天主圣三。
The Father is not made, nor created, nor begotten, nor can He be generated or have a beginning.
父不是被制造出来的,也不是被创造出来的,也不是受生的,祂也不能被生成或者有一个开始。
I perceived, that the Son derives his origin from the Father alone by eternal generation; and that They are equal in their duration from eternity; and that He is begotten by the fecundity of the intelligence of the Father.
我认识到,子单单是从父而来,直到永远;从永恒开始,祂们的存续是相等的;祂是由父丰富的智慧所生。
The Holy Ghost proceeds from the Father and the Son through love.
圣神通过爱,从父和子而来。
In their indivisible Trinity there is nothing which can be called first or last, greater or smaller: all three Persons are equally eternal and eternally equal; there is unity of essence in a trinity of persons.
在他们不可分割的天主圣三中,没有什么可以称为第一或最后、更大或更小的:所有三个位格都是同样永恒的,永远平等的;在三个位格当中存在着本质的统一。
Nor are the Persons mingled in order to form one God, nor the divine substance separated or divided in order to form three Persons, being distinct as the Father, as the Son and as the Holy Ghost.
位格也不是为了形成一个天主而混杂在一起,天主的本体也不是为了形成三个位格而被分开或被分裂,分别作为父,子和圣神。
They are nevertheless one and the same Divinity, equal in Each is the glory, and majesty, the power, the eternity, the immensity, the wisdom and sanctity, and all the attributes.
然而,祂们是同一个天主性,"每一位"的荣耀、威严、力量、永恒、不可测度性、智慧和圣洁以及所有属性都是平等的。
And though there are three Persons, in whom these infinite perfections subsist, He is the one and true God, the Holy, the Just, the Powerful, the Eternal and the Measureless.
这种无限的完美存在于三个"位格"上,但祂是唯一的真天主,是圣洁的、公正的、有能力的、永恒的、无限的。
28. I also obtained an understanding of the manner in which this Trinity comprehends Itself by simple vision, so that no new or distinct cognition is necessary: the Father knows that, which is known to the Son, and the Son and the Holy Ghost know that which is in the intelligence of the Father.
28、我也以单纯的神视异象对天主圣三理解祂们自己的方式有了一个了解,因此不需要新的或不同的认识:父知道的那是子所知道的,而子和圣神知道的那是在父的智慧里。
I understood how they love One another with one and the same immense and eternal love; how there is a single, indivisible and equal oneness of intelligence, love and action, how there is one simple, incorporeal and indivisible nature, a divine essence of the true God, in which are joined and united all the perfections in their highest and in an infinite degree.
我明白他们是如何彼此相爱的,有着同样的广大和永恒的爱;智慧、爱和行动是如何成为单一的、不可分割的、平等的一体的,如何有一个简单的、无形的和不可分割的本性,一个真天主的神圣本质,在其中,所有的完美在祂们的最高和无限程度上结合和统一。
29. I learnt also to understand the quality of these perfections of the highest Lord: that He is beautiful without a blemish, great without quantity, good without need of qualification, eternal without the duration of time, strong without any weakness, living without touch of decay, true without deceit, present in all places, filling them without occupying them, existing in all things without occupying any space.
29、我也学会了理解至高上主的这些完美的品质:祂美丽无瑕,伟大无量,善良而不被限制,永恒而无时间的限制,强壮而无任何软弱,活而无涉腐朽,真实而无欺骗,无处不在,充满而不占据,存在于万物中而不占据任何空间。
There is no contradiction in his kindness, nor any defect in his wisdom. In his wisdom He is inscrutable, in his decrees He is terrible, in his judgments just, in his thoughts most hidden, in his words most true, in his works holy, in his riches affluent.
祂的良善没有矛盾,祂的智慧也没有任何缺陷。祂的智慧是难以测度的,祂的命令是可畏的,祂的判断是公正的,祂的思想是最隐秘的,祂的言语是最真实的,祂的行为是圣洁的,祂的财富是丰富的。
To Him no space is too wide, no narrowness causes restraint, his will does not vary, the sorrowful does not cause Him pain, the past has not passed for Him, nor does the future happen in regard to Him.
对祂来说,任何空间都不会太宽,任何狭窄都不会使祂受到限制,祂的旨意不会改变,悲伤也不会使祂痛苦,对于祂来说,过去没有真正过去,未来对祂也非未来。
O eternal Immensity, what illimitable expansion have I seen in Thee? What vastness do I see in thy infinite Being?
永恒的无限啊,我在你身上看到了何等无限的扩张?在你的无限存在中,我看见了何等的广大?
Vision does not terminate, nor ever exhaust itself in thy abyss of being.
神视异象不会终止,只要有人存在,神视就不会耗尽自己。
This is the unchangeable Essence, the Being above all other beings, the most perfect sanctity, the most constant truth; this is the infinite, the length, the breadth, the height and the depth, glory and its cause, rest without fatigue, goodness immeasurable.
这就是不变的本质,高于一切存在的存在,最完美的圣洁,最永恒的真理;这就是无限的长,阔,高和深的荣耀和事业,安息而没有疲乏,良善而不可测度。
All this I saw at the same time, but the power to describe it more fully fails me.
这一切我都是同时看到的,但我无法更完整地描述它。
30. I saw the Lord as He was before He had created anything and with great astonishment I looked to see where was the throne of the Most High, for the empyrean heavens were not, nor the lower ones, nor did the sun exist, nor the moon, nor the other stars, nor the elements, only the Creator was, without any of his creatures. All was void, without presence of angels, or men or animals.
我看到上主还没有创造任何东西时候的样子,我惊奇地看着至高者的宝座,那时至高之天尚不存在,下界之天也不存在,月亮也不存在,其他星星也不存在,元素也不存在,只有创造者,而没有其它任何受造物。所有一切都是虚空,没有天使的存在,或者人或者动物的存在。
I saw how of necessity it must be admitted, that God has his being in Himself, and that He stands in want or need of none of the created things.
我看到了必须承认的事实:天主存在于祂自己之中,祂并不缺少或需要任何被造的事物。
For He is as infinite in his attributes before as He is after creating them, and He will possess and hold these attributes during the whole of eternity, because they exist in Him as in an independent increated Essence.
祂以前的属性和创造之后的属性一样无限,祂将在整个永恒中拥有并保持这些属性,因为它们(这些属性)以一个独立的非被创造的本质存在于祂身上。
No perfection which is in itself purely and essentially such, can be wanting to his Divinity: for the Godhead is the only thing that is, and contains all the perfection of created beings in an eminent and ineffable manner.
任何一种纯粹的、本质上的完美,都不可能缺少祂的天主性:因为天主是唯一存在,祂以一种卓越的、不可言喻的方式,包含着被创造的存在的所有完美。
All the other beings, in so far as they exist, have their existence solely in that infinite Being, as effects in their cause.
所有其它的存在,就它们的存在而言,它们的存在只存在于那个无限的存在中,如同结果在原因里。
31. I understood, that the Most High was in the quiescent state of his own being, when the three Persons(according to our way of understanding things), decreed to communicate his perfections as a free gift.
31、我明白,当三个位格(根据我们理解事物的方式)命令把祂的成全,作为一种白白的礼物来供给,那至高者处于祂自己的宁静状态。
For greater clearness, I must remark, that God comprehends in Himself all things by one indivisible, most simple and instantaneous act.
为了更清晰,我必须指出,天主通过一个不可分割的、最简单和瞬间的行动,来理解自己里面所有的东西。
He does not go on from the understanding of one thing to the understanding of another like we do, distinguishing and perceiving first one thing by an act of the understanding, and after that proceeding to the knowledge of others by their connection with those already known.
祂不会像我们一样,从对一件事的理解到对另一件事的理解,首先通过一种理解的行为来区分和感知一件事,然后通过与已知事物的联系来获得其它的知识。
God knows them conjointly all at once, without before or after, since all are together and at once contained in the divine and uncreated knowledge and science, just as they are comprehended and enclosed in his infinite Being, as in their first beginning.
天主认识它们(事情),没有前后,因为它们都是一起的,同时包含在神圣的、自存的知识和科学里,正如它们最初被理解和包含在天主的无限存在里一样。
32. In this knowledge of God, which primarily is called the knowledge of pure intelligence (scientia sim-plicis intelligentiae), we must, according to the natural precedence of the intelligence before the will, not overlook a certain succession, not indeed of time, but of nature.
在这种天主的知识中,它主要被称为纯粹智慧的知识,我们必须按照智慧先于意志的自然优先顺序,不要忽视某种连续性,实际上不是关于时间的延续,而是关于天然本质的延续。
Hence we perceive that the act of intelligence preceded by its nature the act of the will for in our way of reflecting on things, we think of the act of intelligence by itself, abstractedly from the decree of wishing to create anything.
因此,我们认为智力活动在其性质上先于意志活动,因为在我们反思事物的方式中,我们认为智力活动本身的作为,抽象地成为想要创造任何东西的命令。
33. Though I am unworthy to know the order which He followed, or which we, as men, are enabled to perceive in the decree of creation, his Majesty nevertheless deigned to take notice of a request, which I made in this regard.
虽然我不配知道祂所遵循的法则,或者我们作为人,能够觉知祂创造的命令,但荣耀尊威的天主还是屈尊注意到我在这方面提出的请求。
I petitioned Him to make known to me the place which was held by the Mother of God and our Queen in the divine intelligence; and, as well as I can, I will state what He answered me and manifested to me and I will also say something of the order which I perceived by the help of God in these ideas.
我恳请祂让我知道天主之母和我们的元后在神圣智慧中所占的地位;我会尽我所能地陈述祂回答我并向我显现的内容;我也会说到一些我在天主的帮助下,在这些原则中感受到的秩序。
I divide them according to moments or instants, for it is impossible to accommodate the knowledge of this divine science to our capacity in any other way.
我根据时刻或瞬间来划分它们,因为不可能以任何其它方式将这一神圣学问的知识容纳于我们的能力。
This science is called the science of vision, constituting the divine ideas or images of the creatures, which God decreed to call into existence and which are a production of his mind.
这学问被称为神见的知,构成了天主的理念或受造物的肖像,这些是天主命令召唤而存在的,是祂心灵的产物。
By them He knows creatures with an infinitely more precise knowledge, than we can ever have of them.
通过它们(神见的知),天主以无限精确的知识认识了受造物,比我们所能获得的更多。
34. Although this divine knowledge is one, most simple and indivisible, nevertheless, since the things which I see are many, and since there is a certain order, by which some are first and some come after, it is necessary to divide the knowledge of God's intelligence and the knowledge of his will into many instants, or into many different acts, according as they correspond to the diverse orders of created things.
34、虽然这神圣的知识是一体的,最简单和不可分割的,然而,由于我所看到的事物有许多,并且由于有一个特定的顺序,有些是先来的,有些是后来的,所以有必要将天主的智慧的知识和祂的意志的知识分成许多时刻,或分成许多不同的行动,因为它们对应于被创造事物的不同顺序。
For as some of the creatures hold their existence because of others, there is a dependence of one upon the other.
有些受造物是为了其它受造物而存在的,它们之间存在着相互依存的关系。
Accordingly we say that God intended and decreed this before that, the one on account of the other; and that if He had not desired or included in the science of vision the one, He would not have desired the other.
因此,我们说天主安排和命定这一个先于那一个,一个为了另一个,如果祂不想要这一个,或者不把它纳入天主神见的知,天主就不会想要另一个。
But by this way of speaking, we must not try to convey the meaning that God placed many acts of intelligence, or of the will; rather we must intend merely to indicate, that the creatures are dependent on each other and that they succeed one another.
但若按照这样说法,我们又绝不能试图說,天主(刻意)做了许多智力的或意志的行动;相反地,我们必须只能表明,一切受造物彼此相互依赖,彼此相成相济。
In order to be able to comprehend the manner of creation more easily, we apply the order of things as we see them objectively, to the acts of the divine intelligence and will in creating them.
为了能更容易理解创造的方式,我们将客观看待事物的顺序,用于创造它们(事物)的神圣智慧和神圣意志的行动。
009天主的奥秘之城第一册第1卷第4章 天主的裁定是如何根据瞬间(的意念)来分类的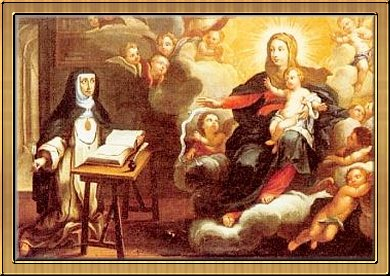 CHAPTER IV.

第四章
HOW THE DIVINE DECREES ARE CLASSIFIED ACCORDING TO INSTANTS, AND WHATGOD IN EACH DETERMINED TO COMMUNICATE AD EXTRA.
天主的裁定是如何根据瞬间(的意念)来分类的,以及天主的每一个决定要向外在生命传达什么
35.I understood, that this ordercomprises the following instants. The first instant is: God recognizing hisinfinite attributes and perfections together with the propensity and theineffable inclination to communicate Himself outwardly.
35.我明白,这顺序包括以下几个瞬间(的意念)。第一个瞬念是:天主意识到祂的无限属性和完美成全,和不可言说的对外分享祂自己的倾向。
This knowledge of God as beingcommunicative ad extra comes first.
首先要认识到的是,天主是与其外在的生命分享的。
The Majesty of God, beholding the natureof his infinite perfections, their virtue and efficacy operating withmagnificence, saw that it was just and most proper, and, as it were, a duty anda necessity, to communicate Himself and to follow that inclination of impartingand exercising his liberality and mercy, by distributing outside of Himselfwith magnificence the plenitude of the infinite treasures, contained in theDivinity.
荣耀尊威的天主,看祂无限完美成全的本性;祂的德能和效力,显赫地发挥着作用,祂认为分享祂自己并遵循祂的倾向,亦即慷慨和慈悲的给予和执行,是正义和洽当的;正如祂自己以祂神性中含有伟大丰富无限的宝藏,与其外的生命分享,是责任和必需的。
For, being infinite in all things, it ismuch more natural that He communicate gifts and graces, than that fire shouldascend, or the stone should gravitate toward its center, or that the sun shoulddiffuse its light.
天主分享祂无限恩赐与恩宠于万物,要比火焰升腾、或石头重力受地心的吸引、或太阳散发它的光芒,要自然得多。
This unfathomable depth of perfections,this affluence of treasures, this impetuous infinity of riches, is set inmotion by its own inclinations to communicate itself.
天主不可测度的完美,丰富充足的宝藏,无穷无尽的财富,是由祂分享自己的倾向所引发的。
At the same time God is in Himselfconscious that to distribute gifts and graces, is not to diminish his riches,but to increase them in the only possible way, by giving an outlet to theinexhaustible fountain of his riches.
同时,天主也自知,分施恩赐和恩宠,不是减少祂的丰富,相反的,这是唯一可能增加的方式,是给祂丰富永不枯竭水泉的一个出口。
36.All this did God see in the firstinstant after the communication ad intra by means of the eternal emanations.Seeing this He found Himself, as it were, obliged, in Himself, to communicateHimself ad extra, perceiving that it was holy, just, merciful, and god-like todo so; hence nothing could impede Him.
36.透过永恒的散发,天主在分享祂內在生命之后的第一时刻就看到了这一切。看到这一点,祂发现自己本来就有责任进行外在生命的分享,认为这样做是圣洁、公正、慈悲和庄严的。因此,没有什么可以阻止祂。
According to our mode of understanding,we can represent God to our minds as not being satisfied nor at rest withHimself until He reached the object of his desires, the creatures, where andwith whom, by making them partakers of his divinity and perfections, He seekshis delight.
根据我们的理解方式,在我们的心中我们代表天主,祂既不满足,也不安息,直到天主的受造物达到了祂所渴想的的成全,在那里祂与受造物结合,使他们有份祂的神性和完美成全,天主寻得祂的喜悦。
37.In this enlightenment and knowledgewhich I possess, two things hold my lukewarm heart in wonder and inflame itunto annihilation.
37.在我拥有的光照和知识中,有两件事情令我冷淡的心感到惊奇,并把它(我的冷淡)燃烧殆尽。
The first is the inclination and urgentdesire, which I see in God, and the strong will, to communicate his Divinityand the treasures of his grace.
第一个是我在天主身上看到祂的倾向和迫切的渴望,以及坚强的意愿,要与我们分享祂的神性和祂恩宠的宝藏。
The second is the unspeakable andincomprehensible immensity of the good gifts, which I see He wishes todistribute according to this decree, assigning them for this purpose and yetremaining infinite, as if He had yet given nothing.
第二个是那不可言说和不可理解的无限美好恩赐,我看到天主要按祂的裁定施給,为分赐各种恩惠,结果仍有无限的恩惠,仿佛祂不曾给予。
In this desire and inclination, whichfills his Majesty I see Him prepared to sanctify, justify, overwhelm with giftsand perfections all creatures together and each one in particular for itself.
在天主渴望和倾向中充满了祂的荣耀尊威,我看到祂以无比的恩惠来准备圣化、成义,并把所有的受造物完美地结合在一起,使每个个体有其特点。
He would be ready to give to each of thecreatures more than what is held by all the angels and seraphim together; evenif all the drops in the ocean and the grains of sand on their shores, all the stars,the planets and the elements, and all creatures were capable of reason and ofhis gifts, they would receive them without measure, provided they would disposethemselves and place no obstacle toward receiving them.
天主乐意给予每一个受造物,多过所有天使和色辣芬所拥有的;即使是海洋中所有的水滴和海岸上所有的沙粒、所有的星星、地球和元素,以及一切受造物的理解能力和所有的恩赐,每一个受造物会毫无限量的领受这一切的恩惠,只要他们(受造物)能管好自己,不设障碍地领受它们(恩惠)。
O fearful malice of sin, which alone iscapable of holding up the impetuous stream of such great and eternal gifts!
哦,可怕的罪之恶,仅此罪恶,就足以阻挡如此巨大而永恒的恩赐!
38. Thesecond instant was to confirm and determine the object and intention of thiscommunication of the Divinity ad extra, namely, that it should redound to hisgreater glory and to the exaltation of his Majesty and the manifestation of hisgreatness.
38.天主第二个瞬念是认定和证实外在生命分享的目的和意向,也就是说,这将有助于天主更大的光荣,高举祂的荣耀尊威和祂的伟大显扬。
This his own exaltation God saw as theend, for which He would communicate Himself, make Himself known by hisliberality in the distribution of his attributes, and set in motion hisOmnipotence in order that He might be known, praised and glorified.
祂自己的荣耀,天主视为目标,为此天主分享祂自己,以祂在施予自己属性时的慷慨而使自己被知晓,并施展祂的"全能",以便祂可以被认识、颂扬和光荣。
39. The third instant consisted in selecting anddetermining the order and arrangement, or the mode of this communication, so asto realize in an adequate manner the most exalted ends. The order namely, whichit is proper should be maintained in regard to the communications of theGodhead and its divine attributes; so that this activity of the Lord may haveits proper reasons and objects, and so that it might proceed with the mostbeautiful and admirable sequence, harmony and subordination.
39. 第三个瞬念包括选择和确定次序和安排,或这种沟通的模式,以便以适当的方式实现最崇高的目的,也就是说,在神格及其神圣属性的分享方面,应该保持适当的次序;这样,上主的行动才能有其合适的理由和目标,才能以最美好、最令人钦佩的顺序、和谐以及从属的方式进行。
In this instant was decreed first ofall, that the divine Word should assume flesh and should become visible.
就在这一瞬念,圣言首先被裁定成为肉身,并成为可见的。
The perfection and the composition ofthe most holy humanity of Christ our Lord was decreed and modeled in the divineintelligence.
我们的主基督至圣人性的完美和构成,是在天主的智慧中被裁定和模成的。
Secondarily, also were formed the idealsof the rest of men in imitation of the First.
其次,(主基督)也成了所有人类仿效"第一人"的完美典型。
The divine mind prearranged the harmonyand adornment of the human nature composed of an organic body and a vivifyingsoul, endowed with faculties to know and enjoy its Creator, to discern betweengood and evil, and with a free will to love that same Lord.
上主的心意预铸了人性的和谐和装扮,由一个有机物质的身体和一个活泼的灵魂组成,被赋予了认识和享受造物主的能力,辨别善与恶的能力,并具有爱慕同一个上主的自由意志。
40. Thishypostatic union of the second Person of the most holy Trinity I understoodnecessarily to have been the first incentive and object on account of which,before all others, the divine intelligence and will issued ad extra; and thereasons are most exalted, so that I cannot explain.
40. 我所理解的至圣天主圣三的"第二位格"与实体的结合,必然是上主的智慧和意志分赐所有其他外在生命的第一个动机和目标;而原因是最崇高的,以至于我无法解释。
One of these reasons is, that God,having in Himself known and loved Himself, should, according to right order,know and love that, which approaches most intimately to his Divinity, as is thecase in the hypostatic union.
其中一个原因是,天主既然在自己里面认知和爱祂自己,就应该按照正确的次序,认知和爱最接近祂神性的东西,就像实体结合的情况一样。
Another reason is, that the Divinity,having communicated Itself ad intra, should also communicate Itself ad extra;for thus the divine will and intention would begin to execute its works withthe highest end in view, and his attributes would be communicated in the mostbeautiful order.
另一个原因是,天主(聖三)在内部生命中(共融)分享了祂自己,也要在外在生命中分享祂自己;因此,上主的旨意和目的将开始以最高的目的来执行祂的工作,祂的属性将以最美丽的顺序来传达。
The fire of the Divinity expended itselfin its fullest measure on that which was most immediately connected with It,namely, the hypo-statically united humanity; and his Divinity communicatedItself in the highest and most excellent degree to Him, who was to be closestto God in divine knowledge and love, and share the works and the glory of theDeity.
神性之火把祂自己最大程度地消耗在与祂最直接相关的事物上,即本质上统一的人性;祂的神性以最高和最卓越的程度与他(人)沟通,他(人)将在神圣的知识和爱方面与天主最接近,并分享天主的工作和光荣天主。
For God (speaking according to our lowlycomprehension) could not endanger the attainment of this end, since He alonecould be an object proportionate and worthy of so wonderful an operation.
因为天主不能妨害这一目的的实现,因为只有祂自己才能成为相称的对象,值得如此奇妙作为。
It was also befitting and, as it were,necessary, that if God should create many creatures, He should create them insuch harmony and subordination, as would be the most admirable and gloriouswithin the reach of possibility.
如果天主将创造许多受造物,那么祂创造它们的和谐和从属关系,这也是恰当的,也是必要的,因为这将是可能达到的最可钦崇和光荣的境界。
In conformity with this therefore, theymust be subordinate to a supreme Chief, who should be as far as possible unitedimmediately with God, so that through Him they may have communication andconnection with his Divinity.
因此,根据这一点,他们(受造物)必须从属于一个"最高元首",他(最高元首)应该尽可能地立即与天主联合在一起,以便通过祂(天主),他们(受造物)与他(最高元首)的神性有沟通和联系。
For these and for other reasons (which Icannot explain), the dignity of the works of God could be provided for only bythe Incarnation of the Word; through Him Creation should possess the mostbeautiful order, which without Him was impossible.
由于这些原因和其他原因(我无法解释),天主作品的尊贵只能通过圣言成为肉身来提供;通过祂,创造将拥有最美丽的次序;而若没有祂,这是不可能的。
41. Thefourth instant was to determine the gifts and graces, which were to beconferred upon the humanity of Christ, our Lord, in union with the Divinity.
41.(天主)第四个瞬间(的意念)是确定恩赐和恩宠,这些恩赐和恩宠将被赋予我们的主基督的人性与天主性的结合。
Here the Most High opened the liberalhands of his Omnipotence and his other attributes, in order to enrich the mostsacred humanity and the soul of Christ with the highest possible plenitude ofhis gifts and graces.
在这里,至高者打开了祂全能和其他属性的慷慨之手,以便用祂的恩赐和恩宠来充实基督至圣的人性和灵魂。
Then was fulfilled what afterward Davidsaid: "The stream of the river maketh the city of God joyful" (Ps. 45, 5).
这应验了后来达味所说的:「河流要使天主的城邑欢乐 」(圣咏45:5)
〔经文:河流要使天主的城邑欢乐,即至高者所住的至圣居所,(圣咏 45:5) 〕
When the stream of his gifts flowedtoward the humanity of the Word, communicating to it all the infused science,the grace and goodness of which his blessed soul was capable, and which fittedthat Being, which was to be God and true man, and at the same time, the Head ofall creatures capable of grace and glory, in order that from this impetuousstream they might partake in the manner in which it afterwards really happened.
当恩赐的水流流向圣言的人性,分享了所有注入的知识,(圣言成了血肉)的灵魂满载恩宠和美善的祝福,充满在那个"存有",是天主同时也是真正的人,是满载恩宠和荣耀的所有受造物的"元首",为了使他们(所有受造物)能从这洪流中有份,后来真正的发生了。
42. Tothis instant also, and, as it were, in natural sequence, pertain the decree andpredestination of the Mother of the Divine Word incarnate; for here, Iunderstand, was ordained that pure Creature before aught else whatever.
42. 也就在这一刻,而且可以说,在自然的顺序中,是关于圣言成为肉身之母的决议和预先命定;因为在这里,我理解,在任何其他东西之前,那个纯粹的人就被命定了。
Thus, before all other creatures, wasShe conceived in the divine mind, in such manner and such state as befitted andbecame the dignity, excellence and gifts of the humanity of her most holy Son.
就这样,在一切受造物之前,"她"在上主的心中被构想出来,以这样的方式和状态,与她至圣的"儿子"的尊贵、超卓和恩赐相称。
To Her flowed over, at once andimmediately, the river of the Divinity and its attributes with all itsimpetuosity, in as far as a mere creature is capable and as is due to thedignity of the Mother of God.
尽一个受造物所能承受的极致,作为「天主之母」所应有的尊贵,天主性及其属性的河流立刻、迅速地覆盖了"她"。
43. Inthe knowledge of these exalted mysteries and decrees, I confess myself ravishedin admiration and transported beyond my proper self.
43.在这些崇高的奥秘和裁定的知识中,我承认我赞叹不已,欣喜若狂。
Perceiving this most holy and pureCreature formed and conceived in the divine mind from the beginning and beforeall the ages, I joyously and exultingly magnify the Omnipotent for theadmirable and mysterious decree, by which He formed for us such a pure andgrand, such a mysterious and godlike Creature, worthy rather to be admired andpraised by all beings, than to be described by any one.
我觉察到这个至圣、至纯的人,从一开始在所有的世代之前就在上主的心目中形成和构想,我怀着喜悦和欢欣的心情,为了那令人钦崇和奥秘的裁定而赞美全能者,祂为我们造了这样一个纯洁而高贵,如此神秘和神性的受造物,值得万有恭敬和赞美,而不是人所能描述的。
In my admiration I can say with St.Dionysius the Areopagite: "If faith would not instruct me, and if theunderstanding of what I see would not teach me, that it is God, who hasconceived Her in his mind, and who alone could and can in his Omnipotence formsuch an image of his Divinity, if this all were not present to my mind, I mightbegin to doubt, whether the Virgin Mother contain not in Herself Divinity."
在钦佩中我可以对亚略巴古的迪奥尼修斯说:「如果信仰不能指导我,如果对我所见的理解不能教导我,那就是天主,在祂心目中已經构想了"她",而只有天主可以而且能够在祂的全能中勾畫出如此神性的肖象,我竟不住怀疑,圣母身上难道没有神性。 」
44.Owhat tears flowed from my eyes, and what sorrowful astonishment possessed mysoul, to see that divine prodigy not acknowledged and that wonder of the MostHigh not manifest to all the mortals.
44.啊,看到那神圣的奇事没有被普遍认可,至高者没有向所有的世人显现。我的眼睛里涌出了多少泪水,我的灵魂里充满了多么悲伤的惊愕啊!
Much is known of it, but much more isunknown, as this sealed book has not been opened.
我们知道的很多,但更多的是未知的,因为这本封印的书还没有被打开。
I am ravished in the perception of thistabernacle of God, and I perceive that the Author of it is more admirable inher creation, than in that of all the rest of the world, although the diversityof the creatures manifests the wonderful power of their Creator.
我被天主这个圣所的觉知迷住了,我感觉到它(这书)的"创作者"在对她圣母的创造比世上所有其他东西都更令人钦崇,尽管受造物的多样性体现了"创造者"的奇妙能力。
In this Queen alone are comprehended andcontained more treasures than in all the rest of things joined together, andthe variety and the preciousness of her riches honor the Lord above all themultitudes of the other creatures.
仅在这位元后身上,能被想像和知道的宝藏比所有其他一切加在一起的东西都多,她的财宝的多样性和珍贵,是对上主的荣耀,高于所有其他受造物的荣耀。
45.Here (according to our way ofunderstanding) the promise and, as it were, the contract was made with the Wordas to the degree of sanctity, and perfection and the gifts and graces, whichwere to be possessed by Mary his Mother.
45.在这里(按照我们的理解方式),这预许,已如期兑现,这盟约是按照圣言订立的,(这盟约)关乎圣洁、完美、恩赐和恩宠的程度,这是祂(天主子)母亲玛利亚所拥有的。
Also as to the protection, support anddefense, which was to be provided for this true City of God, in which hisMajesty contemplated the graces and merits, which She earned for Herself, aswell as the fruits to be gathered for his people by the loving returns, whichShe was to make to his Majesty.
至于保护、帮助和防御,提供给这座真正的"天主之城",在这座城市里,荣耀尊威的天主审视"她圣母"为自己赢得的恩寵和美德,还有(她)为祂(天主)的子民采集的果实,那是她圣母要献给祂(天主)的爱的回报。
In the same instant, and as it were inthe third and last place, God determined to create a locality and an abode,where the incarnate Word and his Mother should converse and dwell.
在同一瞬间,就像在第三瞬念的也是最后,天主决定创造一个地方和一个居所,成为肉身的圣言和祂母亲将在此交谈和居住的居所。
For Them primarily did He create theheaven and earth with its stars and elements and all that is contained in them.
祂(天主)首先为他们创造了天地及其中的星辰和元素,以及其中所包含的一切。
Secondarily the intention and decreeincluded the creation of the members, of which Jesus was to be the Head, and ofwhom He would be the King; in order that with kingly providence, all thenecessary and befitting arrangements might be made beforehand.
其次,意向和裁定还要包括受造的肢体,其中耶稣是"元首",祂将是"君王";在君王的国度,所有必要和适当的安排都可以事先作出。
46.I pass overto the fifth instant, although in reality I have found that, which I sought.
46. 我逾越到天主第五个瞬间(的意念),虽然实际上我已经找到了我所探寻的。
In this fifth decree the creation of theangelic nature which is more excellent and more like unto the spiritual beingof the Divinity, was determined upon, and at the same time the division orarrangement of the angelic hosts into nine choirs and three hierarchies, wasprovided and decreed.
在这第五个裁定中,(天主)创造了天使性的受造物,他们更卓越、更像天主的灵性存有,同时规定并颁布了将天使天军分成九品和三级的划分或安排。
As they are created first of all for theglory of God, to assist before his divine Majesty and to know and love Him, sosecondarily they are ordained to assist, glorify and honor, reverence and servethe deified humanity of the eternal Word, recognizing Him as Head, and honoringHim also in his Mother, the most holy Mary, Queen of these same angels.Commission was given to these angels, "to bear them up in their hands" in alltheir ways (Ps. 90, 12).
首先,因为他们是为荣耀天主而造的,在天主的荣耀尊威面前协助祂、认识祂、爱慕祂;其次,他们是被祝圣来帮助、显耀、光荣、尊敬和服事永恒"圣言"的人性,承认祂为"元首",同时也在祂(天主子)的母亲–至圣玛利亚,及天使的元后内来光荣天主子。这些受命天使「他们把你托在自己的手掌」,尽他们一切所能。(咏90: 12)
In this instant Christ our Lord earnedfor them by his infinite merits, present and foreseen, all the grace, whichthey were to receive. He was constituted as their Head, Exemplar and supremeKing, of whom they should be subjects.
在天主的这一刻,我们的主基督藉着他无限的美德,为他们(天使们)赢得了现在和将来所要领受的一切恩宠。祂被任命为他们的"元首"、"典范"和至高"君王",他们做祂的子民。
Even if the number of angels had beeninfinite, the merits of Christ our highest Good, would be abundantly sufficientto supply them all with grace.
即使天使的数目是无限的,我们基督至高至美善的美德,也足以使他们都蒙恩。
47. Tothis instant belongs also the predestination of the good, and the reprobationof the bad angels.
47. 在这一刻属于善良天使的命定,也属于邪恶天使的定罪。
God saw in it, by means of his infinitescience, all the works of the former and of the latter and the propriety ofpredestinating, by his free will and by his merciful liberality, those thatwould obey and give honor, and of reprobating by his justice those who wouldrise up against his Majesty in pride and disobedience on account of theirdisordered selflove.
天主通过祂无限的知识,看见了前者和后者的一切作为,祂用自由旨意和慈悲的宽容,将那些服从和尊敬的天使給以合宜预定,又按祂的公义谴责那些因自爱而失序,而骄傲悖逆祂荣耀尊威的天使。
In the same instant also was decreed thecreation of the empyrean heaven, for the manifestation of his glory and thereward of the good; also the earth and other heavenly bodies for the othercreatures ; moreover also in the center or depth of the earth, hell, for thepunishment of the bad angels.
与此同时天主也命定了创造最高之天堂,为要显出祂的光荣,和对良善的赏报。又造了地和天上的天体,供给其它受造物;甚至,为了惩罚邪恶天使也在地球的中心或深处造了地狱。
48. Inthe sixth instant was decreed the creation of a people and congregation of menfor Christ, who was already formed in the divine mind and will, and accordingto whose image and likeness man was to be made, in order, that the incarnateWord might find brethren, similar but inferior to Himself and a people of hisown nature, of whom He might be the Head.
48.天主在第六个瞬间,是为基督创造人及人群的制定,这是照上主的心意和旨意所造的,人要照祂(基督)的肖像和模样被造,为要叫成为血肉的"圣言"可以寻找到兄弟们,他们的本性与祂相似而低于祂自己,祂可以作他们的"元首"。
In this instant was determined the orderof the creation of the whole human race, which was to begin from one man andwoman and propagate itself, until the Virgin and her Son should be born in thepredestined order.
在这一瞬间,整个人类的创造秩序被确定了,这一秩序将从一个男人和一个女人开始、繁衍,直到"圣母"和她的"儿子"按照预先命定的顺序出生。
On account of the merits of Christ, ourSavior, the graces and gifts were prearranged, and also original justice, ifthey would only preserve it.
至于我们救主耶稣的众多美德,祂的恩宠和恩赐已经预备妥当,连同初始的正义,只要人类愿意保留的话。【意谓天主愿意将祂一切美好的德性分享给予人类。】
The fall of Adam was foreseen and in himthat of all others, except of the Queen, who did not enter into this decree.
亚当的堕落是可以预见的,在他身上,除"元后"以外,可以预见所有其他人类的堕落,元后没有进入这一命定。
As a remedy was it ordained, that themost holy humanity should be capable of suffering.
补救之道于是被祝圣,那至圣的人将要承受痛苦。
The predestined were chosen by freegrace, and the foreknown were reprobated with exact justice.
那被拣选命定的人是藉著白白的恩宠,如果一个人被定罪,那乃是因为他自己的罪被公正地定罪。
All that was convenient and necessaryfor the conservation of the human race and for obtaining the end of the Redemptionand the Predestination, was preordained, without interfering with the free willof men; for such ordainment was more conformable to God's nature and to divineequity.
为了保护人类,为了达到救赎和预定的目的,一切适当和必要的东西,都是在不妨碍人类自由意志的情况下预先祝圣的;因为这样的安排更符合天主的本性和神圣的公平。
There was no injustice done to them, forif with their free will they could sin, so also could they abstain from sin bymeans of grace and the light of reason.
没有不公正的事发生在他们(人类)身上,因为如果他们可以凭自己的自由意志犯罪,那么他们也可以通过恩宠和理性之光而避免犯罪。
God violated the right of no one, sinceHe forsook no one nor denied to any one that which is necessary.
天主没有侵犯任何人的权利,因为祂没有抛弃任何人,也没有拒绝任何人所需要的东西。
Since his law is written in the heartsof men, nobody is excused for not knowing and loving Him as the highest Good ofall creation.
由于祂的法律是写在人心中的,所以没有人可以藉口不认识和不爱祂而被原谅,因为祂乃是祂一切受造之物的至善。
49. Inthe perception of these mysteries I saw with great clearness and force the highmotives which caused God to manifest and magnify Himself and which shouldinduce men to praise and adore the greatness of the Creator and Redeemer ofall.
49.在对这些奥秘的感知中,我清楚而有力地看到了那使天主彰显并荣耀祂自己的崇高目的,这种目的应该引导人们赞美和朝拜造物主和救世主的伟大。
I also saw how tardy they are in theacknowledgment of these obligations and in making return for these benefits;and I was made aware of the complaints and the indignation of the Most High onaccount of this forgetfulness.
我也看到人类在认知这些义务用以回报这些好处方面有多么迟缓;我也意识到至高者因这种健忘而抱怨和愤慨。
His Majesty commanded and exhorted menot to be guilty of such ingratitude, but to offer Him a sacrifice of praise,and a new song, and that I magnify Him in the name of all creatures.
荣耀尊威的天主吩咐我,劝我不要犯这种忘恩负义的罪,要献上赞美的祭献,和新歌,並以所有受造物之名,赞美祂。
50. Omost high and incomprehensible Lord I Would that I had the love and theperfections of all the angels and the just in order to confess and praiseworthily thy greatness!
50.啊,至高的、莫测高深的上主啊!我希望我拥有所有天使和义人的爱和完美的成全,以便配得上承认和赞美你的伟大!
I acknowledge, great and mighty Lord,that such a vile creature as I cannot merit the memorable benefit of receivingthis clear and exalted knowledge and light concerning thy exalted Majesty.
伟大而全能的主啊!我知道,关于你的崇高尊威,像我这样一个卑微的受造物是不配得这明确、崇高的知识和光明所带来非凡的恩惠的。
At the sight of thy greatness I perceivemy littleness, which before that happy hour was unknown to me; and I wasignorant of the greatness and excellence of the virtue of humility, which islearnt in this science.
我一看到你的伟大,就知道我的渺小,在此幸福的时刻之前,我是不知道的;我不知道谦卑美德的伟大和卓越,现在我学到了这个知识。
I do not wish to say that I now possessthat virtue, but neither can I deny that I have been shown the certain pathwhich leads to it.
我不想说我现在拥有了这种德能,但我也不能否认我已经被指引踏上了通往谦卑美德的道路。
Thy light, O most high Lord, illuminesme and thy lamp shows me the paths (Ps. 119, 105), so that I see what I havebeen and what I am, and fear what I may become to be.
至高的上主啊!你的光照亮了我,你的灯向我显明了道路(圣咏118:105),使我明白自己过去和现在的样子,并为自己会成为什么样子而有所敬畏。
〔经文:你的言语是我步履前的灵灯,是我路途上的光明。(圣咏119:105) 〕
Thou hast lighted up, most high King, myunderstanding and inflamed my will with its most exalted object.
至高的君王啊!你照亮了我的悟性,用最崇高的目标点燃了我的心愿。
Thou hast entirely drawn me on to seekThee, and I wish to make this known to all mortals in order that they may leaveme in peace and I them: I am for my Beloved (Cant. 2, 16), and (although I amunworthy), my Beloved is for me.
你完全吸引了我来寻求你,我希望让所有的世人知道这一点,以便他们可以安静地离开我,而我也可以离开他们:我属于我的爱人(雅歌 2:16) ,我的爱人属于我。(虽然我不配)
[经文:我的爱人属于我,我属于我的爱人;他在百合花间,牧放他的羊群。(雅歌 2:16) ]
Strengthen then, O Lord, my weaknessthat I may run after Thee, and reaching Thee, I may never leave Thee or loseThee.
上主啊,求你坚定我的软弱,使我可以快跑跟随你,到你那里,永不离开你,也不会失去你。
51. Veryshort and stammering is this chapter, for of this matter many books could bewritten; but I refrain, because I do not know how to speak and I am an ignorantwoman.
51. 这一章很短,而且结结巴巴,在这件事上可以写很多书,但我克制住了,因为我不会说话,而且我是个无知的妇人。
My sole object has been to explain, howthe Virgin Mother has been formed and preordained in the divine mind before theages (Ecclus. 24, 14).
我唯一的目的是解释童贞圣母是如何在世界未有之前,在天主的心目中形成和预定的。(德训篇 24:14) 
[经文:起初,当世界未有以前,祂就造了我,我永远不会消灭。在神圣的帐幕里,我曾在祂面前供职。 (德训篇 24:14) ]
That which I have seen over and aboveconcerning this highest mystery, transforms my interior, and in silentadmiration makes me praise the Author of such magnificence in company with theblessed, saying: Holy, holy, holy, is the Lord God Sabaoth (Is. 6, 3).
我所看到的关于这最高的奥秘的一切,改变了我的内心,在无声的钦崇中,我赞美这伟大的作者,与受祝福的人在一起说:圣!圣!圣!万军的上主。(依撒意亚6:3)
[经文:他们互相高呼说:「圣!圣!圣!万军的上主!他的光荣充满大地! 」 (依撒意亚6:3) ]
010天主的奥秘之城第一册第1卷第5章 关于圣经的说明,特别是箴言篇的第八章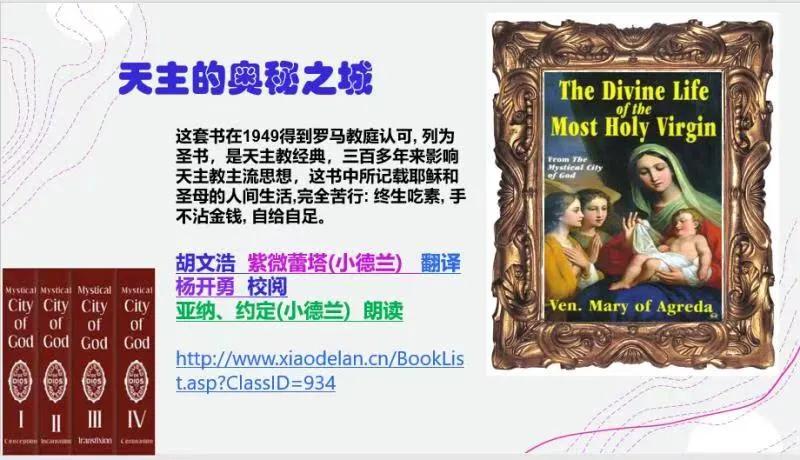 CHAPTER V.
第五章
INSTRUCTIONS CONCERNING HOLY SCRIPTURES, AND IN PARTICULAR CONCERNING CHAPTER EIGHT OF THE PROVERBS, IN CONFIRMATION OF THE PRECEDING PAGES.
关于圣经的说明,特别是箴言篇的第八章,以及对前几页(第四章)的证实。
52.I will converse, O Lord, with Thy great Majesty, since Thou art the God of mercies, though I am only dust and ashes (Gen. 18, 27), and I will supplicate thy incomprehensible Immensity to look from thy exalted throne upon me, thy most vile and useless creature, and to be propitious to me by continuing to enlighten my understanding. Speak, O Lord, for thy servant heareth (I Reg. 3, 10).
52.上主啊,我要与荣耀尊威的祢交谈,因为祢是慈悲的天主,尽管我只是尘土和灰烬(创世纪18:27)我恳求不可理解的广大的祢自崇高的宝座上俯看我,祢最卑微和无用的受造物,继续光照我的悟性见识,使我得着益处。上主啊,求祢说话,祢的仆人静听。(撒慕尔纪上 3: 10)
[经文:「亚巴郎接着说:我虽只是尘埃灰土,」 (创世纪18:27);「请上主发言!祢的仆人在此静听。」(撒慕尔纪上 3: 10)]
Then the Most High, the Corrector of the wise, spoke to me (Sap. 7, 15). He referred me to the eighth chapter of the Proverbs and gave me the understanding of its mysteries.
然后至高者,智慧的"领导者"向我说话(智慧 7: 15)。祂对我提到《箴言篇》的第八章,并让我明白它的奥秘。
[经文:「愿天主使我遵照他的意愿说话,使我的思想配合他的恩赐,因为是他领导智慧,引导智者;」(智慧书 7: 15)]
First was given me the literal wording of the chapter, which is as follows :
首先给了我这一章的字面文字,如下所示:
53.Verse 22. "The Lord possessed me in the beginning of his ways before He made anything from the beginning."
53、第22节:「上主自始即拿我作他行动的起始,作他作为的开端。 」
23."I was set up from eternity and of old, before the earth was made."
第23节:「大地还没有形成以前,远自太古,从无始我已被立。」
24."The depths were not as yet and I was already conceived: neither had the fountains of waters as yet sprung out."
第24节:「深渊还没有存在,水泉还没有涌出以前,我已受生。 」
25."The mountains with their huge bulk had not as yet been established: before the hills I was brought forth."
第25节:「山岳还没有奠定,丘陵还没有存在以前,我已受生。 」
26."He had not yet made the earth, nor the rivers, nor the poles of the earth."
第26节:「那时,上主还没有创造大地、原野、和世上土壤的原质。 」
27."When He prepared the heavens, I was present: when with a certain law and compass He enclosed the depths."
第27节:「当祂建立高天时,我已在场;当他在深渊之上划出穹苍时。」
28."When He established the sky above and poised the fountains of the waters."
第28节:「当他上使穹苍稳立,下使渊源固定时。 」
29."When He compassed the sea with its bounds, and set a law to the waters that they should not pass their limits: when He balanced the foundations of the earth."
第29节:「当他为沧海划定界限,令水不要越境,给大地奠定基础时。」
30."I was with Him forming all things: and was delighted every day, playing before Him all the times."
第30节:「我已在他身旁,充作技师。那时,我天天是他的喜悦,不断在他前欢跃。 」
31."Playing in the world: and my delights were to be with the children of men."
第31节:「欢跃于尘寰之间,乐与世人共处。 」
54.This is the portion of the Proverbs, of which the Most High gave me an understanding.
54、这是至高者让我了解《箴言》的一部分。
I understood at first, that it treats of the ideas or decrees, which were in the Divine Mind before the Creation of the world; and that, in its literal sense, it speaks of the Person of the Incarnate Word and of his most holy Mother, while in its mystical sense it refers to the holy angels and prophets.
54、我首先明白,它(这段经文)持有的思想或法律,在创世之前就存在于"天主的心意"中;而且,(经文)从字面意义上讲,它说出了"圣言降生成人"的"那一位"和他的至圣"母亲",而在(经文)奥秘意义上,指出了神圣的天使们和先知们。
For before decreeing or forming the ideals of the rest of the material creation, He formed and decreed their prototype, the most sacred humanity of Christ and of his purest Mother, and this is indicated by the first words.
从(经文)第一句话(第22节)中就可以看出。天主在发命或成形其余一切物质受造物的构想之前,"基督"和他至纯洁"母亲"的至圣人性,是一切被造之人性的原型、根源和本体。(注:就基督人性的永恒性而言,他是创造主,不是受造物,他是主自己创造了自己的受造物)
55."The Lord possessed me in the beginning of his ways."
「上主自始即拿我作祂行动的起始,作祂作为的开端。」
In God there are no ways, and his Divinity does not need them: but He made use of them, in order, that by them we may know Him and that all of us creatures, who are capable of knowing Him, may tend toward Him.
在天主内本没有什么道路,祂的神圣作为不需要它们(道路):但祂使用它们,为了通过它们我们可以认识祂,并且我们–所有有能力认识祂的的受造物,可以走向祂。
In this beginning, before He formed any other ideal in his mind, because He desired to create paths and open ways in his mind for the communication of the Divinity, He decreed, as a beginning, the formation of the humanity of the Word, who was to be the highway, by which the other creatures might come to the Father (Joan. 14, 6).
在这起初,在天主心意里形成其它任何构想之前,由于天主心里渴望创建途径和开放道路,以作为天主性的沟通交流,祂命定以形成"圣言"的人性作为开始,他(圣言的人性)将是条高速路,经由他,其他的受造物可以来到圣父跟前。(若望福音14: 6)
[经文:「我是道路、真理、生命,除非经过我,谁也不能到父那里去。」(若望福音14: 6) ]
Joined with this decree was that of his most holy Mother, through whom his Divinity was to enter into the world, becoming man and being born from Her as God and man;
与这项法令结合的是他的至圣"母亲",通过他的母亲,他的神性进入世界而成为人,并作为「神而人」由她(圣母)出生。
therefore it is said: "God possessed me" since both were possessed by his Majesty: for as to his Divinity, He was the possession, the property, and the treasure of the Father without possibility of separation, because Father and Son are One, of the same substance and Divinity with the Holy Ghost;
因此这里(第22节)说:「天主拥有了我」,因为二者(圣母和圣子)都被荣耀尊威的天主所拥有:对于他(圣子)的神性,他是圣父的所有权,是产业和珍宝,没有分开的可能,因为父和子及圣神是同体和同一个神性;
and also as to his humanity, the Father possessed the Son; because He himself knew and decreed the plenitude of grace and glory, which He was to bestow upon it at the moment of its creation and its hypostatical union.
再就是关于他(圣子)的人性,圣父拥有圣子;因为他(圣子)自己知道并命定了丰富的恩宠和光荣,那是圣子在他的造生和他的「神而人」二性一位的结合时刻所赐下的。
Moreover, as this decree and possession was to be brought about by the mediation of the Mother, who was to conceive and bring forth the Word (since He did not decide to create it out of nothing, nor form his soul and body out of any other material), it followed that He possessed Her, who was to give Him the human form.
此外,这个命定和拥有是在圣母的中保媒介下实现的,是她受孕和生产了圣言(因为祂天主没有决定从一无所有中造生他(圣子),也没有从任何其他材料中形成他的身体和灵魂),接下来,他(圣子)拥有了她(圣母),她(圣母)给了"他"人的形状。
Thus He possessed and claimed Her as his own in the same instant, providing with solicitude, that in the order of grace neither the human race nor any other, should have at any time a right or a part in Her.
因此他(圣子)在同一瞬间拥有和宣布她(圣母)是属于他的,在恩宠的秩序里,(圣子)关怀下所供给圣母的,不是人类或任何他类,在任何时刻能对圣母或甚至圣母的一部分,有任何的(主张)权力。
[意谓圣母的属性及全人,是直接来自天主,不是人间、阴间或任何势力有份在圣母的身上](评注:天神告诉圣雅敬说,他的妻子圣亚纳将要怀孕的玛利亚,不是由他而生,而是借着他,是由天主来的硕果。引自艾曼丽修女的神视)。
He alone retained the full right in Her as his portion, and so much his portion as the dignity of Mother required.
只有他(圣子)在圣母内能保留所有权力,视圣母为他的一部分,并给他的"母亲"一切需要的尊荣。
She alone was to call Him Son, and She alone was to be called Mother, a Mother worthy of having an incarnate God for a Son.
只有圣母称圣子为"儿子",也只有圣母被称为"母亲",一位配得上天主降生成人为"人子"的"母亲"。
Now as all this far surpassed in dignity the whole creation, so did it also take the precedence in the mind of the supreme Creator. Hence He says :
现在所有这一切远远超过整个创造的尊荣,所以这一切也在至高的造物主心里占据优先地位。因此(第23节)天主说:
56."Before He made anything from the beginning, I was set up from eternity and of old."
「大地还没有形成以前,远自太古,从无始我已被立。 」
We, in our present state, conceive this eternity of God as an interminable time.
我们,目前的状态下,视天主的永恒为一个无尽的时间。
But what were the things "of old," since none had been created ?
但什么是"太古"的事呢?因为那时还没有任何东西被创造出来?
It is clear that the three Persons are here spoken of, namely, that She was foreseen from the eternal ages of the Divinity, by the Beings, which alone are ancient, namely, the indivisible Trinity (since all the rest, having a beginning, are recent), that She was foreseen when only the ancient Uncreated was, and before any ideals of the future creation were formed.
显然,圣三这里提到,即她是从天主的永恒时代被预见的,一切存有中,只有一位远古存在者,也就是说不可分割的天主圣三(因为其余的一切都有一个开始,都是近期的)当这位远古存在者尚未创造,当在未来创造的理念构想形成之前,她就被预见预知了。
Between these two extremes intervened the ideal of the hypostatic union which was to be verified ad extra through the intervention of most holy Mary.
在这两个极端之间介入了(神人)两性一位结合的构想,那是通过至圣玛利亚的居中而验证了祂天主的外在工作。
Both were ordained together, immediately next to God and before any other creature, and it was the most wonderful decree ever passed or ever to be passed.
两者(圣母和圣子)就在神的旁边,在其他所有受造物之前共同被祝圣了,这是有史以来或曾经有史以来最美妙的法令被通过。
The first and most admirable image in the mind of God, next to the eternal generation, was that of Christ and next to it, that of his Mother.
在天主的心目中,除了永恒受生之外,第一个也是最可爱的形像就是"基督",其次是他的"母亲"。
(评注:永恒受生,是指基督的天主性,圣子天主是圣父在万有被造以先所生,圣子在天主性上是永恒受生,如同太阳生光辉,永恒乃是永永远远,持续不断的,无始无终的。)
57.And what other order could there be in God, in whom all that pertains to Him is present at one and the same time, so that no part of His being must await the perfection of another, or one perfection ever need succeed upon others?
57.在天主里还会有什么其他的秩序呢?在祂里面,所有属于祂的东西都是同时存在的,所以天主存有的任何一部分都不必等待另一部分的完美成全,或者一个永远需要从他人身上接续的完美成全?
All is well ordered in his eternal nature, and so it was and will be forever.
在祂(天主)永恒的本性中,一切都井然有序,过去如此,将来也如此。
The new ordainment, however, was that the person of the Son should become incarnate and that from his deified humanity should begin the order of God's desires and of his decrees ad extra.
然而,新的任命是,第二位圣子应降生成人,这样从天主神化的人性应开始于天主渴望的命令和祂外在工作的秩序安排。
He was to be the Head and Ideal of all other men and creatures; for this was the most appropriate order and harmony to be instituted among creatures, that they have One, who is the first and the highest, and that from Him should descend the order of all nature, and in a special manner, of the mortals.
"他"是其他人类和受造物的元首和理想;因为这是建立在受造物中最适当的秩序与和谐,他是首先的和最高的,从他降下所有自然本性的秩序,并在一个特殊方式内的凡人。这样他们(受造物)拥有那"一位",
First among them all, however, was the Mother of the Man-God, as the Supreme among mere creatures, following immediately upon Christ, and, through Him, upon the Divinity.
然而,首先在他们当中的是"人而神"的"母亲",作为纯粹受造物中的"至高无上者",紧随着基督,并借着基督的神性。
Thus the conduits, which led the crystalline fountains of the Divinity from the eternal throne, meet first in the humanity of the Word and immediately thereafter in his holy Mother in the degree and in the manner, as it was possible for a mere creature, and as it was proper for the Mother of the Creator.
因此,从永恒宝座上输送"神"的水晶泉源的管道,首先遇到了"圣言"的人性,然后立即在他的至圣"母亲"内,在层次的深度以及方式的广上,(她是)尽一个受造物的可能,并尽一个受造物的母亲的恰当。
It was equitable, that all the divine attributes should exert themselves in Her, without reserve, so far as She was capable; and that She be inferior only to Christ our Lord. She was to be superior in the degree of his incomparable graces to all the rest of the creatures, that are deserving of graces and gifts.
可以合理地认为,所有上主的属性都将在"她"身上毫无保留地发挥;并且"她"是仅次于我们的主基督的。在程度上,他(圣子)无与伦比的恩宠,给予"她(圣母)"的要优越于其他所有受造物应得的恩宠和恩赐。
This then was the order, so well instituted by the eternal wisdom: that all was to commence with Christ and his Mother. Therefore the text adds:
这就是永恒智慧所设立的秩序:一切都要由"基督"和他的"母亲"开始。因此,经文(第24节)补充道:
58."Before the earth was made; and the depths were not as yet and I was already conceived."
58.「大地还没有形成以前,深渊还没有存在,我已被立。 」
This earth was that of the first Adam; for before his creation was decreed, and before the abysses of the ideas ad extra were formed in the divine mind, the likenesses of Christ and of his Mother were already conceived.
这大地就是那第一个亚当的所在;因为在天主创造之前就裁定了,在构想的深渊(存在)之前,天主的外在工作就在祂心中形成了。"基督"和他"母亲"的模样已被设想出来。
The forms are called abysses, because there is an infinite distance between the being of God and that of creatures.
这形态被称为深渊,因为在天主的存有和受造物的存在之间有着无限的距离。
This distance was measured (speaking according to our own way of understanding), when the ideals of the creatures were formed; for then these very abysses were formed.
当受造物的构想形成时,这距离就被测量了(这样说是根据我们自己的理解方式);然后这深渊才形成。
Not only was the Word conceived before all these by eternal generation from the Father, but His temporal generation from the Virgin Mother full of grace, had already been decreed and conceived in the divine mind.
不仅仅"圣言"在这一切被构想之前在"圣父"这里永恒受生,并且也由"他"(圣子)在世的一代,由满被圣宠的"童贞圣母"受生,在神的心中已经裁定和设想了。
Inasmuch as no efficacious and complete decree of this temporal generation could exist without at the same time including his Mother, and such a Mother, the most holy Mary, was then and there conceived within that beautiful Immensity, and Her eternal record was written in the bosom of the Divinity, in order that for all the ages it should never be blotted out.
因为他(圣子)在世受生的这一代任何有效而完整的命定,如果不同时包括他的"母亲",是无法存在的,这样一位至圣的"母亲玛利亚",就在那时在那里在美丽的无限中被构想了,"她"永恒的见证写在天主的怀里,为所有的世代都永远不会被抹掉。
She was stamped and delineated in the mind of the eternal Artificer and possessed the inseparable embraces of his love.
"她(圣母)"被印刻勾画在永恒"巧匠"的心中,并被祂的爱紧紧地拥抱着。
59."Neither had the fountains of waters as yet sprung out."
59.「水泉还没有涌出。 」
The images and ideals of creatures had not yet sprung from their source and origin; for they had not yet broken from the fountains through the channels of God's goodness and mercy, through which the divine will was to be moved to create the universe and to communicate his divine attributes and perfections.
受造物的肖象和构想还没有从他们的源头涌出;因为他们还没有通过天主的美善和慈悲的通道,涌出泉源,通过这些通道,上主的意志被感动去创造宇宙,并分享祂神圣的属性和成全。
In respect to the entire rest of the universe, these waters and fountains were still repressed and detained within the bounds of the immense ocean of the Divinity; in his own Being there were as yet no founts or currents for outward manifestation, not having until then met their proper object, namely, men.
对于整个宇宙的其余部分,这些水域和喷泉仍然被压抑和桎梏在天主巨大如海的界限内;在祂内还没有水泉外流的彰显,直到适当对象的出现,那即是人。
But when these were encountered, the sacred humanity of Christ and his Virgin Mother had already furnished proper objects of benevolence. And therefore it is added:
但是当有这些相遇时,"基督"的神圣人性和他的"童贞圣母"已经提供了完全的仁慈对象。因此这里(第25节)补充道:
60."The mountains with their huge bulk had not been established," for God had not as yet then decreed the creation of the high mountains, the Patriarchs, Prophets, Apostles and Martyrs or the other saints of great holiness, and this was not yet exerting its full weight and force in the mighty and sweet manner (Sap. 8, 1) in which God executes his counsels and great works.
60.「山岳还没有奠定,」因为天主还没有下令创造高山、圣祖、先知、宗徒、殉道者或者其他伟大圣洁的圣人,这事还没有以强大而美好的方式来充分发挥其权重和力量(智慧篇8:1),即天主执行祂的忠告和伟大的工程的方式。
[经文:「智慧施展威力,从地极直达地极,从容治理万物。」 (智慧篇 8:1) ]
And not only before the mountains (which are the great saints) but also "before the hills I was brought forth," which are the orders of the holy angels.
而且不仅仅在山岳之前(即伟大的圣人们),并且也「在还没有山丘以前,我已受生,」它们也即是圣天使的秩序。
Before them the divine Mind had conceived the most holy Humanity united hypostatically with the divine Word, and the Mother, who bore it.
在他们(圣人天使们)之前,天主的心里已孕育构想出了至圣"人性"和"圣言"的二性一位的结合,和生育他的"母亲"。
The Son and the Mother were conceived before the hierarchies of the angelic hosts, so, that, what David said in the eighth psalm, becomes intelligible: "What is man that Thou art mindful of him, or the son of man, that Thou visitest him? Thou hast made him a little lesser than the Angels, Thou hast crowned him with glory and honor! Thou has set him over the works of thy hands; Thou hast subjected all things under his feet."
"圣子"和"圣母"是在天使天军阶层之前被构想孕育的,因此达味在圣咏第八篇所说的成为可以理解的了:「世人算什么,祢竟对他怀念不忘﹖人子算什么,祢竟对他眷顾周详﹖竟使他稍微逊于天神,以尊贵光荣作他冠冕,令他统治祢手的造化,将一切放在他的脚下。 」
Let all understand and know, that there is a Godman, who is above all angels and men, and that all are his inferiors and his servants, for being the first of men, He is God at the same time.
让所有的人都明白和知道,有一位"神人"在所有的天使和人类之上,所有的天使和人都是他的下属和仆人,因为他是第一个人,同时"他"也是天主。
He is the first in the divine Mind and in the divine Will, and with Him is associated and inseparably connected, one Woman and Virgin, his Mother, the exalted Queen of all creation.
"他"是天主"心智"和天主 "心意"中第一位,与"他"密不可分的联合在一起的是一个"女人"和"贞女",且是他的"母亲",所有受造物崇高的"元后"。
61.And if man, as says the same psalm, was crowned with glory and was constituted above all the works of the hand of the Lord, it was because the Godman, his Chief, had merited both this crown, and also that, which is borne by the angels.
61.并且如果人,如同一篇圣咏所说,以光荣为冠冕,统治上主之手的一切造化,那是因为这"神人",祂天主的"首席",他的众多美德既配得这冠冕,也配得天使所戴的冠冕。
The same psalm adds, that, after having made man a little less than the angels, He placed him over the works of his hands: yet these very angels were works of his hands.
同一篇圣咏还说,在使他稍逊于天神后,被安置在天主的所有造化之上:而这些天使确实是祂手中的造化。
Thus David spoke to the whole human race, when he said: God made man a little less than the angels; but although man was inferior in his nature, one Man is found who is of superior make and is set over these same angels, who were works of the hand of God.
因此达味对整个人类说话,当他说:「上主使人稍逊于天神」时;但尽管人的本性是低等的,却发现了一个"人"是生来优等的,被置于这些同样是上主的造化——天使之上。
This superiority is in the order of grace, not only as far as His Divinity united to the humanity is concerned, but also in regard to the humanity itself in so far as grace was conferred by the hypostatic union.
这种优越是恩宠的秩序,不仅仅是"他的神性"和人性的结合被接上了,同时人性本身也被天人合一赋予了恩宠。
In a proportionate degree his most holy Mother likewise attained this superiority, just as some saints in virtue of the same incarnate Lord can reach a station and throne superior to that of the angels.
他的至圣"母亲"在相称的程度上也同样获得这样的优越,就像某些圣人因同样体现的美德,天主可以使他们达到一个高于天使的位置和宝座。
62. It is further said: "I was brought forth" or born, which means more than being conceived; for the latter refers to the divine intellect of the Blessed Trinity at the instant, when the Incarnation was known and, as it were, weighed in regard to its propriety.
62.这里进一步说:「我已受生」;或出生,其意义比受孕更进一步;因为后者(受生)指的是至圣圣三在一瞬间的上智,(因为)当降生成人被知道,成为已知,就进入圣三的礼仪规范,
But to be brought forth refers to the act of the divine Will, which determined upon this work, for the most holy Trinity, in its divine councils, resolved upon the efficacious execution of this work by determining, and preliminarily putting into effect, the wonderful decree of the hypostatic union and of calling into being Mary most holy.
但这受生指的是神圣"心意"的行为,它取决于这项工程,因为至圣"圣三"在其神圣的议会中决定,通过决心及初步付诸行动,有效执行这项工程来解决这一问题---天人合一的美妙法令,并召叫至圣玛利亚的存在。
That is the reason for using first the word "conceived" and then the words "brought forth," or born; for in reality the work was at first conceived and then immediately afterwards determined upon and willed.
这就是先使用"受孕";然后使用"受生"或出生词的原因;因为实际的工作是首先有受孕,随后立即定意并执意。
63."He had not yet made the earth, nor the rivers, nor the poles of the (earth) world."
63、「那时,上主还没有创造大地、原野、和世上土壤的原质;」
Before the creation of the second earth, namely, the earthly paradise (the sense in which the earth is mentioned a second time), into which the first man, after he had been created from the first earth of the Damascene plains, was placed, and where he sinned, the sacred humanity of the Word and the material from which it was to spring, namely the Virgin, was determined upon.
在创造第二个大地,既在尘世的乐园(第二次提到地球的意义)里的第一个人(亚当),在他从大马士革平原的第一个地方被创造之后,(由于)他在那里犯了罪,(于是)决定了圣言的神圣人性及其(神圣人性)产生出的物质,即"童贞女"。
For it was necessary, that God should provide beforehand against her participating in sin and against her being in any way subject to it.
因为是有必要,天主应该事先提供不使她参与罪,不使她以任何方式获罪。
The rivers and poles of the earth are the militant Church and the gifts of grace which were to flow from the sources of the Divinity.
大地的河流和两极是征战的"教会"和恩宠的赐予,它们是从"神性"的源头流淌而来的。
These were to flow toward all men and with efficacy to the saints and the foreknown.
这些将流向所有人,并且对圣徒和先知效力。
Fixed in God as in their pole or pivot and being dependent upon Him they nevertheless move around Him in seeking after the virtues of faith, hope and charity, through which they sustain, vivify and direct themselves though yet entangled in human conversation.
人们固守在天主里面,就像依靠柱子或枢轴,他们仍然围绕着祂寻求信、望和爱的德能,通过这些德能,他们得以维持、活跃和指引自己,尽管他们仍然纠结于人类的话语中。
[评注:人类的话语内含有不尽的谎言及罪恶]
They are drawn toward their last end and toward the highest good, without swerving from the center about which they turn.
人们被吸引到最终的目的和最高的善,而没有偏离这个中心。
Also the Sacraments and the institutions of the Church are here signified, her safety and stability, her beauty and sanctity without blot or wrinkle (Eph. 5, 27), for this is what is meant by this circumference and these rivers.
教会的圣事礼仪和制度也在这里被预示出来,教会的安全与稳固,她的美丽与圣洁,没有瑕疵或皱纹(厄弗所5:27),因为这就是这圆周和这些河流的意义。
[经文:「好使她在自己面前呈现为一个光耀的教会,没有瑕疵,没有皱纹,或其他类似的缺陷;而使她成为圣洁和没有污点的。」(厄弗所书 5: 27)]
Before the Most High prepared all this and ordained this mystical sphere and system, of which Christ was to be the center and head, He decreed the union of the Word with human nature, and foresaw his Mother, through whom He was to execute these wonders in the world.
在"至高者"准备所有这一切并制定了这个神秘的球体和体系之前,天主以"基督"为中心和统率,命定了"圣言"与人性的结合,并预见了他的"母亲",天主将通过基督及他的母亲在世界上执行这些奇迹。
64."When he prepared the heavens, I was there."
64.「当祂建立高天时,我已在场; 」
When He prepared and preordained the heaven and the reward, which was to be given to the just sons of the Church after their sojourn upon the earth, then already was decreed the union of the humanity with the Word, thereby meriting grace as their Head; and with Him his Mother most holy.
当天主预备天堂和赏报给在世上定居的教会的正义之子时,那时就已经颁布了人类与"圣言"结合的律例,以基督和他的母亲为为义人之"元首", 叫人与道合而为一,效法基督和圣母。
[评注:圣母及圣子的的诸德及恩宠是义人的仿效及渴慕][圣子圣母,互为表里]
Having destined the greater part of this grace for the Mother and the Son, He then disposed and arranged similar gifts of glory for the other saints.
天主将这种恩宠的大部分交给了圣母和圣子,然后圣子为其他圣徒安排了类似的荣耀恩赐。
65."When with a certain law and compass he enclosed the depths," namely, when He decided to close the abysses of his Divinity in the person of the Son according to a certain law and measure, which no living being can ever compass or understand.
65、「当祂下使渊源固定时,」意即,当天主决定以一定的法律和衡量在人子身上关闭神性的深渊时,这深渊是没有任何活物可以限定和理解的。
He delineated this sphere and circumference, where none could nor ever can enter, except only the Word (since none but Himself can ever fill his place).
天主描绘了这个领域,除了"圣言"以外,没有人能进入(因为除了圣子自己之外,无人填补圣子的位置)。
For thus He was able to empty (Phil. 2, 7) and humiliate his Divinity in the humanity, then, both humanity and Divinity, in the womb of the most holy Mary, afterwards, in the small quantity and species of the bread and wine, and finally, in the narrow space of sinful, mortal hearts.
因此"圣子"在人性里能够空虚和谦卑他的"神性",(斐理伯书2:7),然后神性和人性进入了至圣玛利亚的子宫,之后,进入少数物种的饼和酒里,最后进入狭窄罪恶的人心。
[经文:却使自己空虚,取了奴仆的形体,与人相似,形状也一见如人; (斐 2:7) ]
All this is indicated by the words: abysses, law and circle or limits.
所有这一切以下面这些词汇表达:深渊,法则和范围或界限。
They are called "certain" on account of their vast bearing and also on account of the certainty, with which they were to be fulfilled (in spite of seeming- impossibility), and on account of the difficulty of explaining them in words.
它们之所以被称为"肯定",是基于它们的巨大影响力和确定性,及必要实行(尽管看似不可能),并且很难用语言解释。
It certainly did not appear feasible, that the Divinity should be subject to law, nor that It should enclose Itself within determined limits.
当然,"神性"从属于法律显然不可行,也不应将神性本身封闭在确定的限度内。
But the wisdom and the power of that same Lord made it possible and has accomplished it by enclosing Himself in a designated created being.
但同一个"主"(圣三合一的天主)的智慧和全能却使这事成为可能,并且通过将圣子自己封闭在指定的受造存有中,实现了它(神性从属于法律)。
66."When he established the sky above, and poised the fountains of the waters; when he encompassed the sea with its bounds, and set a law to the waters, that they should not pass their limits."
66.「当他上使穹苍稳立,下使渊源固定时,当他为沧海划定界限,令水不要越境。 」
He calls here the just "heavens," for that is what they are, as God remains and dwells within them by grace, and through it, according to each one's disposition, gives them courage and firmness to rise above the earth as long as they are pilgrims. Afterwards He gives them a place and a dwelling in the heavenly Jerusalem according to their merits.
天主称义人为正义的"天堂",因为那正是天主藉着恩宠在人间与义人居住,并通过它(义人在人间的生活),根据每个人的性格,赋予他们勇气和坚定,从世上提升他们,只要他们还是朝圣者。之后,天主根据他们在世上的功绩,给他们在天上的耶路撒冷一个恰当的处所并居住。
For them He poised the fountains and has divided them, distributing to each one with equity.
天主为他们筑了喷泉,将他们分开,公平地分配给每个人。
He weighs the gifts of glory, the virtues, the helps, and the perfections, according to the dispositions of his Wisdom.
根据祂智慧的安排,衡量给予光荣、德能、帮助和成全的恩赐。
(评注:disposition (1)性向,性情 指个体在某些情境下经常表现的行为倾向与状态。(2)处置,安排,意